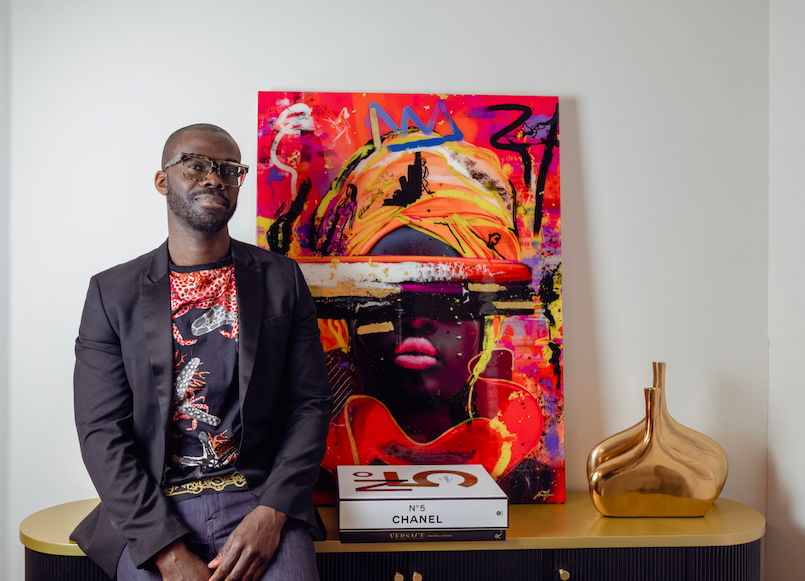 Toronto's longest running multi-arts fashion week, Fashion Art Toronto (FAT) has curated an incredible line-up for their Spring 2023 fashion week. Taking over 20,000 square feet of the industrial warehouse at Black Creek Assembly, it's going to be their biggest event yet. The event is from Thursday, April 27 to Sunday, April 30 with runway shows and presentations from 50 designers, style-inspired art installations from Canadian artists, an immersive Fashion Cinema curated by CANIFFF, a Fashion & Beauty Retail Boutique and more. Tickets to Fashion Art Toronto are now available online.
Meet Josh Hy TheDeZinr
Social Handles: @thedezinr
Will be on display throughout the entire event
Tell us about yourself
I am Josh Hy aka The Dezinr a digital raw material artist based in Toronto and a descendent of Jamaican and Panamanian heritage. From the age of nine, I have been creating bespoke art pieces invoking a wonderfully rare experience of the senses. My work is evidence of my passion which so beautifully translates a deep understanding of lifes kismit connections which inturn fosters an authentic experience for all art lovers.
"I invent with the tools of today for the eyes of tomorrow. I practice being me to create with my gift of visual expression to inspire the awesome that resides within each of us, to be the best me in the world."
What inspires you?
My work is inspired by the power of community inclusion, people peacefully coexisting, and importantly forming connections that transcend differences. I'm is passionate about driving cultural cohesion through my vibrant works to reduce the social exclusion and isolation many have felt over the last couple of years.
My core philosophy stems from my definition of "Inspirational Purity." Rather than seeking or comparing your art to others, the art must sprout from a seed of authenticity that is sparked from deep self-reflection. Committed to genuine self-expression, to pushing the boundaries.
Tell us the story behind your art
I believe in the power of art to convey emotions and tell stories. Art should be infused with a sense of authenticity and personal meaning that reflects the unique vision and perspective of the artist. I strive to inspire with art and encourage people to embrace their own creativity and individuality. My pieces are not just decorative objects, but a source of inspiration and motivation that can transform people's lives.
What's one piece of advice you would give someone starting out in your field?
Practice being yourself and build your self-confidence. Do not follow trends, your art is an outlet of your mind, not the world. There is no such thing as self-made millionaires, it's a team effort. Create you mastermind group that sees your vision and wants to see you win. NO means you have to work harder, and hard work creates great people.
What do you love most about FAT?
I love the diversity of Fashion Art Toronto. There is something for everyone, from the latest fashion trends to showcasing stunning art from emerging/established Canadian artists. The energy of the events, with its vibrant and creative atmosphere is out of this world fun. Further more It is a great way to discover and support new designers/artists and be inspired by the amazing cultural talent the city has to offer. That which I'm grateful for.
What does 2023 hold for you?
The official launch of the Josh Hy brand on a grand scale. Collabs with artists, celebrities, and interior design firms. Inspiring and giving back to the community through my creative initiatives. Be sure to keep up with me on social, things are happening quickly.
Last modified: April 4, 2023