With thousands of flights and events cancelled, Summer 2020 looked a lot different this year. There was no cruising along the Mediterranean, partying in Ibiza or watching the sunset in Seychelles. That said, we took advantage of the warm weather to explore the cities, regions and provinces we live in. Not to mention, support our local economies when they needed it most.
First off, Niagara on the Lake is our hometown and the team at White Oaks has always been nothing short of fabulous to us during our many visits over the years.
Whether the purpose of our trip was for a charity event, a friend's weddings (check out their updated packages, here) or a relaxing staycation, White Oaks remains our favourite spa and accommodation in NOTL. So, we figured we'd spread the word.
https://www.instagram.com/p/CCQ9VlxlYnr/
The Prettiest Town In Canada 
September is the perfect time to visit NOTL with all the wineries (our favourite is Ravine), scenic trails and outdoor patios (our go-to's are Firehall Flame, Garrison House and Pieza Pizzaeria) open for business.
We highly recommend a weekend getaway as fall approaches and White Oaks is the perfect place to stay.
Conveniently located at the center of it all, White Oaks is right off the highway from Toronto and across the street from the Outlet Collection at Niagara.
So, you can get your socially-distanced shopping in during your stay.
Relaxation Zone
Upon entering White Oaks, a calm that overtakes you. The soothing sounds of a waterfall, friendly smiles and tranquil ambiance instantly relaxes.
We made our way to The Spa area on this particular visit to meet with the Spa Manager Jenny and her team. It was clear that they had gone above and beyond to ensure everyone's safety in regards to COVID-19.
In the hotel and spa areas, everyone wore a mask, markings on the floor reminded us to keep our distance, and protective partitions were placed at the check-in desks.
All magazines and pillows had been removed. This was our first visit to a spa during the pandemic and we felt beyond safe in the capable hands of the White Oaks staff.
Masks on!
In preparation for our Relaxation Massage with a registered therapist, the treatment room (pictured below) was cleared of all extra items to ensure a clean, safe space.
We kept our mask on for the treatment, but honestly didn't notice it because the experience was out of this world (and we're already booking our appointment for next month).
We would highly recommend this 55-minute treatment to release any of the tensions you've been feeling over the past few months.
Since we've been working from home for almost six months, we needed the muscle relief from being hunched over our laptops for hours on end.
For our facial, the ever-lovely Lindsey gave us the Retouch Sculpting Treatment by Intraceuticals.
It had been some time since our last facial and Lindsey was the prefect mix of informative while allowing for a relaxing experience (minus the extractions).
Our skin was glowing for the next few days. So much so that friends even noticed!
Secret Gardens
OK, they're not so secret, but…
White Oaks is surrounded by beautiful gardens and a patio area for lunch post-massage. The resort includes two restaurants that we highly recommend: Liv and Play.
Play Bar + Grill is the resort's sophisti-casual offering that provides a health conscious alternative, featuring drinks and new takes on pub food faves.
Liv's Chef Michael Price has created a more refined menu to reflect the seasons, focusing on locally-grown produce.
*Indoor dining at Liv is currently available for breakfast only.
The Best Night's Sleep 
The hotel accommodations at White Oaks have a modern feel. The beds are beyond comfortable and prepare you for a good night's sleep.
The resort has all the extra amenities too. The indoor pool and fitness centre (which includes tennis courts) opened earlier this summer so you can get your exercise in.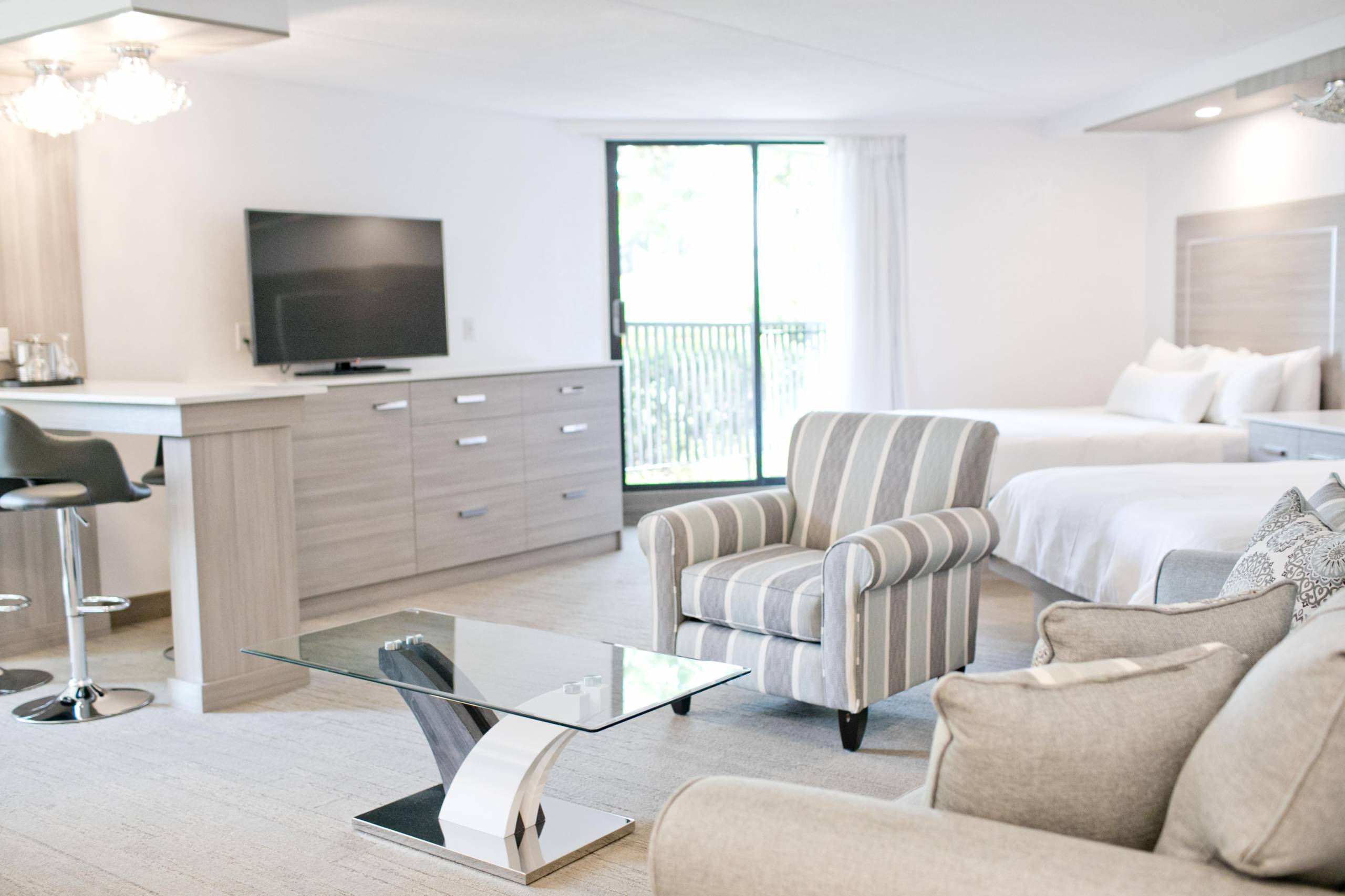 White Oaks is currently offering a variety of packages for fall, from girls weekends to couples retreats. You can find them here.
Last modified: September 11, 2020