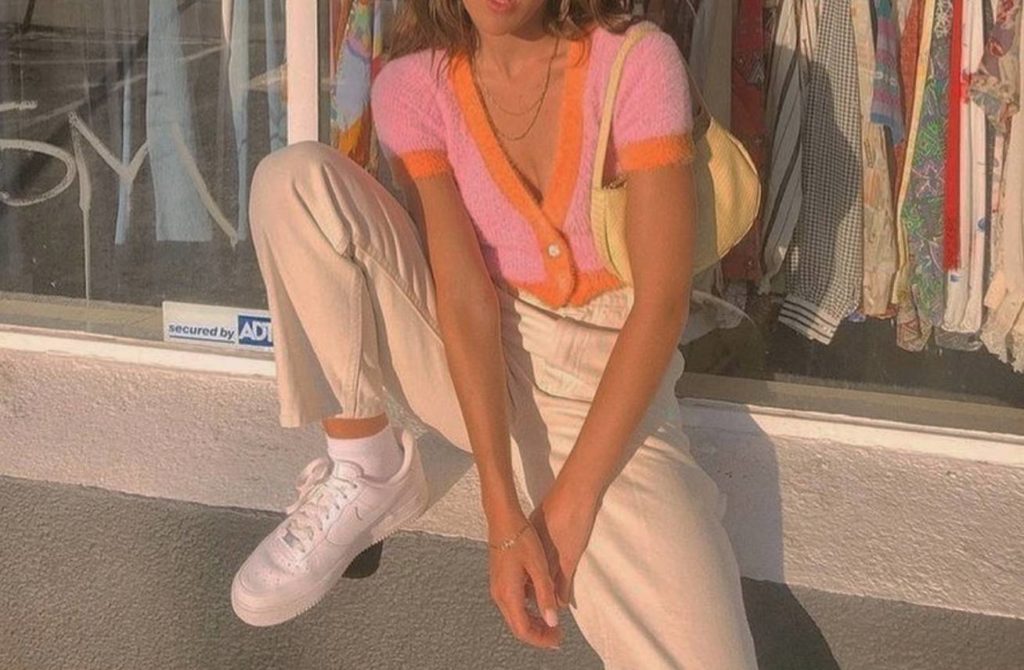 I've spent a lot of money on clothes. More than I would like to admit to my mom, my partner, and quite frankly, to myself. I purge often, clearing out things that no longer inspire me or that have been sadly forgotten, lost in the flood of fabrics. Depending on the price point and quality, some of those items I donate, while others I consign or sell online to recoup a small percentage of my losses. It's not the best business strategy, but it's something I'm trying to get better at. And while many of the pieces that I bid adieu to are fast fashion finds, the majority of the ones that I choose to keep are vintage, thrifted, or re-fashioned one-of-a-kinds. 
Any piece of clothing that's between 20 to 100 years old is considered vintage, and anything beyond that is labelled 'antique'. Some classic vintage items include box suits from the 60s, flared pants and fringe from the 70s, sequin jackets from the 80s, and flannel shirts and chokers from the 90s. Many of these decade-specific staples can be found at local or online vintage boutiques, though they make the process of how clothing is acquired irrelevant. The owners and buyers for stores do the grit work for shoppers, making it much easier to find what you're looking for. However, a 'finder's fee' is reflected on price tags, bumping up costs.
Thrifting is like a grown-up version of a treasure hunt – the mixture of pheromones, perfumes, and body odours isn't the most pleasant combination of aromas, but you acclimate to the smell when you're sucked deep into the racks. It's easy to be discouraged by the days you leave with your wallet full and your hands empty, but that's OK. The goal is not quantity; its quality, acquiring pieces that enhance your personal style, and finding items that excite you. As a thrifter of nearly two decades, there's a few tips and tricks I've learned about how to really enjoy the process.
Here's four tips on how to become a more efficient and successful thrifter. Cha-ching!  
1. Know Thyself
https://www.instagram.com/p/B_GHI8YnwLl/
You don't need to have a plan walking in the door, but you should have a well-developed sense of personal style. If you're more of a classic minimalist, then I would recommend looking for blazers and t-shirts firsts. The cuts are clean and there's usually a decent selection. If you're more adventurous and eccentric, then venture into dresses and blouses. There's always a large range of styles, colours, and fabrics. And if you're overwhelmed, accessories tend to be a safe zone. Silk scarves, leather belts, and vintage mini bags can help elevate outfits that you already have in your closet.
Note: The entire experience is a game of trial and error, and it's easy to get swallowed up and carried away. So, it's a good idea to start looking for pieces that you can picture wearing everyday. You might fall in love with an intricate beaded jacket, but if you know you're not likely to wear it, you're taking it away from someone who will.
2. Size Matters
https://www.instagram.com/p/B_GG5m1Atl0/
Vintage clothing fits two to four times smaller than today's. In order to steer yourself in the right direction and mentally prepare yourself for anxiety triggered by garment size, keep this in mind. It's rare that you'll find vintage pieces that fit perfectly, so try on larger sizes first. Wear these items oversized, cinch them with a belt, or find yourself a tailor or seamstress to help you trim accordingly.
The menswear section is also a great place to source jeans that you can cut into shorts, blazers, sweatshirts, and oxfords. Little boys racks are loaded with rare finds too, like vintage tracksuits and sporty tees. And don't forget to check the rollings racks near the change rooms – this is where you can scoop up the items that were passed on.
3. Fixer Upper
https://www.instagram.com/p/B_F-tdWKpEL/
After a few trips, you may begin to favour a few of the same racks. You'll start to see past stains, rips, and holes that would normally turn you away from a used piece of clothing. You'll also begin to notice the difference between salvageable items and ones not worth the hassle. Missing buttons and broken zippers tend to be the easiest fixes, and snags and tears seams are simple repairs. Re-fashioning vintage finds can be labour intensive one, but the reward of transforming a piece of clothing into something you can wear time and time again far outweighs the amount of work you'll put into it.
4. Where, When, And How
https://www.instagram.com/p/B7cFIFngWh2/
There's a common misconception about affluent and urban neighbourhoods housing the best thrift finds, but I'd like to steer you in the opposite direction. Small town Goodwills and Value Villages are where I find the majority of my favourite second hand pieces, and these stores are more likely to have lower prices, larger spaces, and fewer customers. It's a good idea to ask store clerks and managers when they do a restock so that you know when you'll have first dibs on new items. Lastly, be sure to join loyalty programs and email subscriptions too. Coupons get sent out regularly, as do invitations to private shopping parties and exclusive sales.
Whether you shop at thrift and vintage stores out of preference or necessity, know that their owners and employees are doing an incredible service that should be met with respect and appreciation. Remember this when you're sorting through racks or see items on the floor. Aside from incorporating unique and one of a kind pieces into your closet, thrifting and vintage shopping boast major environmental benefits. Landfills around the world are filled with garments and fabrics that are no longer wanted or needed. Repurchasing, recycling, and repurposing some of these pieces can help preserve the planet and your wallet. Happy shopping!
Last modified: April 21, 2020