With thousands of flights and events cancelled, Summer 2020 is looking a lot different this year. There will be no cruising along the Mediterranean, partying in Ibiza or watching the sunset in Seychelles. That said, we can use the next few weeks as an opportunity to explore the cities, regions and provinces we live in and support our local economies when they need it most.
Welcome to #SummerFridays on STYLE Canada: a stay at home travel series, if you will.
The past 100 plus days, life has looked… all the same. Get up, go for a run, take vitamins, open the laptop… I didn't realize how much I needed a break until I stepped onto the grounds at Whispering Springs.
The stunning property is situated on 200 acres in Grafton, Ont., about 130 kilometres North East of Toronto. Ah – a secluded yet accessible getaway.

Family Matters
Whispering Springs is owned by the Corcoran family. Nancy and her husband John have been in the hospitality business for years. They were involved in the renovation of Ste. Anne's Inn and Spa in the 80s and currently run Whispering Springs in the summer.
I had the opportunity to meet with Nancy as she took me around the beautiful landscape. From the beginning, it was clear that Whispering Springs is a family endeavour. Her mission was simple: create a place where individuals could slow down and reconnect with family, friends and the great outdoors.
Needless to say, Whispering Springs accomplishes all this and more.

Back to Nature, In A King-Size Bed
Now, this is the type of camping I can get behind.
Instead of sleeping bags, we slept under a fluffy white duvet.
Need a shower, why not step into your own modern bathtub?
Everything I love about the stay at luxury hotels was replicated in the rooms at Whispering Springs. The attention to detail Nancy and her family put into the atheistic does not go unnoticed.
Each room has its own unique feel, from custom headboards to terry cloth bathrobes. Other amenities include the Saltwater Pool & Hot Tub, Spring Fed Pond, outdoor gym, volleyball and badminton courts.

 Cocktails, Pizza And Smores
The food at Whispering Springs was not your typical "camping" food.
An on-site bar and lounge called The Watering Hole offers picnic baskets for breakfast and dinner, as well as wood oven pizza and smoothies all day long.
Need a cocktail? Their bartender and family friend has you covered.
I brought my own veggies to grill on my own private barbecue. Highly recommend it with a glass of wine from one of Prince Edward County's local wineries.
Namaste 
What would a outdoor retreat be without some zen? Whispering Springs also offers yoga and massages, but be sure to check availability prior to your stay.
I brought my own yoga mat and did some morning stretches on my own private deck as well. Throughout the day, you can follow one of the trails through the forest or check out a paddle boards and canoe.
Going to the Chapel
If you're looking for the most magical forest to marry in, look no further.
Through the winding trees, the Forest Chapel makes you feel like you're in another world. You and your guests can enjoy signature cocktails and partake in wedding festivities at their lodge-inspired Reception Pavilion.
The elopement package is perfect for small weddings during the pandemic.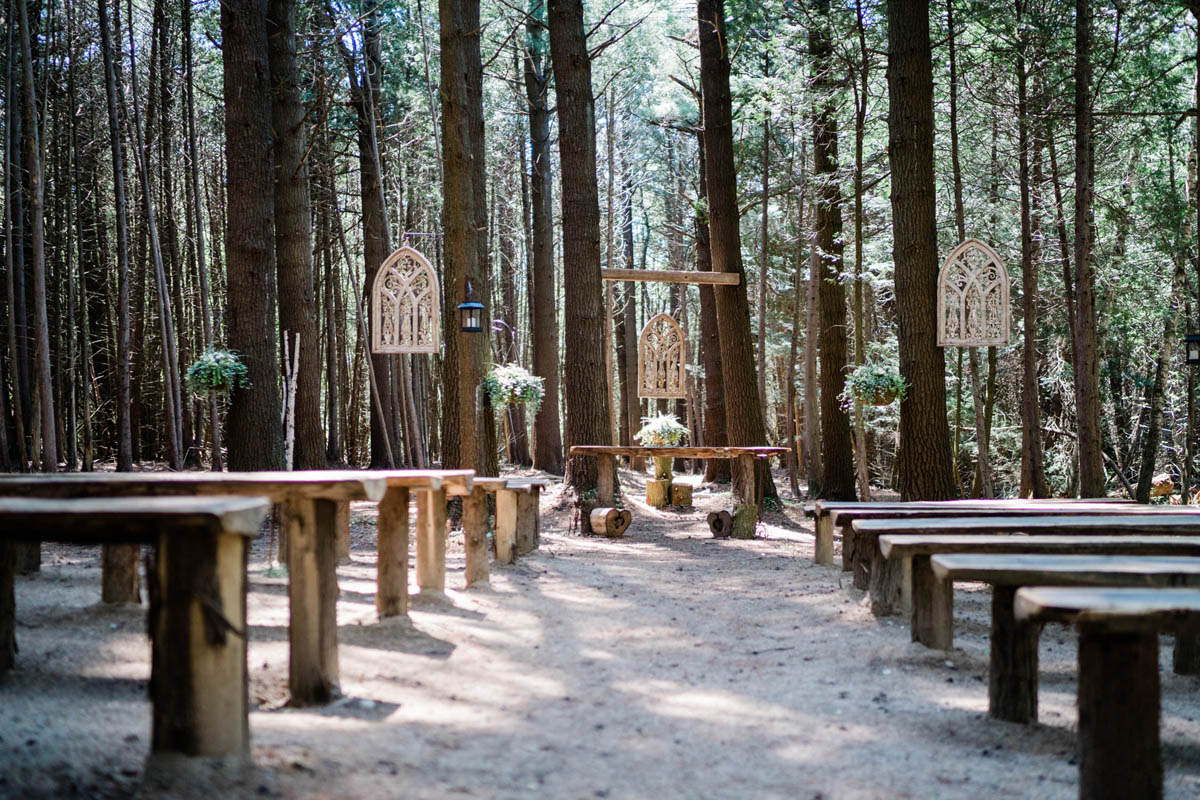 2021 and Beyond 
The summer months are fully booked at Whispering Springs, but you can check their
Instagram
for any last minute cancellations.
For 2021, Whispering Springs will be focusing on their
wedding
and all inclusive
retreat
packages, including:
Glamp Yoga
: Think of this retreat as a summer camp for grown-ups. A great girls getaway or bachelorette, this package includes yoga classes, an acro-yoga workshop, Prince Edward County wine tasting, meals, and live music around the campfire. 
Health+Harvest
: Health+Harvest is a wellness and rejuvenation retreat that will offer a unique blend of yoga and relaxation along with seasonal and fresh farm-to-table meals. Many of the ingredients for this retreat will be grown on Whispering Springs's on-site organic gardens.

Glamping Getaways: Geared towards couples and friends looking for a luxe glamping experience, all meals will be included in this package and will be catered by a gourmet chef. Live music will take place in the evenings and guests will have the opportunity to indulge in yoga and massage throughout their stay.
Camp Wilder: Camp Wilder is a luxury fitness bootcamp that includes all meals, luxe glamping accommodations for two nights, a 5 kilometre endurance event series, and an obstacle course race.
If you happen to come by one of their open dates this summer, we highly recommend this glamping getaway.
Last modified: July 31, 2020