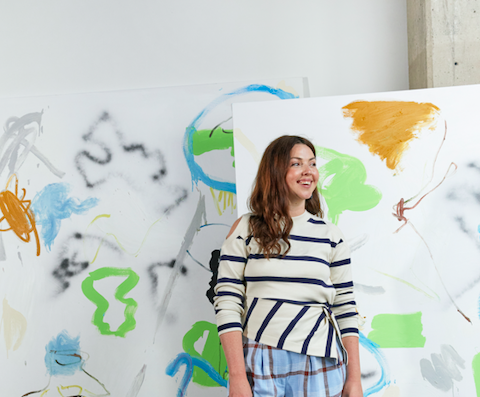 Tanya Taylor is a New York City-based fashion designer, CEO, mother, artist, size-inclusive advocate, and philanthropist. She was born and raised in Toronto and is painting the world she wants women to live in – a world pulsing with creativity and color. 
Taking an artistic, thoughtful approach to fashion, she intertwines the use of color, texture, and original hand-painted prints with uplifting and celebratory silhouettes into each collection, so all women have a way to express themselves creatively and confidently. Since starting her brand in 2012, she has experimented with bringing each collection to life at New York Fashion Week in a variety of formats, from artful backdrops to comedy sketches, to inspire and bring cheer. 
At a time when no other contemporary brands were offering inclusive sizing, Tanya was the first to broaden her size range to include all body types. With her ear on the ground and heart with her customers, she's growing her business alongside their needs, introducing new categories, like home, swimwear, and kidswear, based on requests from her passionate community. For all her outstanding achievements in fashion, she received the CAFA 2021 International Canadian Designer Award. 
And she's going beyond fashion to make an impact. 
Tanya has also made it her mission to bring art into the lives of those who need it most. Through philanthropic initiatives and community partnerships, she's spreading the positive psychological impact of color and design to spark creativity, positivity, joy, and happiness.
Eager to support her community through art, she established a partnership with Memorial Sloan Kettering Cancer Center in New York that has seen the redesign of the pediatric ward to include antimicrobial curtains in an abstract brushstroke print that she painted to bring some joy to the patients. Tanya has also personally led 100 free Color Therapy classes to help people find therapeutic solace with color.
Despite facing significant business challenges during the onset of the COVID-19 crisis, Tanya and her team initiated a crowd-sourced fundraising campaign that resulted in the creation of 80,000 non-medical grade masks that were donated to healthcare workers across the United States and Canada, including SickKids, McGill University Health Centre, and Youth Without Shelter. 
As a creative entrepreneur, Tanya is constantly creating ways to blend her worlds of fashion and art to the benefit of all. 
Last modified: March 14, 2022