Retro fashion is having a major moment in 2022 with throwback styles taking centre stage from the runways to social media, and this fall will be no exception. 
Vintage fashion is soaring in popularity, and for good reason. Buying vintage not only offers affordable, one-of-a-kind, on-trend wardrobe staples and bold statement pieces, but it's also sustainable, giving quality clothing new life and saving it from the trash heap. And we love fashion that's also better for the environment. 
This Fall Canada's largest sale of vintage clothing (along with hard to find décor and antiques) is returning to Toronto. Featuring more than 100 independent vendors and small businesses, The Toronto Vintage Clothing Show takes place September 24-25 at Exhibition Place's Queen Elizabeth Building.
Vintage dealers and shops from across North America have been scouring estate sales and auctions all summer long and will be bringing their carefully curated collections to the Vintage Show. Expect to find inclusive-sizing women's clothing, menswear, accessories, jewelry, handbags, footwear, textiles and more.
With a wide selection of garments to choose from, the Vintage Show team is sharing insights from their vendors to help you style fall trends with vintage. As seen during fashion weeks, the prep school aesthetic featuring tweed, workwear fabrics, blazers, tailored waistcoats and 1960s mini skirts is predicted to be a popular look this fall. Expect to see kitschy cardigans, maximalist pieces, oversized coats and lots of leather. Black, white and denim basics will be crucial staples, along with browns, hot pinks, funky 1970s patterns, slim 1950s silhouettes and head-to-toe monochromatic. 
Stand out this fall with these vintage trends:
Maximize your outerwear
Big and bold outerwear is a must-have for fall. While the weather's warmer, choose a calf length trench – silhouettes from the 30s, 60s and 90s will be perfect for this trend.  Extra-large coats, think cozy robes, were heavily represented on the catwalks. Match this maximalist vibe with a luxurious floor-length 1920s evening coat as temperatures cool.
Minimize your skirt
A wildly popular teen culture staple in the 1960s, miniskirts are having a moment in 2022. To transition this shorter hemline to crisp fall weather, aim for the prep-school look. Choose a mini composed of workwear fabric and pair it with a boxy blazer, 80s waistcoat and some over the knee boots. Or go for bold coordinating colours, with a matching mini, jacket and tights for a chic, monochromatic look. 
Stay groovy with fun prints
From patchwork to paisley to psychedelic florals, vibrant 70s-inspired prints were represented heavily on the runway. Expect 1970s midi and maxi dresses to be flying off the vintage racks. For a one-of-a-kind outfit that stands out, choose a colourful maximalist vintage dress and top it with an oversized coat.  
Rev your inner biker 
Leather will be abundant from moto jackets to full leather ensembles. With proper care, leather garments last a long time making vintage leather a great option to be on trend this fall.
Stay classy with top handle handbags
A well-crafted purse will stand the test of time and a vintage top handle bag is the one to snag this year. This versatile accessory will elevate causal staples or complete an elegant look. Stay classic with black or choose a bold colour to make your look pop.  
Blazers for every outfit and occasion 
Blazers were prominently featured in the fall runway shows. This classic wardrobe staple will be a key layer for cooler weather as it pairs well with many outfits. Luckily, they are often well-crafted, meaning there are plenty of quality vintage options to choose from. To style this trend with vintage: dress up a casual look with a boxy 1980s boyfriend blazer, go for a staple double breasted silhouette with a matching skirt or pants, pair a glam dress with a bold colour, or rock the classic tweed. 
Kitschy cardigans
Cardigans are trending, but how you style them is just as important as the cardigan itself. This fall is all about being buttoned up. Try a flashy sweater or sweater vest with a bold pattern or funky detailing to incorporate an eye-catching statement piece into your wardrobe that stands out. And with a vintage sweater, you're sure to be the only one sporting that exact look. 
Bomber jackets are taking flight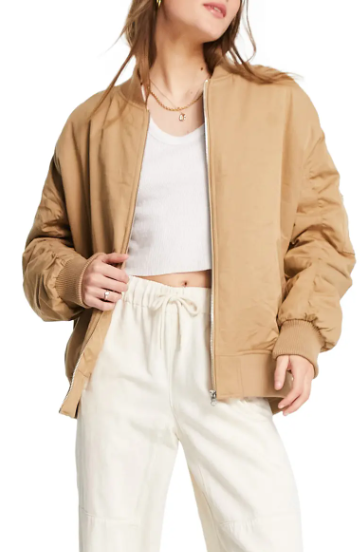 Once designed for military aviators, this comfy garment has frequently been in-style throughout the decades. Try a neutral toned 80s bomber for a great causal fit when the weather turns cool. 
Shop these trends and more at The Toronto Vintage Clothing Show.  Visit www.VintageShow.ca for more information and discounted admission. 
Last modified: September 18, 2022