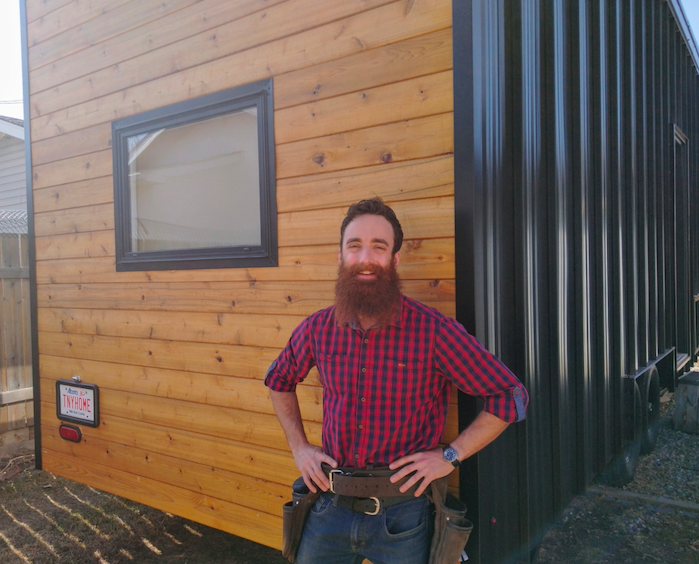 Welcome to our Spotlight series where we connect you with talented and hard working individuals who are taking you behind the scenes of their creative journeys – in their own words. This month we are shining the spotlight on Michael Bartz, who did the extraordinary – he built his own Tiny House to live more sustainably with the Earth and shares his journey through his podcast, "In Over My Head".
"Growing up I was always building something in the garage with my dad. He taught me the value of working with my hands. Eventually, I went off to art school to study my craft of acting, but I never stopped building, whether it was a set-piece or otherwise. Then in 2017, I decided to take on a "small" project. I didn't know it at the time, but it would change my life forever. That spring I started a four-year journey to create my own 16.25 square meter (175 square foot) off-grid Tiny House.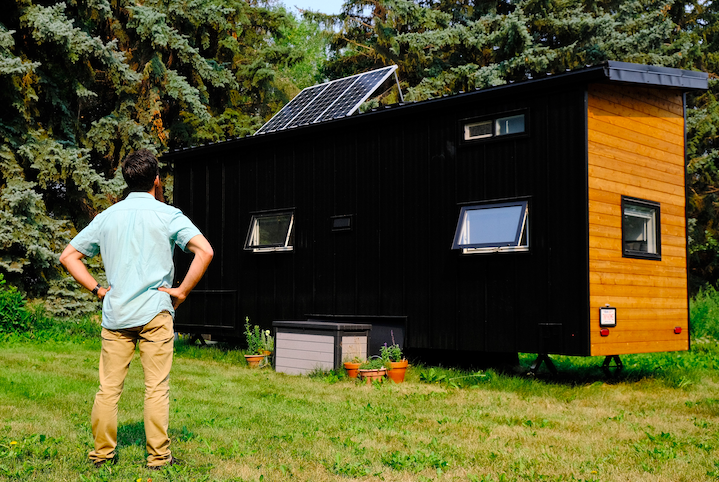 The floorplan was small but had to include everything you might expect – the bedroom loft, composting toilet, multi-purpose spaces and lots of storage. It also had to be aesthetically pleasing. I wanted it to be off-grid, so I also had to figure out how to run everything I needed with solar power. Additionally, I wanted to do all the work myself, building everything by hand – from the reclaimed oak countertops to the hinges for the cabinets.
With all these considerations, the project was going to be anything but small. So I got to work and would face many challenges along the way. The biggest one was getting the courage every day to tackle each aspect of the build down to the smallest detail. You see Tiny Homes online and think they are so cute and lovely. But it takes so much work to make those quaint photos a reality. I would learn this the hard way.  
There were times that I wanted to quit and throw in the towel. Part of the challenge was learning as I went along, sometimes doing tasks for the very first time. There was little room for error as any mistake would cost time and money. Deep down I also had doubts about living "unconventionally". I was in my early thirties and most people I knew had bought a house and settled down with a family. They lived relatively "normal" lives. They were doing the responsible, sensible thing. On the other hand, I was going against the grain, bucking the trend and jumping head-first into uncharted waters. It was scary and I didn't anticipate how much courage it would take to say yes to the unconventional life again and again with each hour I spent building.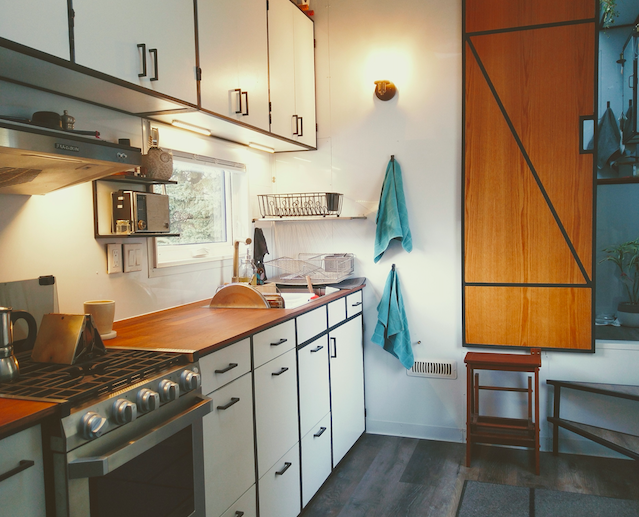 Sure, everyone, I told about my project loved it, but deep down I had doubts since there were no guarantees that even if I did finish the house, I would find a place to put it. Tiny Homes also aren't the same monetary investment as a traditional house. Was I being completely irresponsible? Was this little dream going to turn into a nightmare?
Having been living in the Tiny Home for a year, I now have the benefit of hindsight. I've come to realize that I can live happily with less, and regardless of the way I choose to live my life, there are no guarantees. The only way I could fail was by not chasing my dreams. But I'm not doing that – quite the opposite. What I gained by giving up some space, and embracing a life that is out of the ordinary is far more valuable than the stuff or status. I'm living intentionally in every sense of the word, and I couldn't be happier."
Last modified: May 17, 2022