It's not as hard as you think. Using hot rollers to curl your hair is not only a good excuse to sit in front of your vanity and look cute while sipping coffee in your bathrobe, (hello, weekend!). In fact, using hot rollers to curl your hair can be fairly simple, effective, and extremely efficient for the gal who doesn't have the time to sit in front of her vanity and savour a cuppa joe. Make your bed (or don't – it's the weekend), finish folding a week's worth of laundry, or start the day off with a power move and take your dog for a *casual* stroll around the block lookin' like Zinnia Wormwood, because we're here for it.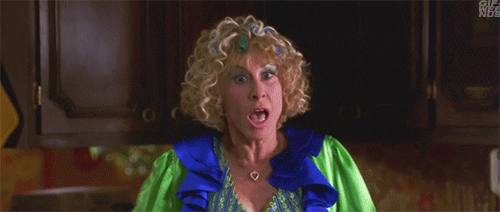 So, if you once thought your mother and your grandma were crazy for walking around with what appeared to be spools of thread attached to their heads, now you know they were onto something. What are you waiting for? Dig up their stash o' hot ones and get to curling using this guide.
STEP 1: Prep Your Styling Products And Hair Tools
Spray your hair from root to tip with something like Ouai's Memory Mist – a lightweight heat protectant that memorizes hair shape and holds it in place until it's washed out. If you have thin hair, spritz your roots with SureThik Root Thickening Mist – a heat activated blend of fruit and plant extracts that can be applied to damp hair and then blown out for a fuller look.
Step 2: Get To Curling
For its sleek and practical design, T3's Volumizing Hot Rollers Luxe set is just as good at being a bathroom decoration as it is at curling hair. Powered by unique HeatCore technology, each roller ensures optimal heat transfer for lasting volume, body, and shine. The company's luxe set comes with eight rollers and eight crease-free clips that make it easy to divide your hair into eight sections.
Start at the top of your head and then split up three segments on either side of it. Make sure to comb your hair out and hold it straight away from you so that it rolls right up to your roots. Slide the rollers three quarters of the way down your hair length and wrap the ends around, then tuck them and roll everything up to the top. Clip in place.
Step 3: Wait It Out
You're going to need your phone alarm for this last part. If you want soft waves, leave the rollers in for 10 minutes. If you're going for defined curls, leave them in for up to 30 minutes and take a few moments to show your eyelashes and brows some love too. When your alarm goes off, unravel the rollers and finger-style your hair to complete the exact look you pictured when you started this whole process. The Memory Mist you applied at the beginning will help hold everything in place, but feel free to go over your curls with a mega-firming product like this vegan and organic hair spray by Josh Rosebrook.
That's it, that's all! Super simple, right? Let us know if you tried this curling method in the comments below and be sure to share whether or not you swiped your mum's rollers from her vanity. Bonus points if you're using vintage.
Last modified: February 1, 2020