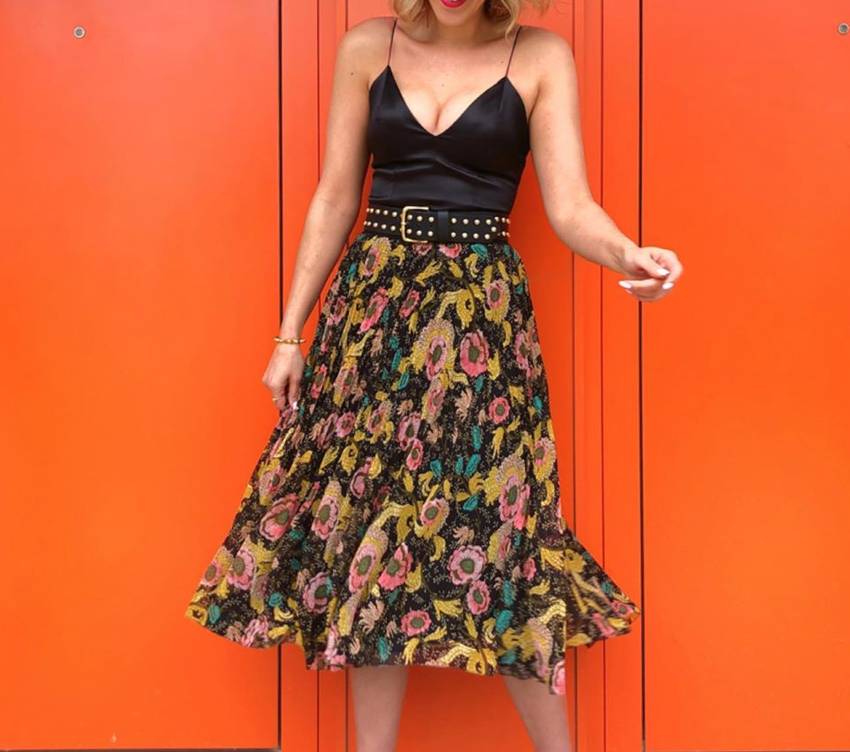 Tania Tonello is a fashion stylist, personal shopper, and regular contributor to STYLE Canada based in Downtown Toronto. On #WardrobeWednesdays, she gives you fun yet practical tips and tricks to mastering the art of dressing and expressing yourself in a functional, economical, and more sustainable way. You can read last week's instalment here. 
I sincerely believe that beauty is an inside job and that confidence and self-love radiate from the inside out. That said, there are ways to enhance your physical beauty through fashion. By taking your body type, height, and skin tone into consideration when choosing clothing and accessories, you can better accentuate your best attributes. This #WardrobeWednesday, I'll focus on various body types and how to highlight them with simple tips!
https://www.instagram.com/p/B-H56Q2JuXz/
Own It, Love It
Which of your physical features do you love most? If you're unsure, take a moment and come up with at least two. Your next task is to keep these qualities in mind when purchasing new clothes. If it's your ankles, sweet! Flaunt those babies with a cropped pant. Love your behind? So do we! Hug that bottom with a tighter fitting piece. When you feel good, you look good. Highlight what you love and share more of it with the world.
Balance And Proportion
If we think about fashion in terms of balance and proportion, it can simplify the entire concept. Besides using clothing as a form of self-expression, it can also help balance your natural shape. There's no hard and fast rules here. Since beauty is subjective, whatever is beautiful to you, should be your benchmark. I'm not a fan of comparing bodies to fruits like pears or apples, so I've created the following terms to break down common body types, with tips on how to best flatter them:
Top-Blessed
When you've been blessed with more on top, (larger shoulders or breasts), consider balancing them out with complimentary bottoms like a wide-leg pant or an A-line skirt. Skirt or dress ruffles below the waistline can also help to create bottom half volume whereas skinny-fitting pants will further emphasis a fuller upper half.
ZARA Voluminous Midi Skirt, $79.90
Pairing a dark, solid-coloured top with patterned bottoms is another means of balancing the top-blessed. This works well for two reasons: darker colours slim and patterns draw the eye.

Free People Cheet Day Printed Wide-Leg Pants, $118
Bottom-Blessed
Whether it be a fuller hip, bottom, or leg, these fashion tricks will help to level out your silhouette if you're blessed with more below. Look for tops with puffed shoulders or neck-ties, as they'll create more interest and volume up top. A blazer with shoulder pads is another way to help balance the bottom-blessed. Rather than masking your beautiful curves under baggy clothes, opt for body-hugging items below and looser fits on top.
ICONE Magic Eye Scarf Shirt, $59
The opposite colour and pattern tip shared for the top-blessed can be implemented here. Choosing solid, dark-coloured bottoms act as a minimizer, whereas brighter colours and patterns above the waist shift focus to the upper half.

Middle-Blessed
If your mid-section is larger than your bust and hip, consider empire waist tops and dresses. They'll highlight your neckline and bust and draw less attention to your tummy. An unbuttoned, structured blazer and a flared pant will also help to create flattering proportions for the middle-blessed.

City Chic Twist Love Dress, $89

Le Chateau Bi-Stretch Slight Flare Leg Pant, $79.95
Evenly-Blessed
Perhaps your shoulders, bust, waist, and hips are evenly blessed and you're finding it difficult to accentuate your waistline. Good news – dresses with shoulder details, bottom ruffles, and built-in belts do the work for you. Dresses with dark side panels trick the eye into seeing a smaller mid section too. Not into dresses? Look to V-neck tops, full skirts or wide-leg pants to create the illusion of a more defined waist.

ba&sh Joyce Midi Dress, $325

Ralph Lauren Belted Colourblock Jersey Dress, $140
Do You!
What's the most important fashion rule when it comes to body type? Trick question! There are none. The tips mentioned here will help create more balanced proportions, but the best pieces are ones that excite, inspire, and make you feel beautiful. Feeling your best and discovering love for your body through fashion will enhance the beauty that is inherently you.
Last modified: May 6, 2020