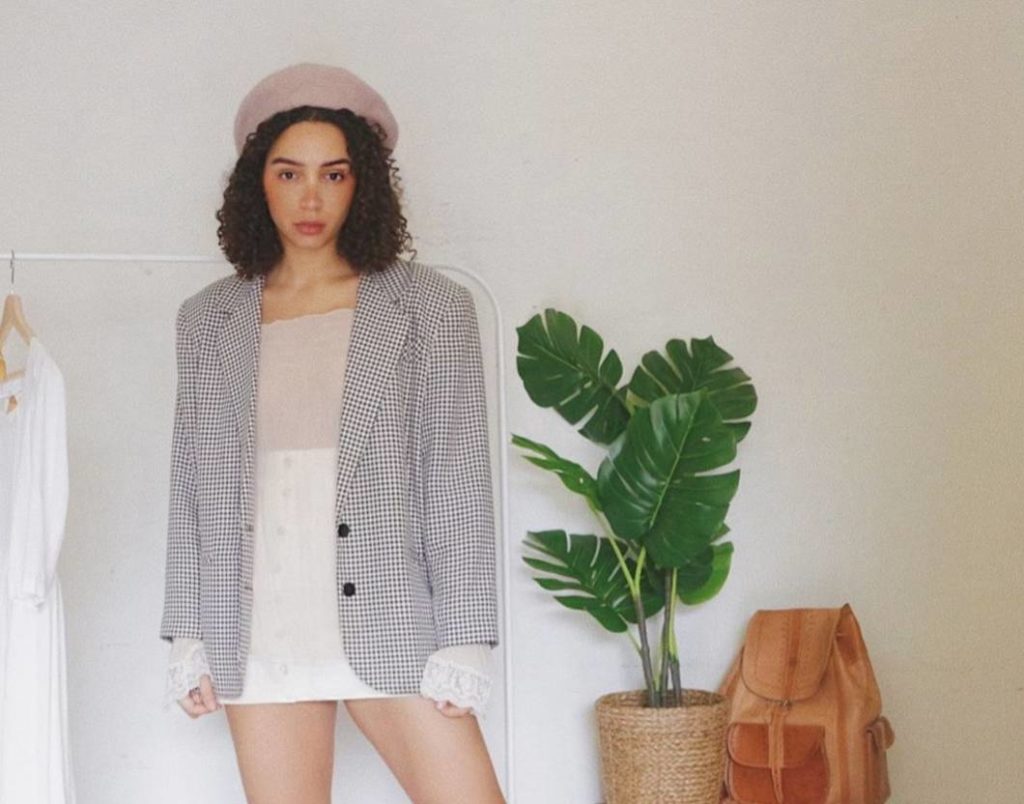 Hondrea Hunt-Charbonneau, owner of Grandma's Basement, is one of many young, female Black Canadian business owners that's been powering through the pandemic and standing in support of the Black Lives Matter movement with unwavering grace. Here, STYLE Canada's Giulia Menechella talks with Hunt-Charbonneau about running a vintage shop during COVID-19, BLM, and more.
https://www.instagram.com/p/B7yadlyJaAs/
SC: When did you start Grandma's Basement?

HHC: I started grandma's basement two years ago so it's very fresh and I'm still learning a lot to this day.

SC: What led you to starting your own brand?

HHC: In high school, I really didn't know what I wanted to do. I actually wanted to take a year off of school because I was very lost, but I've always really enjoyed fashion and style. So, I ended up going to Brock for a semester and then I dropped out of that and went to George Brown for Fashion Business. I was considering a career in fashion buying, merchandising or makeup, but nothing really spoke to me, even in those times.
Then, Grandma's Basement came to mind when I was doing visual merchandising full-time for Forever 21. It was the holiday season and I didn't even have enough money to buy presents. I needed to make some extra money on the side, so I started looking into D.I.Y. I found that I could resell and I started refurbishing furniture and selling that online on Facebook. People around me said that it could really be something, so I started looking into opening a store on a whim.
SC: Did you find that your background in Fashion Business helped with opening the store?

HHC: I don't know – school was very hard because I commuted and was working full-time. It was a bit of a shock to open a business.

SC: Were you nervous about starting it?

HHC: 100 per cent! It's really hard to put myself out there in that way. I was extremely nervous… I didn't know what was going to come of it. But, if I'm going to do something, I have to make it work because I don't want it to fail.
https://www.instagram.com/p/B-aSTtKJgP4/

SC: How many hours a week do you dedicate to thrifting, being in store, and organizing e-commerce?

HHC: Before I moved to St. Catharine's in November, I was doing a lot. I was still working my full-time job until Forever 21 went bankrupt. It was mentally and physically draining. Then after work, I would thrift probably three days of the week. The other two days I spent cropping things and working at the store on the weekend. But now, I've hired someone to be at the shop for me.
Basically, I still work every day. Since stores have been closed for so long, I've had to put all my effort back into filling the store up again. I have a dedicated shipping day. I have a dedicated photo-taking day for the website and an uploading day. I've started a YouTube channel again, so I have a day dedicated to that as well.

SC: Do you have any advice for building a brand?

HHC: It would be to focus on your aesthetic – hone what kind of vibe you're trying to portray and who you're trying to speak to with your business.
SC: How has COVID-19 affected your business?

HHC: I luckily have the most amazing customers and they really stuck with me online. While I may have lost a lot of sales, it's not anything devastating. I really do miss the one-on-one interactions with everyone. Luckily, I thrifted a week before everything was shut down.
https://www.instagram.com/p/B9He_GPJAYa/
SC: Can you speak on the importance of using your platform to promote the Black Lives Matter movement?
HHC: A lot of people are uplifting Black voices right now and I've definitely felt that support. I'm also well aware that I'm someone who is biracial, so I still have a lot of privilege over people with a darker skin tone than me. I feel like it's very important to educate yourself on what's happening and why its happening to really understand and empathize. You know, I grew up in Niagara Falls with a white mother, though I was in the hood on the weekends with my dad… so I have a lot to learn myself.
SC: There's so many people supporting your business on social media right now. How does it make you feel?

HHC: I think it's really amazing and I feel so happy for people that may have been ignored because of their skin colour, now getting the recognition they deserve. We've been making sure to post about other Black-owned businesses that people may not have known about because they don't have the opportunities that someone with lighter skin has, you know? So, yeah. I'm excited.
Last modified: July 20, 2020