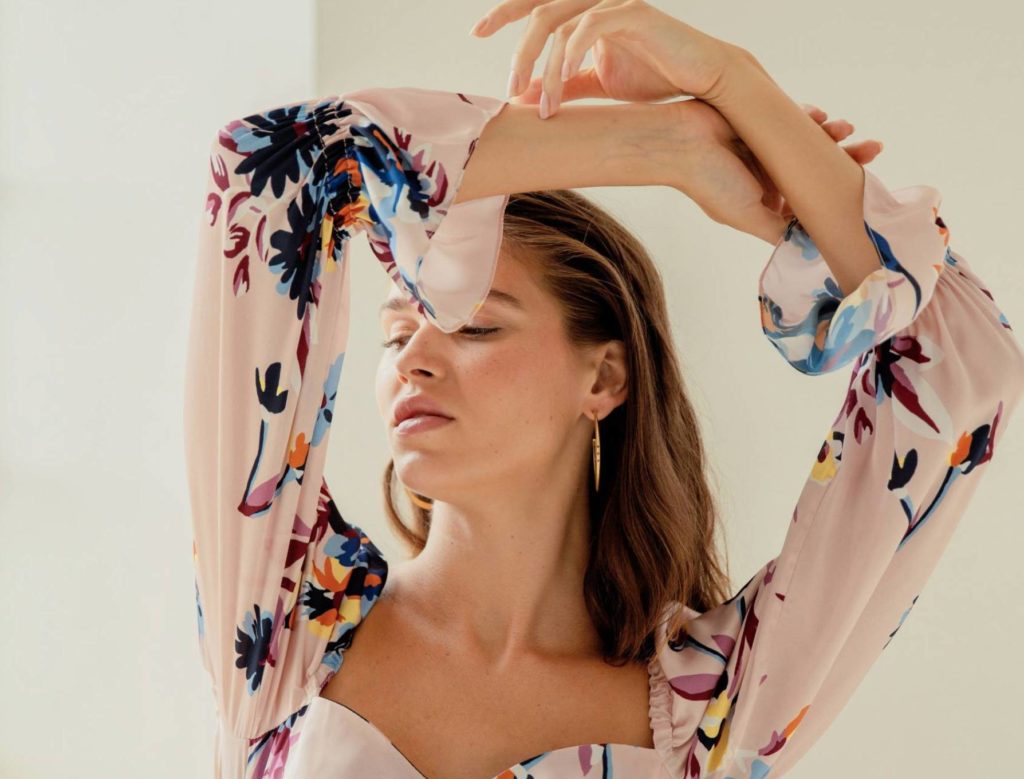 Vasiliki's style can be defined as global, feminine, artisanal, and confident.
When we received Sahar Zohair's lookbook in our inbox, we were immediately drawn to the timeless, feminine-edge her pieces have, which she credits to her Middle Eastern heritage.
In July, we chatted with Zohair about her life, career and beautiful collection. Read the interview, exclusive to STYLE Canada, below.
SC: Can you tell us a little bit about yourself? 
SZ: I am the Creative Director at Vasiliki, based out of Toronto and Windsor. I founded my brand around four years ago with the idea of creating a label for global women but with an edge of my own heritage. Though I don't have formal education in fashion, I have been designing and constructing garments since I was only 11-years-old in the Middle East. I would go with my Mum to local fabric markets to select materials and then took them to my local tailor who would work with me to construct garments from scratch.
I knew from a very young age that this is what I wanted to do and what I wanted to be. My style became more international as I travelled the world, from South Africa to the United Kingdom to the U.S. Finally, I got married and settled in Canada. I now work with some amazing manufacturers from the U.S. and Europe, and I collaborate with artisans that have unique skills.
https://www.instagram.com/p/CCh27ESJPX2/
SC: What inspires you?
SZ: I am definitely inspired by the latest upcoming trends and the amazing designers that we have. I love the work of Ulla Johnson, Johanna Ortiz and Saloni; the distinct approach they have to their collections and the timelessness in their styles. At the same time, my inspiration also comes from my own heritage, traditions and love for my culture. This could be in the form of unique embroidery techniques, hand woven fabrics, printing techniques or unique silhouettes. I love incorporating elements of my culture in my styles which makes them trendy and global while being unique in their own way.
SC: Can you tell us the story behind this collection?
SZ: The SS20 collection, Destination Unknown, has been inspired by the discipline of geology. In this collection, I move my brand a step closer to nature and the environment, realizing textures that exist in our natural space. These textures, such as clay, minerals and rocks, translate into prints and patterns on the linen fabrics we have used. The colour palette is also based on natural, earthy tones of cinnamon and ecru.
As I continue to take steps closer towards sustainability with the aim of being 100 per cent sustainable, I also value the human factor in the fashion industry. I started introducing Khadi hand woven fabric, used to make the Peri Skirt and Alisha Bodice Top.
SC: Who or what has been a strong influence on you throughout the course of your life?
SZ: My grandmother Noor-us-Subha. Everything from her grace and style to her way of leading life. She migrated as a young girl from India to Pakistan after the end of the British rule in 1947. The fashion sense of Indian and Pakistani women was highly inspired by British style. I love seeing pictures of my grandmother who effortlessly combined Eastern attire with trendy British accents. For example, she would update the look of her saree by adding puff sleeves to the blouse.
My grandmother was incredibly strong and an example of a complete woman in my eyes. She was cultural and modern, she was compassionate and sensible. She taught me not to give up and never to be afraid to break through the norm. I plan on paying tribute to her by designing an entire collection inspired by her very soon.
SC: What's one piece of advice you would give to a designer that's just starting out?
SZ: Gaining knowledge and information whenever and wherever possible is key. Don't hesitate to ask, speak to everyone and ask them how they did it. Talk to your manufacturers and start slow. The first two to three years are test periods where you will learn what your clients want. Talk to your customers as well, ask for their feedback no matter how critical it might be. I have been able to connect with a lot of fashion designers via Instagram and a single direct message can help you gain so much insight. I find people are very helpful and willing to share the information and experiences they have. All it takes is a little research and courage to ask.
Last modified: November 8, 2022