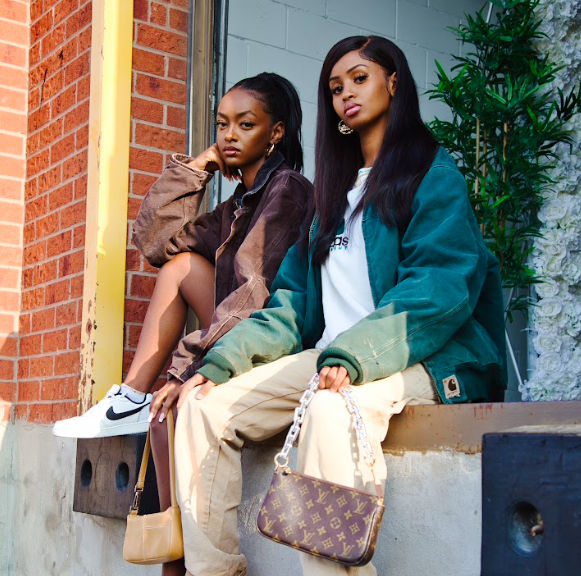 Swoon-inducing romance, backstabbing drama and heartwarming humor. Who doesn't love it? Period television is captivating audiences and transporting them to bygone eras. These shows are wildly popular, and the eye-catching fashions are equally so from the romantic leanings of the 1800s Regency costumes in Bridgerton, to the classic 1950s fashion in The Marvelous Mrs. Maisel. 
Vintage clothing vendors attending The Toronto Vintage Show, Canada's largest sale of vintage clothing, have noticed that customers are increasingly turning to period television for inspiration and using vintage to recreate iconic looks from their favourite series.
Fashion History Museum's Curatorial Director, Jonathan Walford first noticed the rising influence with Mad Men, and the subsequent flood of period productions that have followed since are contributing to a surge in interest across all historical periods.
Pop culture undeniably has an impact on everyday life, so it's no surprise that it's also impacting fashion. With the influx of period TV, everything from The Crown, to Bridgeton to Daisy Jones and the Six, the demand for vintage clothing from those eras has followed. 
Ian Drummond, owner of Ian Drummond Collection, who supplies vintage clothing to countless national and international film and television productions, points to recent trends. "Pam and Tommy and The Crown's latest season gave a push to 80s and 90s fashion — lots of high waisted denim paired with bustiers and corsets, and Princess Diana inspired slouchy, sporty Varsity sweaters and knitwear."
Porschia Thomas of French Toast Vintage also says the fall and winter seasons had "Penny Lane-esque shearling and oversized fur and faux fur coats and Le Serpent-inspired notch collar fitted leather and suede jackets in high-demand." 
Styling outfits inspired by these shows isn't just limited to buying vintage from the time period that they're set in. The cyclical nature of fashion means these styles have experienced a resurgence in popularity many times throughout the decades so vintage offers up plenty of options.
Bridgerton fans, for example, would find it challenging to incorporate replicas of the show's costumes into modern everyday. For one, authentic Regency era clothing is not readily available, but Suzanne Carillo of Vintage by Suzanne and Rochelle Latinsky of My Clementine Vintage saw a surge of interest in 80s Regency style revival and Selkie dresses for Bridgerton themed parties and for prom.
For everyday wear, fans of the show are taking a 'modernized' approach – if the 70s can be considered modern. Walford notes that "Bridgerton is an updated version of Regency style that more closely resembles high-waisted 60s and 70s dresses than actual Regency fashions."
Victoria Watson of Claimed Vintage adds, "1960s chokers evoke the flair of the period and continue to sell well." What's important to fans is capturing the aesthetic in a way that pays tribute to the silhouettes worn in the show. 
"Customers are asking for clothes by character and decade," continues Watson. "Some want something Rachel would wear on Friends. Others admire the style of Midge in The Marvelous Mrs. Maisel."
Historically-set series are not the only shows driving demand for vintage. "TV and films like Friends, Lizzie McGuire and Clueless have influenced a nostalgic 90s and Y2K revival. Gen Z and millennials are discovering and returning to past favourites and seeking items paying tribute to them – cropped baby t-shirts, vintage lingerie worn as slip dresses, bustier tops, minimalist 90s matrix style leather jackets, and now Y2K monochrome," adds Thomas. 
Vintage enthusiast and content creator Carolina Pinglo wears almost exclusively vintage clothing: "I turn to movies a lot for fashion and colour palette inspiration to create my outfits. My YouTube audience is interested in pop culture and frequently ask what movies and TV shows inspire my style."
She adds that the "appeal of vintage for people, and for Gen Z in particular, is it allows individuals to be unique in a world where everyone is interested in the same things. Vintage clothing is a way to fit in with what's popular, but make it your own and stand out at the same time."
What TV-inspired vintage fashions are expected to be popular this spring?
 It's not surprising that the just-released Daisy Jones and the Six is already making waves. 
Arianna Stalteri, co-owner of Batch Vintage, is a big fan of the mini series and plans to help customers emulate the show's outfits through a social media video.
"Shows like Daisy Jones and Minx are revitalizing the 70s trend," explains Drummond. "We're seeing interest in flared jeans, macrame and crochet layers, bell sleeves, fringe laden shawls, and matching blazer and pant suits. There's also an uptick in 90s and Y2K fashion that emanates from the bohemian 70s – think flared, early 2000s jeans with beaded embellishments and low-slung chain belts."
What's next? With the rising demand for vintage attire, a category of fashion that is projected to continue to skyrocket in popularity and even outpace growth in the apparel market overall in North America according to ThredUP, shop owners don't see the influence of period productions waning anytime soon. Anticipating the trends, they are stocking up for the next big releases.
"The Barbie movie coming out this summer also has us thinking ahead to colourful, bold pieces, with outfits that could be pulled from the 80s, 90s or early 00s," says Drummond. "With all of this in mind, we've curated a really fun selection of items that cross all eras for the Toronto Vintage Show. 
For those looking to stock up on spring and summer fashion inspired by their favourite bingeable series, The Toronto Vintage Show is a great place to get started. It features more than 125 vendors, offering a massive range of size and gender inclusive clothing spanning the late 1800s through the early 2000s.  It takes place April 1-2, 2023 at the Queen Elizabeth Building at Exhibition Place. Visit www.VintageShow.ca for more information and discounted admission. 
Last modified: April 4, 2023