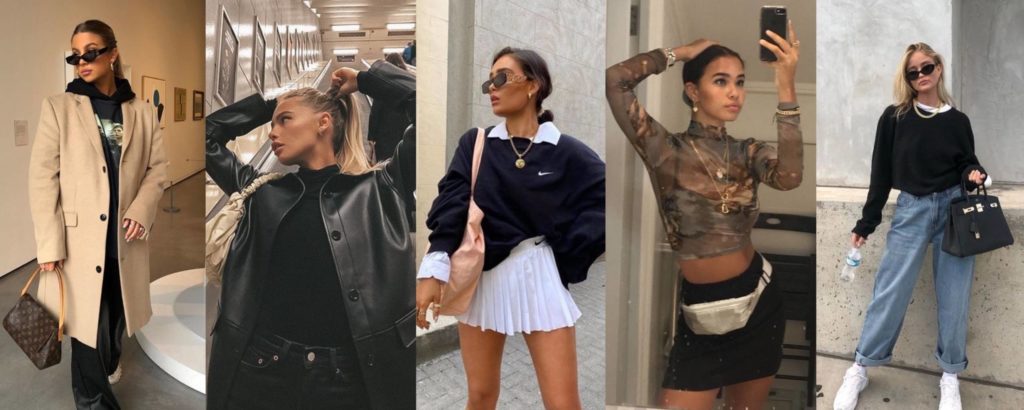 Though autumn normally signals the arrival of polished looks, new beginnings and that back-to-school feel, this year's fall fashions are a more relaxed take on regular cool weather staples.
Whether it be a result of the WFH wardrobe or not, the way the usual beige, brown and black colour palette is styled will take on an increasingly sporty chic feel.
This season, we'll be borrowing from our boyfriend's closest and shopping the men's section, and 90s throwbacks will continue to dominate.
Below, you'll find 10 of the top fashion trends to follow this fall and where to shop them.
1. Oversized Crewneck Sweaters
By far the season's biggest must-have, oversized crewneck sweaters pair with almost anything.
SHOP IT: Hanes Mens EcoSmart Fleece Sweatshirt, $22.66
2. Leather Blazers
This season, vegan leather is giving our favourite office adornment an edge.
SHOP IT: Faux Leather Oversized Blazer, $79.90
3. Tennis Skirt + Sweater Combo
This summer's beloved tennis skirt is receiving fall treatment. Paired with a crewneck sweater and a white collared shirt, this preppy look will be one of the most popular and effortlessly chic this season.
SHOP IT: Women's Technical Mesh Pleated Skirt, $110
4. Jogging Set + Jacket Combo
No need to retire your favourite quarantine jogging co-ords just yet. Throw on a trench coat, layer it up with gold necklaces, sunglasses and a quick up-do, and this look is one of the easiest and most comfortable you'll wear this fall.
SHOP IT: BooHoo, Melange Knitted Hoody & Jogger Two-Piece Set, $20
5. Printed Mesh Tops And Denim Patchwork
This 2000s trend is making a comeback. If you've ever dreamed of emulating 2001 Gwen Stefani, now is your chance!
SHOP IT: A Work Of Art Long Sleeve Mesh Top, $31, Frayed Patchwork Bucket Hat, $34, Don't Patch Feelings Jeans, $60
6. Blazer + Crop Top Combo
A look you can create with items you already have at home, the blazer and crop top combo is always complete with a pair of high-waisted pants.
SHOP IT: Rustic Oversized Blazer, $99.90, Black Crop Top, $15.90
7. Men's Oversized Jeans
To craft a silhouette that hugs your waist but still gives off "oversized", hook the front button of your jeans onto your second belt loop.
SHOP IT: Men's Regular Jeans, $39.99
8. Large White Headbands
Last year, Blair Waldorf-worthy headbands were everywhere. This year, a sportier, casual white headband will reign.
SHOP IT: White Headband, $11.08
9. Baguette Crossbody Bags
Another continuation of a summer trend, baguette crossbody bags will go with any of fall's biggest looks.
SHOP IT: Prada Re-Edition 2005 Nylon Bag, $1,520, Shein, Minimalist Baguette Bag, $11
10. Colour: Dark Green
This jewel-tone will be your go-to accent colour this season.
SHOP IT: Tour Longsleeve, $40, Gondola Pant, $148
Last modified: September 10, 2020