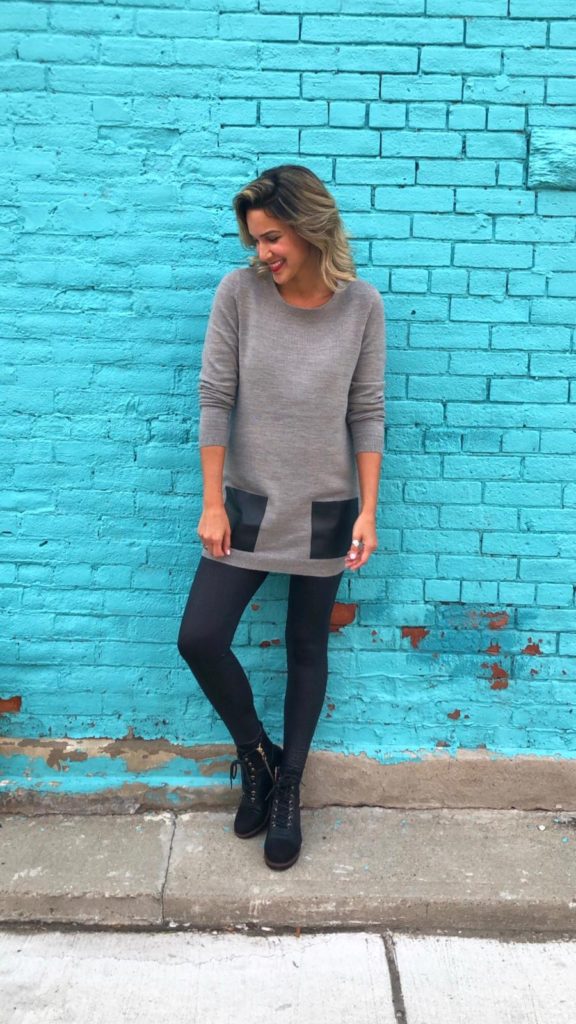 Tania Tonello is a fashion stylist, personal shopper, and regular contributor to STYLE Canada based in Downtown Toronto. She gives you fun yet practical tips and tricks to mastering the art of dressing and expressing yourself in functional, economical, and more sustainable ways. 
Summer may be coming to a close, but there's some good news: fall fashion is here! The styling options for autumn are endless, from layering cardigans and blazers to accessorizing with boots and hats. We were looking for an affordable means to refresh our wardrobe, and turned to Giant Tiger. Take a look at GT's cutest and coziest new arrivals below, all included in the perfect fall outfit and how we styled them.
The Classic Black Pant
A wardrobe essential that I preach about is the classic black pant. It's an incredibly versatile piece that takes the guess work out of styling.
Anything goes with a black pant, and Giant Tiger's pant section is truly a one-stop-shop. With prices ranging from $10 to $25, the lily morgan pant line carries a wide variety of styles that fit and flatter any body type.
The Refined Jogger makes for an effortlessly cool look with a relaxed tapered leg, whereas the Skinny is fitted through the hip and thigh.
There's also the Perfect Pant, available in petite and plus sizes. With a wider stretch waistband, the Perfect Pant does the work for you by lifting, sculpting, and smoothing. I picked up a cute pair in grey plaid.
Comfy Boots
A boot that's on trend, affordable and comfy?! Yes, please!
I couldn't believe that a boot priced at $39 could actually be comfortable, and boy do I love being proven wrong.
Giant Tiger's mySTYLE Moto Boots are designed to make friends with your feet with built-in cushion for comfort. Pair them with lily morgan leggings and you're more than halfway to pulling together a fabulous fall look.
Tunic On Top
Now that footwear and pants are covered, complete your look with a Giant Tiger top like the lily morgan Pleather Pocket Tunic.
It's long enough to pair with leggings and rings in at the incredible price of just $22.
mySTYLE's Cashmere-Like Scoop Neck Sweater, which comes in a variety of colours as well as a V-Neck option, comes in at $12 and its a no brainer to add to your fall wardrobe.
Thin enough to layer under a blazer, cardigan or jacket, the lightweight fabric allows for a French or full tuck into pants and skirts without showing bulky lines.
Layer It Up
Though I'm not in the #mood to discuss puffer jackets just yet (come on, it's not even October…), I'd be remiss not to mention the mySTYLE Packable Puffer Jacket.
Yes – you can pack it into a little bag that comes with the jacket. It has a drawstring hood and zip pockets at the front too, best for braving a Canadian fall/winter in.
Plus, there's plenty of great colour options, from black to light blue and pink. Oh, and the price? $35, friends.
Styling Inspo
For ideas and more details on fall finds from Giant Tiger, check out STYLE Canada's IGTV Fashion Series.
Shop In-Store Or Online
My in-store shopping experience at Giant Tiger was easy, convenient and safe. I was able to try on clothes in their fitting rooms and shop at ease while physically distanced from other shoppers.
If online shopping is more attractive to you at this time, you can check out their site for an extremely stress-free shopping experience. They offer free shipping to your local store on eligible products as well as free shipping to your home on online orders over $50.
Happy fall shopping!
Last modified: September 18, 2020