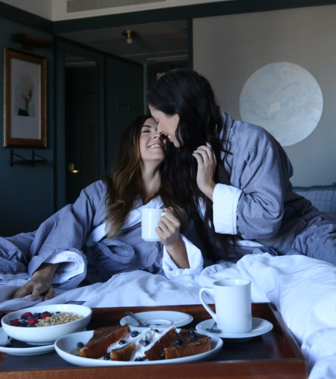 This Valentine's Day celebrate all things love with our Romantic Getaway Hotels guide, a curated selection of the best hotels that are planning the most amazing Valentine's Day Escapes. From our hearts to yours, have an incredible V-Day with the ones you love.
1- The Kimpton Saint George
The Kimpton Saint George is the perfect place to have a romantic staycation in Toronto's most eclectically designed hotel as they just launched their Romantic Getaway package which features the following:
Suite accommodations

In-room breakfast for two

Sparkling wine & a sweet treat upon arrival
Every evening between 5-6pm guests can partake in Kimpton's social hour with glasses of wine included as part of their stay.
On Friday February 10th specifically, guests can expect an elevated social hour in celebration of Valentine's day that will include live caricature drawings, romantic live music, locally-crafted chocolates and wine for all guests to enjoy.
2- The Pearle Hotel & Spa
The Pearle Hotel and Spa in Burlington is the perfect getaway just an hour out of the city with gorgeous lakefront views that will leave guests feeling refreshed and reconnected with The Celebrate Love Package. For this package guests will check into their room, pop some bubbly and enjoy a sweet treat prepared by The Pearle's incredible, award-winning pastry chefs. The Celebrate Love Package includes:
Chocolate charcuterie

1 bottle of champagne upon arrival

Valet parking

Late check-out
3- The St. Regis
St. Regis' Valentine's Day in Splendor, includes dinner, cocktails and many more:
Commissionable Rate
St Regis Valentine's Day in Splendor Package
Includes Caroline Astor Suite and Valentine's Dinner and Drink
package
Available Feb 10 through the night of the 18th
Holding Your Reservation
We will need a credit card number to reserve your room.
Cancelling Your Reservation
You may cancel your reservation for no charge before 11:59 PM local hotel time on February 7, 2023 (7 day[s] before arrival).
Please note that we will assess a fee of 1964.57 USD if you must cancel after this deadline. If you have made a prepayment, we will retain all or part of your prepayment. If not, we will charge your credit card.
Modifying Your Reservation
Please note that a change in the length or dates of your reservation may result in a rate change.
4- Langdon Hall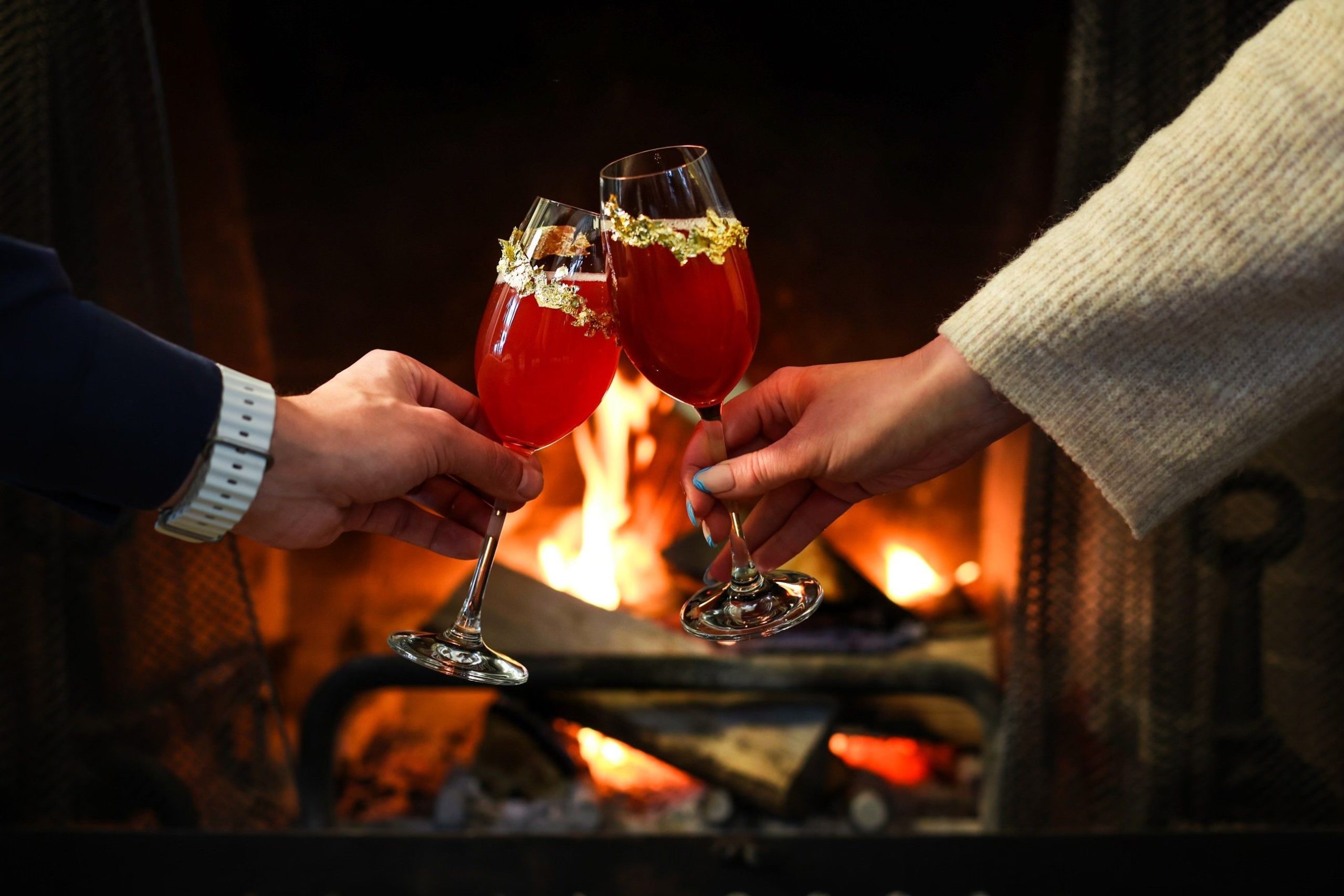 Langdon Hall has a Valentine's Day special "Love at Langdon Hall" room amenity for the month of February.
Celebrate love at Langdon Hall. Book their Two-Night Luxurious Escape package during any weekend in February and receive a complimentary in-room amenity of bubble bath, a half bottle of wine and a box of chocolate. This offer is available for Friday and Saturday arrivals.
Guests staying in February during the week or for only one evening are welcome to purchase the Love at Langdon Hall in-room amenity for $100 plus taxes and gratuities.
For more information or to book, phone us at 519-740-2100!
Langdon Hall – The Keep Refillery Partnership
 Langdon Hall Country House, Hotel & Spa and The Keep Refillery today announced a first-of-its-kind partnership to launch the premiere hotel refillery in Ontario. Langdon Hall, a Relais & Chateaux property known for being one of Canada's most pre-eminent luxury hotels, is tapping into the expertise of The Keep Refillery, a one-stop plastic-free refillery, to overhaul its in-room amenities and move towards an even more sustainable and low-waste system. 
By transitioning to a sustainable and circular refilling program for all in-room amenities, Langdon Hall and The Keep will save over 2,000 plastic bottles from finding their way into landfills and waterways this year. Refilling stations will be the source for housekeeping staff to refill all the in-room essentials such as shampoo, conditioner, body wash, body lotion, shower steams and bath bombs, all without creating any waste. 
"Globally, every year, the hotel industry produces an average of 289,700 tonnes of waste," said Jacquie Rushlow, founder of The Keep Refillery. "Langdon Hall is an innovative hotel and a leader in the hospitality industry. With this latest move to become the first hotel in Ontario to have an in-house refillery they are taking meaningful action to reduce the property's waste footprint."
"Our clientele are smart and worldly people who want a luxury hotel experience without feeling like their impact is detrimental to the health of the environment. Langdon Hall recognizes that in order to remain at the forefront of sustainable hospitality, we need to constantly move toward offerings that are both luxurious and ecologically sound," said Jennifer Houghton, Director of Langdon Hall Country House, Hotel & Spa. "We've done this with our kitchen, and now, with the help and knowledge of The Keep Refillery, we were able to seamlessly convert to a system that meets this criteria. This has resulted in a low-waste, highly elevated guest amenity experience. We know our guests will enjoy the products, and we hope to inspire other hotels to move in a similar direction."
All products that Langdon Hall will stock from The Keep Refillery will meet Langdon Halls' high standards while also being sustainably sourced from small businesses across Canada and the United States and are all-natural, cruelty-free, and ethically made. Like all products in store at The Keep Refillery, everything is thoroughly researched and tested to ensure they're highly effective and the brand is closed-loop sustainable. 
Last modified: January 31, 2023