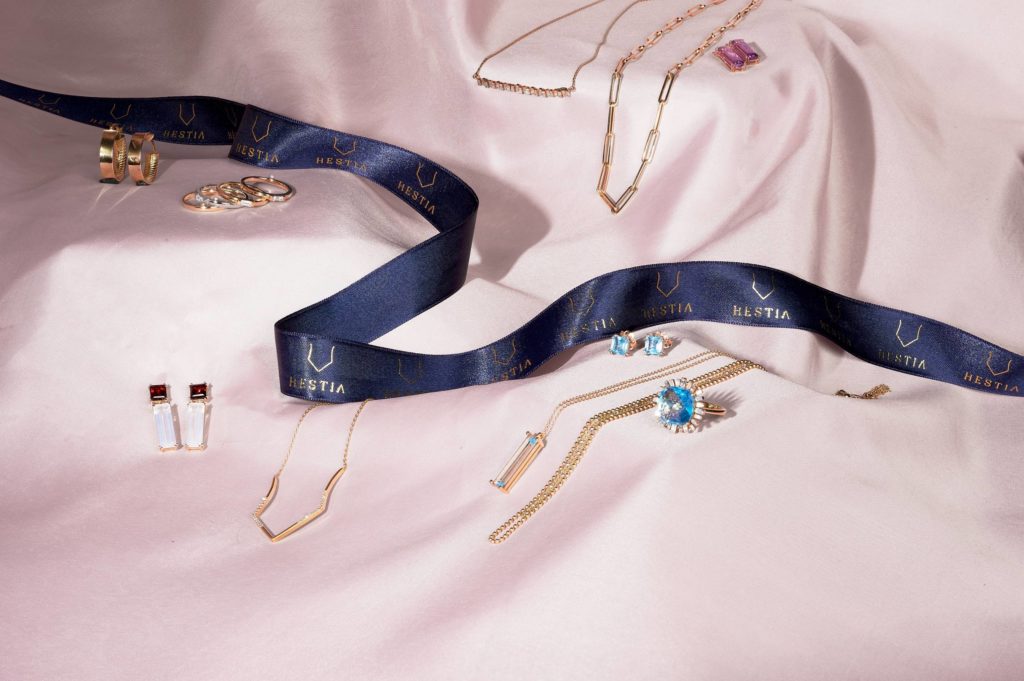 Now that supporting local has become a priority for those who want to see their favourite neighbourhood spots survive the pandemic, special occasions have taken on new significance – particularly for small business owners.
With Mother's Day fast-approaching, most brands are making moves to help people celebrate and bridge the social distancing gap. However, jewelry will forever be the perfect gift.
And for one Toronto-based jeweler, balancing sentimental value and wearable luxury is a top priority, making meaningful Mother's Day gifting easier than ever before.
This Mother's Day, celebrate the goddess in your life with HESTIA Jewels. For a limited time only, a minimum purchase of $700 guarantees you a free pair of ZOE Huggie Earrings to give to Mom (or yourself!).
A proud supporter of the ethical fine jewelry industry, Turkish-Canadian designer Yasemin Mutlu has made it a point to use only conflict-free diamonds and precious gemstones in her designs since HESTIA's inception in 2016.
Named after the ancient Greek goddess of hearth, architecture, home and family, HESTIA is committed to creating impeccable and affordable modern pieces that can be passed down for generations to come.
Mutlu's designs embody timeless essentials with a twist, just like her newly released ZOE Huggie Earrings. Available in 14 different colourways, they'll help Mom add some colour to her everyday wardrobe and get ready for spring.
Plus, they're fun to mix and match with any kind of outfit. Some of our favourite ZOE Huggie colours include the orange, white gold and white ceramic hoop earrings, along with the bright turquoise style pictured below.
Starting at just $200, the ZOE Huggie Earrings are made from a combination of 18-karat white or rose gold on sterling silver and ceramic. They also feature two baguette cut, G colour VS1 clarity diamonds.
If you're wondering what "G colour" and "VS1 clarity" mean, just know that at HESTIA's price point, you receive top-of-the-line craftsmanship, quality, and near perfect stones for an extremely reasonable price.
Best of all, every HESTIA piece is created with love. Mutlu's strong emphasis on thoughtful gift giving from local and Canadian-made brands is influenced by the belief that purchasing a piece of jewelry for someone should reflect their personality.
"It is more important in these difficult times to support local businesses for reasons that everybody is aware of now. I believe we have a huge responsibility that comes with this support," Mutlu told us at Christmas time. "Our impact on the economy has many layers and dynamics."
Send some love to Mom for Mother's Day, friends, lovers, or yourself with HESTIA! The ZOE Huggie Earrings are also available in 14-karat + 18-karat solid gold for special orders.
Check out hestiajewels.com and contact [email protected] for inquiries.
Last modified: April 20, 2021