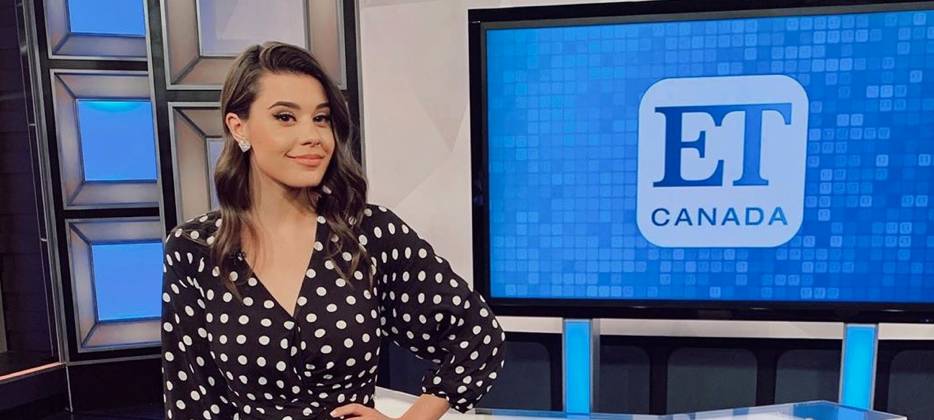 As a group of women working towards common goals for STYLE Canada's brand and business, we understand the value of peer support in the workplace. So, after our last Supper Club at Soho House, we decided to bring like-minded women in business together and feature them in an ongoing series: #LeadingLadies. 
SC: Tell us about yourself.
MH: I'm a digital reporter at Entertainment Tonight Canada. Aside from writing and reporting daily entertainment stories, I host a weekly digital series on ET Canada's Youtube called Royal Rewind which covers all the latest on the British Royal Family. As part of my role, (pre-COVID!) I would travel to Los Angeles, London, Amsterdam and even Brazil to interview some of my favourite celebrities like Ryan Reynolds and Margot Robbie. I have also recently become a dog mom to a Frenchie named Georgie who insists she sit with me during all of my interviews while I'm filming ET Canada from home.
SC: Can you take us through your career path?
MH: I loved performing in school plays and I always thought that I would become an actress but I also had a real passion for interviewing people. After going to college for broadcast journalism, I started off working behind-the-scenes as a teleprompter operator and a floor director. Within a few years, I got a hosting gig on a national television show which eventually led me to ET Canada. Now I get to interview some of my favourite actors and musicians on a regular basis!
SC: What was your greatest achievement over the past decade?
MH: My greatest achievement professionally was definitely the first time I hosted a show on television. Throughout college, I hosted a lifestyle show called Durham Dining, where I would visit restaurants around the Region of Durham, profile the chefs and do cooking segments with them to highlight their most popular dishes!
SC: Do you have a side hustle?
MH: As the oldest of five children, I'm very close to my family including my two sisters. Within the past year, my sisters and I have had so much fun becoming content creators. We love travelling together and have a shared passion for all things Disney and Harry Potter. I don't know what I would do without The Hoffman Sisters!
SC: How would your friends and family describe you?
MH: My family would definitely describe me as a perfectionist! I can be very determined when it comes to my job but I can also put unrealistic expectations on myself. Sometimes I have to remind myself that I'm only human!
Last modified: October 17, 2022