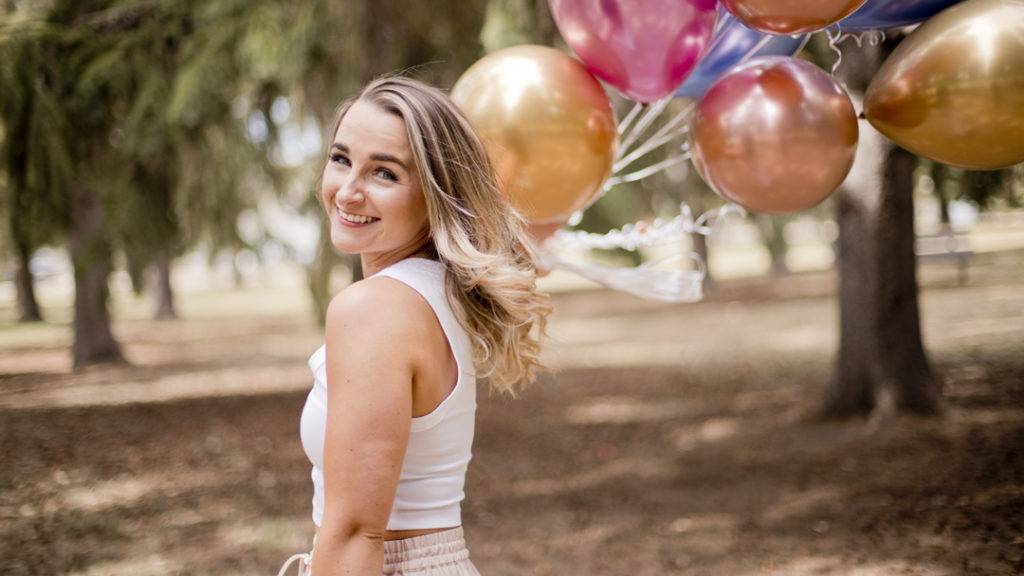 As a group of women working towards common goals for STYLE Canada's brand and business, we understand the value of peer support in the workplace. So, after our last Supper Club at Soho House, we decided to bring like-minded women in business together and feature them in an ongoing series: #LeadingLadies. Scroll to learn more about women's life and health coach Courtney Quinn. 
*BONUS! Hang out with Courtney on our Instagram page during her exclusive one-day takeover. Tap or click here to watch it live.
SC: If you were introducing yourself to someone for the first time, what would you tell them?
CQ: If I was introducing myself to someone for the first time, I would ask them about who they are and what they do. People are so quick to talk about themselves, but asking people about them is what really makes a person remember you.
SC: You've talked about how nonnegotiable your morning routine is. Why is a morning routine so essential to having a productive day?
CQ: Ah, yes! My morning routine will always be a nonnegotiable, and it is usually something I am always talking about with my clients. A morning routine is so essential because it sets the tone for your day. You have moments to yourself, whatever that looks like. Nothing good ever comes from waking up at the last minute, grabbing a granola bar and running out the door. I believe it is important to start your day with time to get grounded and connected for a positive mindset. 
SC: What's your exact morning routine look like? We're all about the details!
CQ: My morning routine is a little extra, because I make a lot of time for it. First, I wake up around 6:00 a.m., make my coffee and read my daily horoscopes. I know it's 'woo-woo'. Sometimes I pull an oracle card as I believe they give me guidance for the day. Then, I do some journaling, about 10 minutes of meditation, and then read for about 15 to 20 minutes. After that I will do some form of exercise, whether it's walking my dog or hitting the gym. You don't need to do all of that to be successful or to feel good, but that's just what feels good for me. 
SC: Who or what has been a strong influence in your life?
CQ: Oh my goodness. So many people. I have such an incredible support system and all of my friends and family inspire me in some way. But, I would have to give this one to my Mom. As a single mom, she worked hard every day doing what she could to give me the best life possible and has always supported me in chasing my dreams.
SC: What is your greatest achievement over the past decade?
CQ: My greatest achievement over the past decade would definitely be building and growing my business into what it is now, and because of that buying my first home on my own, and being able to change the lives of women every single day.
SC: What obstacles have you overcome to get to where you are today?
CQ: There has been many obstacles that I have had to overcome. In high school I struggled a lot with body image and confidence, and I was always trying to 'get skinny'. For years I tried every diet, tried to burn off everything I ate with exercise, and had a terrible relationship with food and exercise. I became a personal trainer while I was in university and started to become more educated on movement and nutrition. But, I still struggled a lot, and after I completed my degree I decided to try and compete in a bikini competition.
I questioned my coach's strategy to take out entire food groups to try to get me to lose weight, because I knew it wasn't right for my health. Food and workouts consumed my entire life, I was miserable, and I missed out on making memories. There was one point in this journey where I decided that being 100 pounds for a show wasn't worth me missing out on my life anymore. From there, I decided that I would eat and move to nourish my body, not to punish it. This was a huge stepping stone for me in my confidence, my self love, and learning to listen to my body for the first time.
SC: You started your coaching journey after working at a gym. How did you come to work there in the first place and how did your coaching business morph from there?
CQ: I started working in the gym at the front desk. From there I got certified as a personal trainer and got really busy right off the hop. I loved what I was doing and knew I was meant to help people feel amazing about themselves, but I also knew I was meant for more. There were actually a lot of struggles at the gyms I worked for in terms of management that never felt good for me. I started to resent what I was doing and refused to be one of those people who shows up to work miserable every day.
So, I quit and went off on my own. I started with online training and nutrition once I was certified in everything, and over the years I realized there was so much more to this than workouts and nutrition. Plus, I was naturally life coaching my clients on their calls. So, I listened to this gut feeling and decided to get certified in life coaching. Now my work is changing lives on a whole new level. It's amazing!
SC: When did you start to recognize that the things you were having troubles with in your personal life – living an unhealthy lifestyle, feeling unfulfilled and disconnected from your body, lacking self-worth, struggling with accountability and goals – were what other women were struggling with too?
CQ: I started to recognize these things through working with my clients and through social media. On Instagram and other platforms you can see how many women struggle with the all or nothing mindset with not only fitness and nutrition, but life. Plus, you can see how disconnected women are from their bodies and their own feminine energy. Sadly, I think it's rare to see a woman in her power, feeling confident and showing up for herself. I'm here to change that.
SC: What motivates you to empower women?
CQ: My favorite thing is watching a woman show up in her power. I want more women, all women, to start showing up as their most authentic, true self. To stop playing small, to be confident in themselves, to set boundaries, and live life for them again.
SC: You say that when we are not taking care of ourselves, we lose our way. How do you execute your mission of guiding your clients back to themselves?
CQ: I start by asking them to evaluate their life overall. My life coaching clients will start their first session by completing a balance wheel exercise where they rate every aspect of their life and dive deep into why they rated it that way. This sometimes can be a really hard exercise because often we are so afraid of how we truly feel about our lives and ourselves. We avoid thinking about it. After we see where they are at, we get clear on where they want to be.
SC: You also say that you believe we are meant to move and nourish our bodies in a way that feels good for us; to enhance our lives, not consume them. Why is it so important to move in a way that's fulfilling instead of just moving and eating healthy to achieve a certain body image? 
CQ: This is so important because when we are just doing it for aesthetic reasons, it never sticks. We are doing it out of punishment and hate for our bodies instead of out of love. It makes it so much harder to get up and move your body or choose the foods that nourish your body when you feel like you have to do it to lose weight or look a different way. You would be amazed at how much free space shows up in your mind to focus on more important things when you aren't consumed by what you are eating, or what you feel guilty about eating, all day. When I changed this mindset for myself, my life changed in so many ways for the better.
SC: Burnout is so common amongst millennial women. What do you believe causes this and how do you target it through your coaching practices?
CQ: I believe burnout is caused by putting all of our worth on being productive and feeling shameful about resting. The society we live in today makes us feel like we need to be on the go 24/7. This hustle culture has caused women to become out of sync with our bodies and our cycles. Women aren't meant to run on a 24-hour clock. I coach my clients to get back in tune with their body and cycle, and to honour it. Letting go of the guilt that comes with taking a day off or resting is essential.
SC: One of your goals as a coach is to help women 'reclaim their radiance' through a mini course that you offer. What exactly does this entail? 
CQ: Yes, I have a mini course – that is just a sneak peek of what you could experience when working with me in my Reclaiming Radiance Mastermind. The mini course is a four video series that is accompanied by a toolkit that focuses on helping you gain clarity, create healthy habits, setting boundaries, integrating masculine and feminine energies, and letting go of limiting beliefs. These are some of the topics that we dive into in my high-level mastermind to help you reclaim your radiance.
SC: How would you define a woman who has reclaimed their radiance? Who is she and what is she like?
CQ: I love this question. This is going to look different for every woman, and that's what I want everyone to remember. You know when a woman walks into a room and you don't know what it is, but her energy just draws you in? That's what it feels like to be around a woman who has reclaimed her radiance. She shows up in her power. Confident. She is radiant in her own way and she is fully expressed in who she is and the body she is in. A woman who has reclaimed her radiance is showing up for herself first, which allows her to show up in the other aspects of her life. Even in the bedroom. 
SC: What do you love most about the work you do?
CQ: The best part about my job is watching clients realize how much they have changed. When they tell me 'I'm not even the same person I was six months ago', and I see how they start to show up differently in their life and for themselves. It's so powerful.
SC: What advice would you give your 16-year-old self?
CQ: Oh boy… I would tell my 16-year-old self that you aren't even close to meeting the man you're going to marry yet, so stop crying over it! To not sweat the small stuff and to always trust that everything is working out OK.
SC: If there's one message you could send to young professionals and young women going through the ups and downs of the pandemic, what would it be? 
CQ: That's a tough one. This year has been so crazy for everyone, but if there is one thing that has helped me through it, it's that the only thing that is truly in your control is yourself, and your mindset. If you can control your mindset and start focusing on gratitude and abundance, life feels much better. Even when it is hard.
Last modified: October 17, 2022