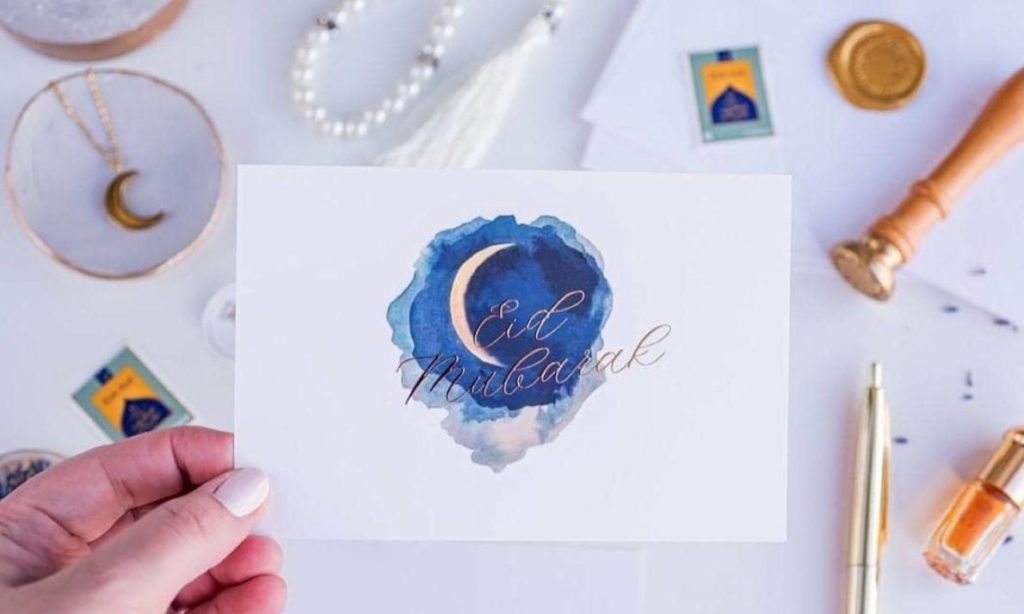 This guest post was kindly contributed by Tasneem Dasoo, a Toronto-based Muslim lifestyle blogger, digital marketer and co-founder of modest men's swimwear line Kap Swim. 
Ramadan is coming to a close, which means Muslims across Canada are excitedly awaiting the celebratory festival that marks the end of the month.
This year, Eid-al-Fitr will take place on Wednesday, May 12, but just like any other holiday in the past year, it will be impacted by lockdowns and gathering restrictions.
However, that's no reason to put your celebrations on hold. Besides scheduling a virtual get together, decorating the house, scheduling gift drop-offs and feasting with members of the same household, there are still plenty of ways to get creative and enjoy celebrating Eid.
Gift-giving is a big part of Eid celebrations in Canada and across the world. We've grown up surrounded by adults and older siblings showering us with gifts and the traditional 'Eidie', an envelope cushioned with cash. Now that we're the ones adulting, it's our turn to continue the Eid tradition.
Though we'd all love to have our gifts purchased, wrapped, and waiting by the door already, the reality is that many of us are still searching for the perfect gift to surprise our loved ones with. But, look no further!
Here's a list of local Canadian BIPOC-owned businesses to help you begin your search: 
For her: Masks are here to stay for a little while longer, and sporting one with a hijab can be pretty inconvenient when you can't reach your ears. These Hijab-friendly silk face masks from Honey Hijab are not only breathable and soft on your skin, but they also tie around your head instead of being hooked to your ears.
For mom: It could just be me but the 'I don't need anything' from moms makes it difficult to gift them something they can enjoy. That's where beautiful floral arrangements can come in. Flowers are a little drop of sunshine for anyone and the arrangements by Bilqees of  Zuhoor Designs are the perfect gift for your mom or mother figure in your life.
For him: Getting gifts for the men in your life can be difficult. How many socks, watches or new wallets can one have? With summer around the corner, check out Kap Swim for modest men's swim shorts that cover from navel to knee.
For dad: As dads are hopping on the beard trend, this Beard Kit by Elegance Beard comes with everything they'll need to groom their new beard so mom can finally stop asking him to shave!
For the new mom: Just thinking about babies getting massages is cuter than ever. Give new moms a little bit of a break with a Snuggles and Bubbles baby spa gift card for her and her little one.
For the kids: Eastern Toybox has so many great gifts for kids, from wooden toys to books to puzzles.
For the coffee connoisseur: Hailed Coffee started off as a modest shop in east Chinatown, Toronto. Today, it has an additional location that not only runs as a coffee shop but offers specialty roasts like Arabic coffee and handcrafted chocolate bars that draw inspiration from Middle Eastern roots. Whoever receives a care package from Hailed will be sure to send a little prayer your way.
For the decorator: For those who love home decor, things are always being moved around and changed. These classic pieces by Tea and Tulip Designs are classic and timeless in any room.
For the sweet tooth: Sweet treats for Eid are a must! These giant stuffed cookies by  Golden Crumb Biscuits are the perfect indulgence after a month of fasting. We guarantee they won't last long!
For the one who never needs anything: I've got one of these in my life! Every year I donate on his behalf to a charity and spoil him with a small treat instead. A great place to support meaningful causes is the Muslim-based crowdfunding website, Launchgood. With campaigns from all over the world, a dedicated Canadian support team and zero platform fees, there will be a cause close to your recipient's heart.
For those who appreciate stationery: I am a sucker for a nice card and beautiful design. These Eid cards by Custom by SOP are soft to the touch and will look beautiful on your mantle year-round.
Last modified: May 9, 2021