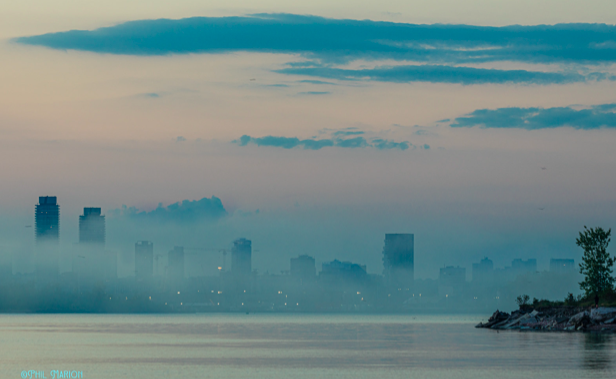 Climate anxiety, anyone?
It could be the climate anxiety, it could be the smoke – but it's getting harder to breathe. 
Last Wednesday marked Toronto having the worst air quality of major cities in the world, with southern Ontario completely blanketed by smoke plumes from forest fires over northeastern Ontario and Quebec. The smoke, the deteriorating air quality, and what these two things mean in terms of climate change is a reality many of us are waking up to.
We see the frenzy overtaking social media – photos and videos of smoggy haze enveloping skyscrapers and the world seen in sepia tones. It can be paralyzing to not know when this extreme weather will end and how to stop it, especially with scary data cropping up in our news feeds like this recent study that found that a mere one-degree Celsius rise can intensify wildfires by a scorching 600%. 
Activism is alive.
A couple of weeks ago, Global Citizen's Power Our Planet: Live in Paris brought together 20,000 activists, artists, world leaders and action-takers to call for justice for populations being devastated by climate change. Because, sadly, it's the world's most vulnerable countries and people (who contribute the least to climate change) that are the most impacted by it. The event saw the likes of Billie Eilish and Lenny Kravitz perform and was timed in such a way as to draw attention to the Summit for a New Global Financial Pact. The Summit, which could have been a turning point on climate change, disappointingly concluded with most leaders of the world's richest nations and most powerful institutions having once again gathered and emerged with insufficient solutions and lightly-held promises. 
There's an app for that.
Despite the disheartening outcome, we can still take action and pressure the world's biggest economies and worst polluters to reform. One way you can do this is by downloading the Global Citizen app which is designed to offer users the tools they need to act in the face of climate change. Some of the actions the app can prompt for could include signing an online petition, sharing an educational article, or writing an email to your local Minister of Parliament.
To learn more about Global Citizen and the Power our Planet campaign, head to www.globalcitizen.org. 
Last modified: June 29, 2023