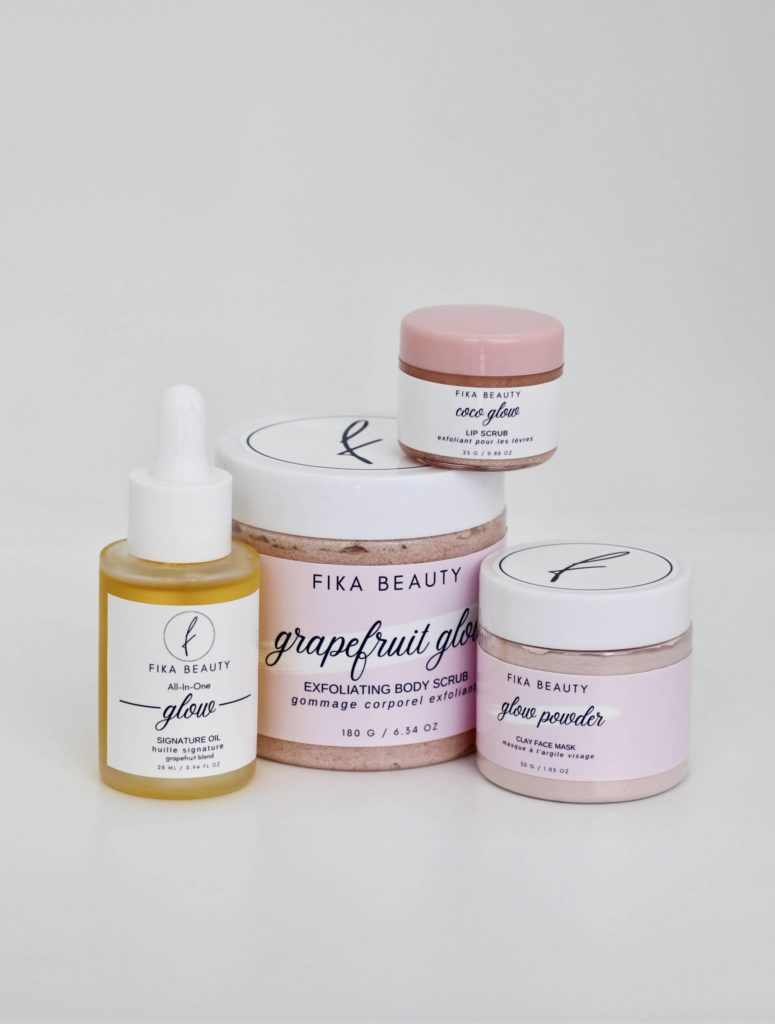 Last February, we started a brand new series on STYLE Canada: #BeautyFind Friday, otherwise known as your new #BFF. On a bi-weekly basis, STYLE's Digital Editor, Anastasia Barbuzzi, presents you with a new #BeautyFind to help you enjoy a weekend of self-love and care like no other. She's all over the green beauty scene and on #BeautyFindFridays, she gives you the inside scoop on products and brands that are changing the space, and one's you've just gotta try. Full permission to start dreaming about your next *Add to Cart* item.
While lockdown drones on in Ontario, it's more important for us work-from-homers to make the time for self-care. And sometimes, all we need is a little reminder that we're worth it.
Thankfully, the #LeadingLadies behind the esteemed Fika Beauty Studio have made it their responsibility to jog our memories with The #FikaFam Starter Bundle: a collection of simple, natural and effective handcrafted products for overall wellness. 
Basically, The #FikaFam Starter Bundle allows you to take the Fika experience home with you, and for under $110, it makes waiting for an appointment at the studio worth the wait. Plus, it's the perfect Mother's Day gift. Read on to find out why.
First impressions: There are three words that describe the look of The #FikaFam Starter Bundle: clean, cute and pink. The locally made, skin-loving combo includes reformulated favourites and exciting first-time additions by founders Shannon Giang and Annie Lam. Since closing their doors for lockdown, the Ottawa-based duo pivoted their spring product launch with support from fellow Canadian beauty brand, Bathorium.
Founder Gregory Macdonald not only opened his doors to Giang and Lam, but mentored them through creating The #FikaFam Starter Bundle, which turned out to be completely recyclable, cruelty and preservative free. The package includes the Grapefruit Glow Body Scrub, All-in-One Glow Oil, Glow Powder Clay Mask, and Coco Glow Lip Scrub. 
Talkin' specifics: Credit goes to Giang and Lam for consciously considering every detail of the The #FikaFam Starter Bundle, especially when it comes to product usefulness and preservation. For example, the Glow Powder Clay Mask can be used to purify, soothe, rejuvenate, nourish, and gently exfoliate your skin. It also replenishes moisture and reduces the appearance of pores, dark spots, fine lines, and wrinkles.
Because the Glow Powder Clay Mask's benefits are only activated upon contact with water, the powder base allows for the highest performance of each ingredient and ensures they won't deteriorate over time. Another versatile product in the package is the aptly named All-in-One Glow Oil, which is rich in antioxidants, vitamins A, C, E, and B7 (biotin). The blend easily absorbs and seals lightweight moisture into the hair, skin, and cuticles. It strengthens, softens and regenerates all over.

The experience: To sum it up, The #FikaFam Starter Bundle is sumptuous. After cleansing, I started my routine with the Glow Powder Clay Mask spiked with a few drops of the All-in-One Glow Oil (as per Fika's recommendation). After adding just a couple drops of water, the mask turned a deep pink colour thanks to a mix of hibiscus, strawberry, watermelon, and French pink clay powder.
10 minutes later, I rinsed it off to reveal a softer, re-energized complexion, compliments of the Glow Powder Clay Mask's superfood ingredients. Hibiscus powder, also called "the anti-aging plant", is a natural source of alpha-hydroxy acids which rebalance the skin. As it gently exfoliates, it naturally reduces blackheads and inflammation while improving skin texture.
Even better, the Glow Powder Clay Mask smells just as you would imagine: sweet, fruity and totally edible. Similar to the All-in-One Glow Oil, which is filled with succulent pink grapefruit, sweet orange, bergamot and lemon oils that pump the skin full of antioxidants. 
Juicy pink grapefruit is also the star of the Glow Body Scrub, which benefitted the notoriously dry, cracked and chapped areas of my body. The mixture of detoxifying Dead Sea and pink Himalayan salts, moisturizing aloe butter, healing vitamin E and ground pumice stone worked wonders on my heels and elbows. With notes of strawberry and musky vanilla, its signature cotton candy scent smelt good enough to eat. 
To round things out, I applied the slightly gritty Coco Glow Lip Scrub, which is easily one of my new favourite morning rituals. Equal parts nourishing and exfoliating, this creamy, sugary concoction is simply delicious. Whipped with coconut, sweet almond, jojoba, and grapeseed oils for extra nourishment, it leaves my pout noticeably plump and hydrated all day long. It also smells incredible. 
The verdict: Since Fika's birth into the green beauty scene, its mission has remained the same: to build a strong community that supports self-love, self-care, positive mental health and eco-awareness. The The #FikaFam Starter Bundle embodies that.
It's only fitting that the Swedish term "fika" describes taking a moment to slow down and appreciate the good things in life. Really, Fika Beauty nailed this one. And if you can get behind supporting a couple of Canadian-made brands working to create sustainable businesses, both environmentally and economically, this package deal might just make the perfect Mother's Day treat. Would recommend.
Last modified: October 4, 2022