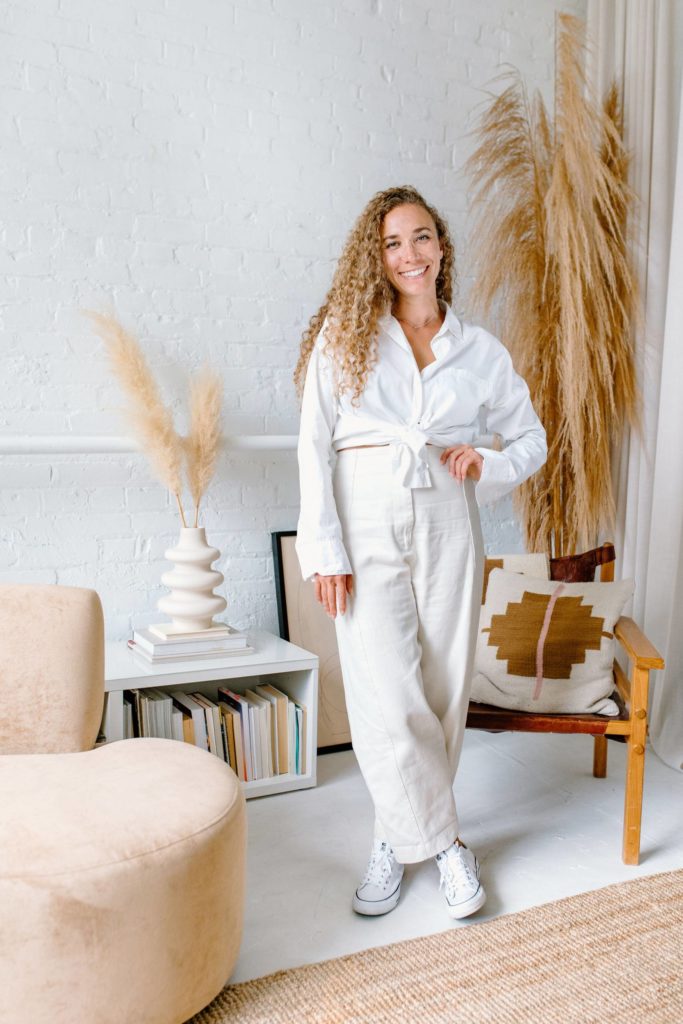 As a group of women working towards common goals for STYLE Canada's brand and business, we understand the value of peer support in the workplace. So, after our last Supper Club at Soho House, we decided to bring like-minded women in business together and feature them in an ongoing series: #LeadingLadies.
In the exclusive interview with Digital Editor Anastasia Barbuzzi below, learn more about Darielle Teitelbaum: Toronto-based business lawyer and founder of AWE Legal/AWE Contracts, a unique law firm that focuses on working with athletes, artists, wellness professionals and entrepreneurs (AWE). Like many of her clients, Darielle is also an entrepreneur, creative and fitness instructor. 
AB: If you were introducing yourself to someone for the first time, what would you tell them? 
 DT: I would say first and foremost, I'm a storyteller and a very curious person. I love asking questions, trying new things, learning, movement and being creative. I don't like labels and so I'm grateful to be able to write stories, teach others about legal rights, teach cycling and fitness, and wear so many hats because I'm an entrepreneur just like my clients.
AB: Who or what has been a strong influence in your life?
DT: Dance, and my dance teacher Debbie, have been very strong influences in my life. From a very young age I danced competitively and essentially grew up in my local dance studio. Debbie was tough and there were no excuses, no missed classes, no hair out of place in competition. She instilled the work ethic that has informed every aspect of my life. It was from my days as a dancer that I learned to work as a team, how to balance a busy schedule with school, other extra-curriculars and friends, and ultimately taught me the magic of persistence. Dance was an introduction to my love of movement and I've exercised and turned to other athletic pursuits for stress relief, fun and purpose ever since.
AB: What is your greatest achievement over the past decade?
DT: Building a successful law firm, AWE Legal, on my own terms is certainly a great achievement, and I am really excited to see AWE Contracts (my online contract template shop) grow and help entrepreneurs across Canada get accessible legal protection. I think my greatest achievement has been my consistent drive to create and try new things, whether it's solo travelling, making a short-film, running a marathon, or learning to surf.
AB: What obstacles have you overcome to get to where you are today?
DT: I think everyone fights battles we don't see, and I'm no exception. I've fought self-doubt, fear, difficulties with mental health, navigating difficult interpersonal situations, and meeting people who may try to bring you down. If anybody says entrepreneurship is easy, they're not being honest. There are highs and lows, but it's a wonderful trade-off in my opinion. Soon people's opinions matter less, you're more confident in your worth and the value you bring, and you know who to trust and lean on. It can be a lonely road, so it's crucial to find a support system and mentors. I think having outside interests is key too!
AB: Like many of your clients, you're a multifaceted entrepreneur, creative and fitness instructor. You took a risk leaving traditional law at only 33-years-old to carve your own path and create AWE Legal in 2017. What exactly inspired you to make this move?
DT: I created AWE Legal out of necessity, because I didn't want to sacrifice my active lifestyle and I didn't fit in to traditional corporate law as it was. After being unsure what to do, and working with another business lawyer, I realized I shouldn't have to choose between lifestyle or law. I could do both and practice law in a way that reflects my values and still offer high quality professional services. I also have a background in marketing and looked at it as a fun opportunity to brand my law firm in a way that truly reflects me and my mission.
AB: AWE stands for Athletes, Wellness and Entrepreneurs. These three industries/professions reflect your own passions and jobs. Why else did you decide to focus on athletes, wellness and entrepreneurs in particular?
DT: AWE represents my own passions, definitely, but it also represents the communities I felt were underserved by the legal profession. I wanted to provide legal services that resonated with the communities I felt part of. I knew so many creatives and entrepreneurs in those fields who felt unable to approach a lawyer or understand their own contracts, and my goal was always to bridge that gap and offer education. I wanted to be a lawyer who people felt comfortable approaching, asking questions and relating to. I wanted to ensure my work product spoke my clients' language, they understood it and felt proud to share it with their clients or team. This value carried into my launching AWE Contracts, where even though I don't interact one on one with my online customers, all the templates are drafted in a user-friendly way and reflect AWE industry practices.
AB: The ongoing effects of COVID continue to impact the economy, but especially the women who have been disproportionately effected compared to their male counterparts. Many have recently turned to their preexisting side hustles for extra income and are looking to turn them into full-time gigs. Why is it so important for anyone in this climate to have the proper legal representation/contracts set up?
DT: I know it's a scary thing to turn your side hustle into a main gig, and spending money on this seems like an extra burden when things are so uncertain. However, proper legal protection should be a top priority as not only does it provide you legal protection, it establishes credibility of your business in the eyes of your potential customer/client. By investing in a contract/legal support, you are representing yourself as a legitimate business owner, and you'll have peace of mind knowing that the legal contracts are taken care of. AWE Contracts are template to be used over and over, so that when you level up your business, you can modify your rates and policies accordingly. There are times to cut corners when starting out, but legal protection shouldn't be one of them, and now it doesn't have to be since you won't need to break the bank by using AWE Contracts.
AB: AWE recognizes that small businesses and those that are self-employed are often underserved by the cost-prohibitive and lengthy process of individually drafted contracts. How does AWE make them more accessible?
DT: AWE's goal is to make contracts accessible and affordable, in an easy and relatively quick process. We do this by offering an abundance of legal contract template options on our online shop, where at the click of a button, and in under one hour, you can buy and customize your own legal contract template. Our Contract Kits offer a really affordable option to get all the essential contracts you need based on your industry, for the fee of getting one contract drafted by a lawyer (or less!). You can feel confident knowing the templates are all written by a Canadian lawyer with real experience in these industries. Compare this to hiring a lawyer, going through a lengthy retainer process, and paying high hourly rates. AWE provides a way for any entrepreneur in Canada to get solid legal protection without the traditional barriers.
AB: Why is legal protection for small business owners and the self-employed so unaffordable and complicated to understand in the first place?
DT: There is a huge discrepancy with access to legal support, and I don't have the answers as to why, but often small businesses and self-employed people don't have the excess capital to spend on legal fees versus well established big corporations. Lawyers have high legal rates and often hiring a lawyer requires an up-front retainer. Lawyers are also bound by their governing body and law society, and so there are formal processes for retaining a lawyer, administrative steps, and lawyers themselves pay high fees to maintain their license and continuing education requirements. Often traditional law firm have high overhead, and are bound to older practices of lawyering. Contracts don't always reflect modern industries because influencers, online businesses and other new professions weren't considered traditionally and so older lawyers don't have as much experience in these fields. So, a lot of contracts are written in legalese that is hard to understand and based in an old school style of law.
AB: Each of AWE's contracts, for podcasting hosts to event planners, offer customizable aspects pertaining to each profession. Why is it so important to have a contract tailored specifically to the aspects of your business, especially in today's increasingly freelance world?
DT: It's hugely important to have contracts that actually reflect the nature of your business, otherwise your contract isn't going to offer you realistic protection because each industry has very different practices. The legal terms in a contract should reflect your business policies in order to hold both parties to performing what is needed and so it must be outlined in the agreement.  Your contract should be an extension of your services, and I wanted to ensure that each industry had optional terms that would reflect the nature of the services. For example, not every industry needs a deliverables section, password authorizations, or file storage. So, there is a level of customization provided in each template, but you can trust that it isn't a standard template that doesn't address the realities of your field, rather it's been thoughtfully drafted by a Canadian lawyer based on your professional industry standards and client expectations.
AB: Who did you work with to gain insight into the services, clients and practices of each profession, from online coaches to graphic designers?
DT: In my legal practice, AWE Legal, I've been lucky enough to work with many talented creatives, athletes and entrepreneurs who have given me insight into their niche industries. From gym owners, artists, models, graphic designers, influencers, PR firms, nutritionists, personal trainers, mindset coaches and more, I've been able to learn about these fields from my clients directly. I work very collaboratively with my clients and so every contract I draft is based on my client's feedback and experience. I gain insight into their standard practices, frustrations, business models and client expectations. Using this knowledge, I've been able to create standard templates based on the realities of these professions. AWE Contracts allows entrepreneurs to pick and choose which terms are relevant for their business contract by using the User Guide that comes with every contract download.
AB: How can business owners and the self-employed ensure their contracts will protect them from the impacts of the pandemic moving forward?
DT: There are no sure things, as we know, and while the law offers layers of protection nothing is absolute (classic lawyer disclaimer). The best we can do is try to put as many strategies in place into contracts in order to cover the 'what if' and 'worst case' scenarios. It is important to have clear and detailed rescheduling and cancellation clauses, as well as clearly defined risks and potential risks in your services in a waiver of liability section in your contracts and/ or terms and conditions. So, for example, if there are social distancing rules in place and you offer group services, you can add this into your contract policies. A force majeure clause or 'act of god' clause, is standard in many contracts, and while this won't cover COVID-19 anymore since this is not an unforeseen event, it's still good practice to have this clause in your contract for other unforeseen events that may arise. If you're pivoting to online, it's important to have the proper contracts in place to address third-party platform, online expectations and rights for use of your materials. The Online Course Kit has great contract templates if you're moving to an online model. 
AB: Why do you believe that if you're running your business in Canada, you should have contracts drafted by Canadian lawyers, even if your clients are all over the world?
DT: If you're in Canada, your contract should reflect your interests, business policies, but it should also be written by a Canadian lawyer in order to properly reflect Canadian law. Although your clients may be international, your contract governs your policies and so should be written according to your jurisdiction and convenience.  If you're based in Canada and something were to go wrong in your client agreement or other contract, you'd want to ensure the contract is governed and interpreted by your local law (not international law). A Canadian contract will be written for your specific jurisdiction, and should have a dispute resolution clause that says if something goes wrong, say if somebody sues you from another country, the resolutions process must take place in your jurisdiction. This saves you travel costs and your contract will be interpreted and decided by local courts and Canadian law.
AB: What do you love most about the work you do?
DT: I love working with innovative and creative business owners every day. I'm consistently inspired by my clients who are bringing new solutions into the world, sharing their talents, and have decided to take their businesses to the next level. I love seeing people working so hard, shaking up industry norms, and breaking stereotypes of what business needs to looks like. Now with AWE Contracts, I love that I'm able to help more entrepreneurs across Canada, providing them access to industry specific contract templates based on my years of working with amazing business owners in these fields.
AB: You've said that it's your hope to empower all entrepreneurs, at any phase of their business. Why?
DT: In my legal practice I've met so many creative and ambitious entrepreneurs who feel intimidated by the legal process, understandably, and who are unable to afford legal counsel or need contracts in a time crunch. Often, it's the start-ups, younger demographic or entrepreneurs juggling a side hustle with their full-time job, who face the financial barrier to setting up their business and getting suitable contracts in place. AWE Contracts offers a direct solution for the many entrepreneurs I meet who aren't able to hire a lawyer for one on one legal advice or don't have the time. Our online contract template shop allows any entrepreneur, whether at the side hustle phase, start-up or already in business, to have access to lawyer-drafted high calibre contracts and legal protection. Having legal protection is empowering because businesses have plenty to worry about, and so by having solid legal contracts in place at the click of a button, there is a sense of ease knowing you're legally covered, professional, and all without high legal fees and lengthy process.
AB: What advice would you give your 16-year-old self?
DT: You don't need to have all the answers right now. The frustration you feel not knowing what you're 'supposed' to do is normal and every attempt, trial, informational interview and experiment is worthwhile in the grand scheme of things. Keep exploring with no expectation but rather a willingness to learn.
AB: If there's one message you could send to young professionals going through the ups and downs of the pandemic, what would it be?
DT: I would tell them to give themselves a break and adjust their own expectations of themselves. Not every day is going to be a win, and that's okay, pandemic or no pandemic. Everyone needs to do the best they can, given the circumstances we're dealt. Also, try not to compare yourself to anyone else because everyone is on their own journey. Celebrate every small win and trust that new opportunities are always going to arise, they just may take time. So please, be patient and kind to yourself and others.
For more information about Darielle's services, please visit AWE Legal and AWE Contracts.
Last modified: May 24, 2021