If you're looking for a trendy new way to add a little color to your nails, you should definitely check out Blooming Gel Polish. This new type of nail polish comes in a variety of beautiful shades. Plus, it's easy to apply. Blooming Gel Polish is the latest trend in nail art, and it's sure to be a big hit with trendsetters everywhere.
What is Blooming Gel Polish?
Blooming Gel Polish is a new type of nail polish that dries quickly and leaves behind a glossy finish. It's easy to apply, requires no filing or repainting, and lasts up to two weeks. Blooming Gel Polish is made from a special formula that reacts with ultraviolet light in sunlight to create an intense shine.
How Does Blooming Gel Work?
When you put Blooming Gel on your nails, it forms a protective layer over the nail bed. This prevents chips and breaks from happening while also providing long-lasting coverage. The special gel formula reactivates in direct sunlight to give off an ultra-shiny finish – just like magic!
How to Use Blooming Gel?
Prep is Key:
File your nails into the shape desired
Push cuticles back and trim
Gently buff the nails
Using cleanser wipes, clean your nails
The Process:
Apply a blossom gel base coat in a thin layer to all five nails and cap ends, and avoid the cuticle and skin.
Dip the desired blossom gel color into a palette where you can begin mixing colors.
Using a fine brush, dot color onto the nail carefully, creating the pattern you want. Drag the color using the brush. Remember, the longer the gel sets before curing, the more it "blossoms."
After the blossom gel is applied and you are satisfied with the design, cure it for 60 seconds.
Add more details to your nail design if you want, and cure for 60 seconds.
Once cured, apply a top coat, then cure for an additional 60 seconds.
To remove sticky residue, use your favorite cleanser wipes. This will leave your nails nice and shiny!
How Long Does Blooming Gel Take to Cure?
One of the reasons blooming gel polish is quickly becoming popular is because of the short cure time. Once the desired look is obtained, it takes just 60 seconds to cure. You can continue to add additional details after this.
Most Popular Blooming Gel Polish
Recent trends have brought psychedelic and bright color patterns to mainstream fashion, and blooming gel nail polish is right there with bringing back these 70s styles. Although you could be tempted to go to the salon and have this done, it is easy enough to do it yourself and more affordable.
To get high-quality blossom-style nails, the key is knowing which blooming gel nail polish offers the best results. That's why we put together the following list of the top choices we could find!
Nail Art Blossom Gel by Aimeili
The Nail Art Blossom Gel by Aimeili is a good choice if you're on a budget. It is around the price of the average drugstore brand, but it still offers a decent quality result. It comes in 10ml bottles and is rather thick to allow proper spreading or "blossoming." Keep an eye on it to avoid it spreading too much.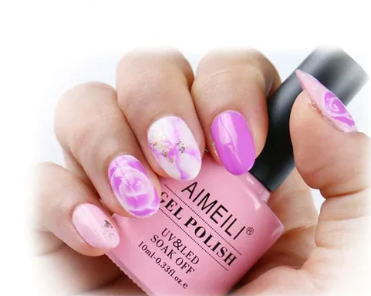 Spreading Effects by Mia Secret
This product is made in America and is a great option for anyone looking for that salon-grade result. Spreading Effects by Mia Secret is a trusted brand and product by professionals because it offers a reliable, crystal-clear finish.
The formula helps prevent overflow into the cuticles, even if applying a thinker layer. But, some people reported faster spreading than expected with a thick layer, so doing one nail pattern and cure is recommended before moving to the next nail. However, this is good practice for any type of blooming gel.
Rosalind Blossom Gel Polish
If you are the type to go through a bunch of nail polish, the Rosalind Blossom Gel Polish is a great option; it comes in a pack of 2. Perhaps you have an interested friend. You can practice nail designs together or just split the cost to make it more affordable.
While it isn't a high-end salon-grade blooming gel, it's still a decent product.
Beetles Blossom UV Gel
If you're a beginner in the blooming gel nail polish trend, check out the Beetles Blossom UV Gel. You can get decent results with very little effort. The formula is thinner, which gives faster results without playing with thicker gels. Although you will need to apply carefully in a very thin layer because of the formula –, you get many more uses than you would thicker applications!
Blooming UV Gel by Burano
Another good choice for beginners is Buranto's Blossom UV Gel. It provides a smooth application and blossoms perfectly for that marble design. Those who do not like the goopy mess of thicker polish may spread too fast to do detailed designs or feathering.
We liked the fact it comes with a detail nail brush, so you do have the option of playing around with the designs. And, with a 15ml bottle, it's a bit bigger than some others on the list.
Last modified: October 28, 2022