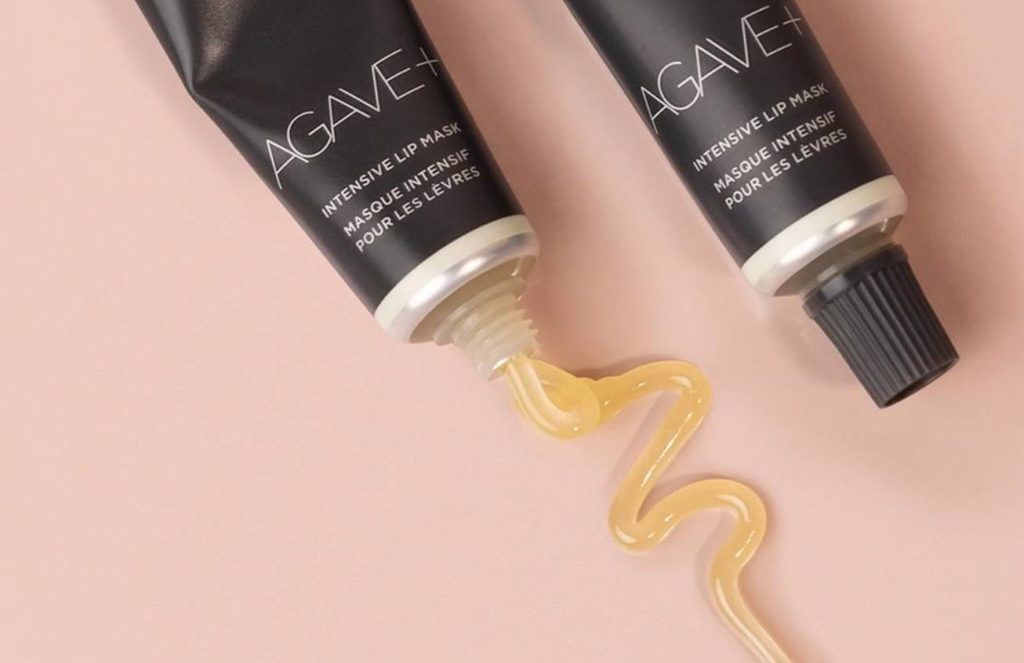 Last month, we started a brand new series on STYLE Canada: #BeautyFind Friday, otherwise known as your new #BFF. Every Friday, STYLE editor Anastasia Barbuzzi will present you with a #BeautyFind to help you enjoy a weekend of self-love and care like no other. She's all over the green beauty scene and on #BeautyFind Fridays, she'll be giving you the inside scoop on products and brands that are changing the space, and one's you've just gotta try. Full permission to begin daydreaming about your next *add to cart* item.
Months before I ever got to try Bite Beauty's Agave+ Intensive Lip Mask out for myself, I had the pleasure of attending a shade-making session at the brand's Toronto Lip Lab as a part of my sister's birthday celebration. Bite was a company I'd heard only positive things about before, and the experience of helping create three nude lipsticks for Michela's skin tone with a Bite mixologist confirmed everything that trickled down the grapevine. The same goes for what a few little birdies told me about the Agave+ Intensive Lip Mask –  why hadn't I tried it sooner?! And why is this the first time I'm confessing my love for this lifesaving product on the internet? Luckily, I've got #BeautyFind Fridays and STYLE Canada to thank for allowing me the platform to do so.
OK, now – preeeeesssenting this week's #BFF! Bite Beauty's Agave+ Intensive Lip Mask.
First impressions: When I received the Agave+ Intensive Lip Mask as a gift months ago, I wasn't sure what to make of the packaging. And if I'm being completely honest, I still don't have much of an opinion about it besides thinking its simplicity matches the rest of the line well. I assumed that the product inside the tube would be hydrating if the words 'lip mask' gave any indication of its benefits, but I was confused as to how something as thick and sticky as agave would be able to escape such a tiny nozzle. More on that later.
https://www.instagram.com/p/B-CrdWKH9IQ/
Talkin' specifics: As a vegan, cruelty-free, and gluten-free company, Bite's lip mask provides deep hydration to dry lips without a traditional cure-all ingredient like lanolin. Instead, it uses molasses-like agave nectar to help recover chapped skin. (If you didn't know already, the skin on our lips is some of the thinnest on our face besides the bit under our eyes, so it's important to keep it hydrated and protected from the sun at all times.) Along with superfruits like moisturizing mangosteen, antioxidant-rich açaí berry, and soothing oat flour, the Agave+ Intensive Lip Mask leaves a syrupy layer of nourishment on la bouche.
The experience: About that molasses-y texture… It takes a hard squeeze to get the Agave+ Intensive Lip Mask out of its tube after poking the foiled opening with something as small and precise as a ballpoint pen, though the orange and vanilla scented sweetness that pours out is worth the struggle. Less than a pea-sized dollop of product is more than enough to melt between the lips, and it feels warm and comforting to skin that needs some tender love and care. A little goes a long way – 0.52 ounces lasts a lifetime. Plus, the Agave+ Intensive Lip Mask can be used on cuticles, elbows, and any other area that needs attention too.
https://www.instagram.com/p/B9fRbyapjsr/
The verdict: After weeks upon weeks of consistent use, the Agave+ Intensive Lip Mask is now an end of day treat I look forward to. Through the blistering cold and the most humid months, this product has become my favourite overnight treatment for complete renewal. The Agave+ Intensive Lip Mask is a mainstay in the top drawer of my bedside table for ease of access and to serve as a reminder to apply before I close my eyelids. Waking up to the sight of a smooth, plump, and juicy-looking pout still coated in a layer of luscious nectar looks and feels refreshing like a good night's sleep, and its just the type of lip service I live for. Would recommend.
Available at Bite Beauty Lip Labs and online, $26 (CAD).
Last modified: March 27, 2020