A few years ago, I decided to go blonde. Revolutionary, I know. I chose to go with a balayage style that would let my hair grow out more naturally. Since then, I've been a consistent blonde and visit my hair stylist Olivia at Bottle Rocket three to four times a year. I am always thrilled when I leave the salon; my hair is toned to an ashy blonde and looks identical to the IG inspiration photo I asked my stylist to replicate.
Unfortunately, this coveted look only seems to last a few washes before warmer tones start to soak through and my blonde strands transition to brassier hues (yuck). When a friend recommended a purple shampoo for blonde hair, I was curious. Do purple shampoos really work to tone blonde hair? What if it's treated professionally and isn't natural?
Before purchasing a purple shampoo, I consulted the hair bible Sephora's review page. While I knew a high-quality shampoo would be more expensive, I wanted to purchase my products at a fair price. As I skimmed through Sephora, I took notice of the brand amika and that its product line formulated specifically for blond hair had a number of positive reviews. I'd never used amika's product line but was instantly attracted to its fun packaging and assertive label "Bust Your Brass." At $26.50 for the shampoo and $32.00 for the conditioner, I decided to give it a try.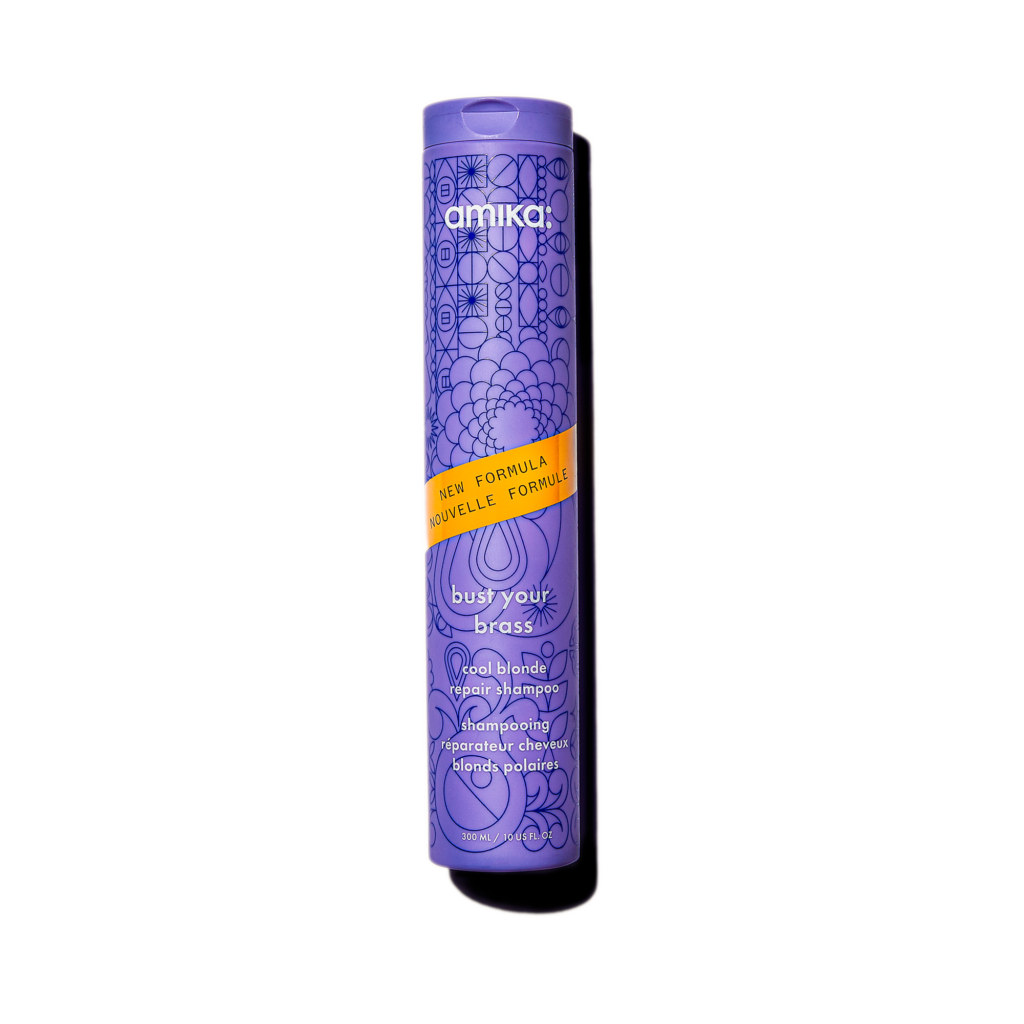 Since then, I've used amika's cool blonde collection for over three months and can say I'm hooked. The Bust Your Brass products are formulated with ultra-violet pigments which counteract yellow and brassy tones and maintain my salon made cool blonde. The shampoo leaves my hair feeling fresh and clean and the conditioner adds moisture and hydration. My hair has returned to a brighter and healthier looking blonde and I no longer need to visit the salon as frequently as before.
This collection is formulated with plant butters including mango extract (packed with omegas and important vitamins), borage oil, and yummy shea butter. The natural ingredients make it smell seductive and delicious. All amika's products are vegan and cruelty free, and free from sulfates, parabens, mineral oil, phthalates, and petrolatum, not to mention, the packaging is recyclable.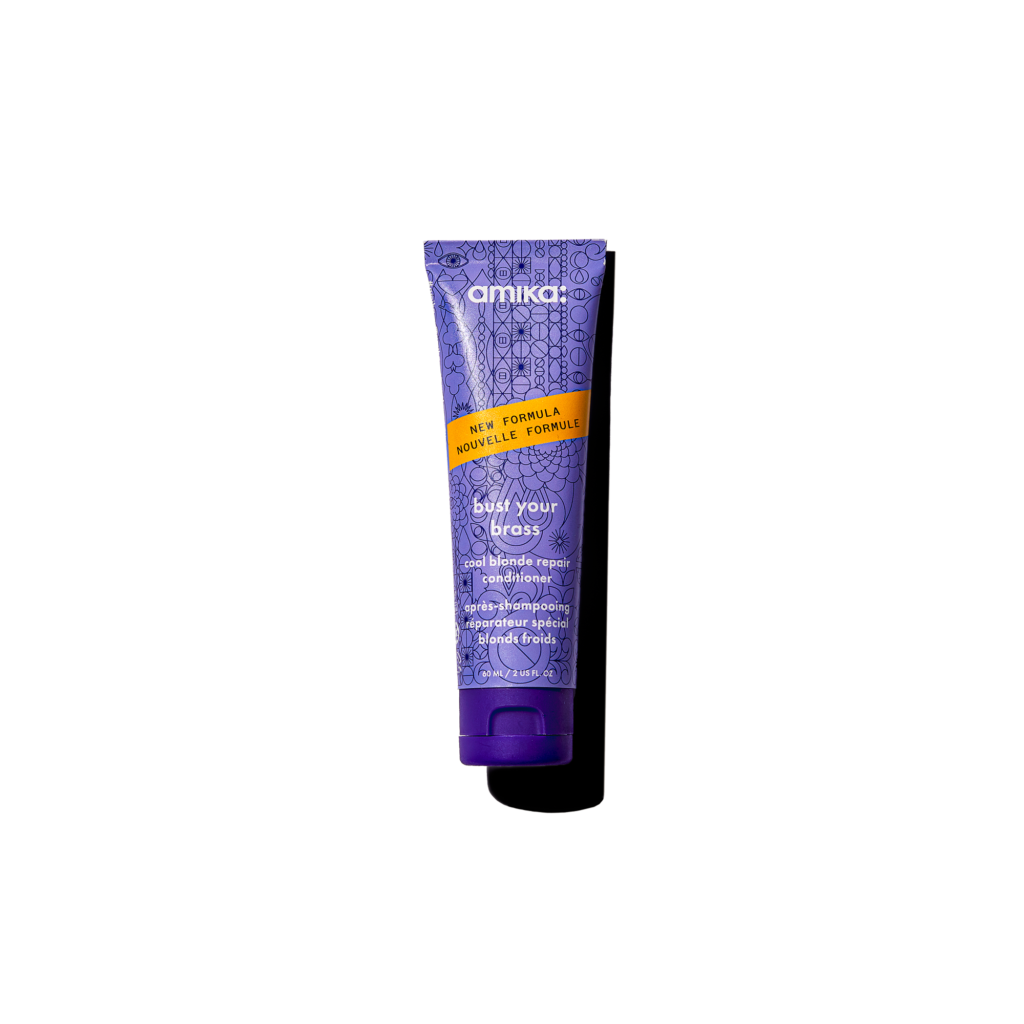 So, you're saying, this is the perfect blonde shampoo?
It comes close. Though I'll continue to buy this product, I will say that it's so bright and pigmented is has wreaked havoc on my white tiled shower from time to time. My suggestion – use a dime size amount and control where you flip your hair while showering . While it may be able to stain a bathmat or carpet, it does wash away from tiles or ceramic. If you're someone who loves additional hair products, I also recommend using the Bust Your Brass Cool Blonde Intense Repair Mask ($16 – $42) or "A Salon in a Jar." This luxury product will leave your hair shiny, soft, and luscious. The mask is clinically proven to brighten, intensely hydrate, and repair hair and leaves it 8x more conditioned and 2x stronger. Yep, that's right, no more breakage!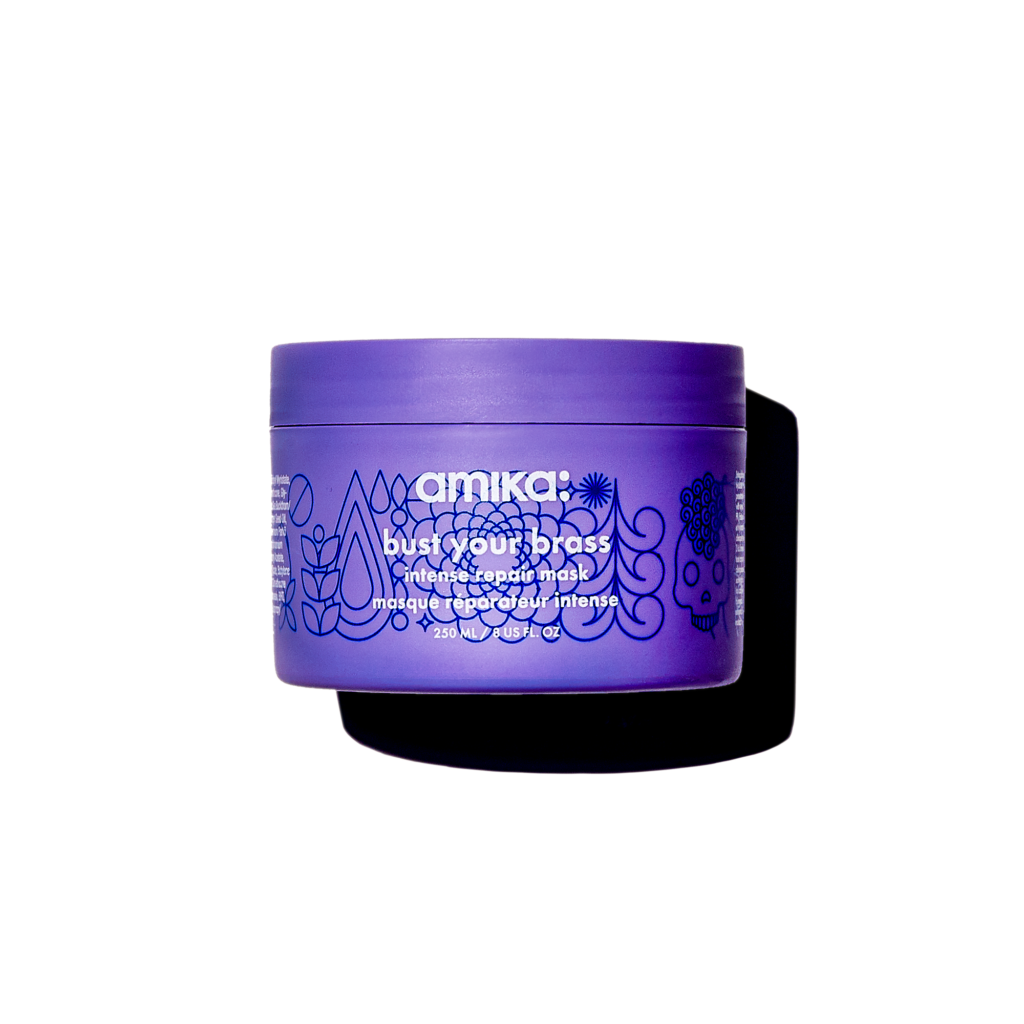 Have you tried amika's Bust Your Brass line? What's your favourite purple shampoo? Recommendations are welcome in the comment section below!
Last modified: September 28, 2021