This article was written by Raquel DaSilva, founder of LASHGOD, NAILGOD  and Modern Aesthetics College.
Raquel just opened LASHGOD Yorkville – a beautiful new lash, nail and hair salon in Toronto.
Oh winter… we love all the good things you bring: romance, Christmas, togetherness, eggnog, but.. most of all we love how the season offers a chance for new nail trends.
Before we jump into all things polish, design and bio-gel, let's talk about those winter cuticles and how to maintain hand and nail health through the harshest (and driest) season of the year: 
-First things first, cuticle oil is as essential to have in your purse as your wallet, apply cuticle oil at least once a day to maintain healthy moisturized nail beds
-Use a thick hand cream every time you wash your hands and apply a generous amount before bed 
-Try a bio-gel enhancement during the winter months rather than a typical shellac manicure, bio-gel is a hard durable gel base that allows the natural nail to grow long and strong even in winter when nails are typically dry and brittle from cold exposure 
-Get regular refills every two to four weeks, and since winter cuticles need extra TLC-  make sure to book a manicure rather than a polish change or refill
-Wear gloves or mittens when the temperature is below nine degrees, chilly hands are dry hands 
Here are some ultra-chic nail looks you're going to want to rock this winter: 
Psychrophilic Wonderland Nails
Psychrophilic means "thriving at a low temperature," these winter wonderland nails are the perfect combination of bling and class. A gel overlay manicure done with a completely clear gel base and a combination of snowflake stickers and sparkly decals. This style is for a festive lady who loves a flashy themed nail design.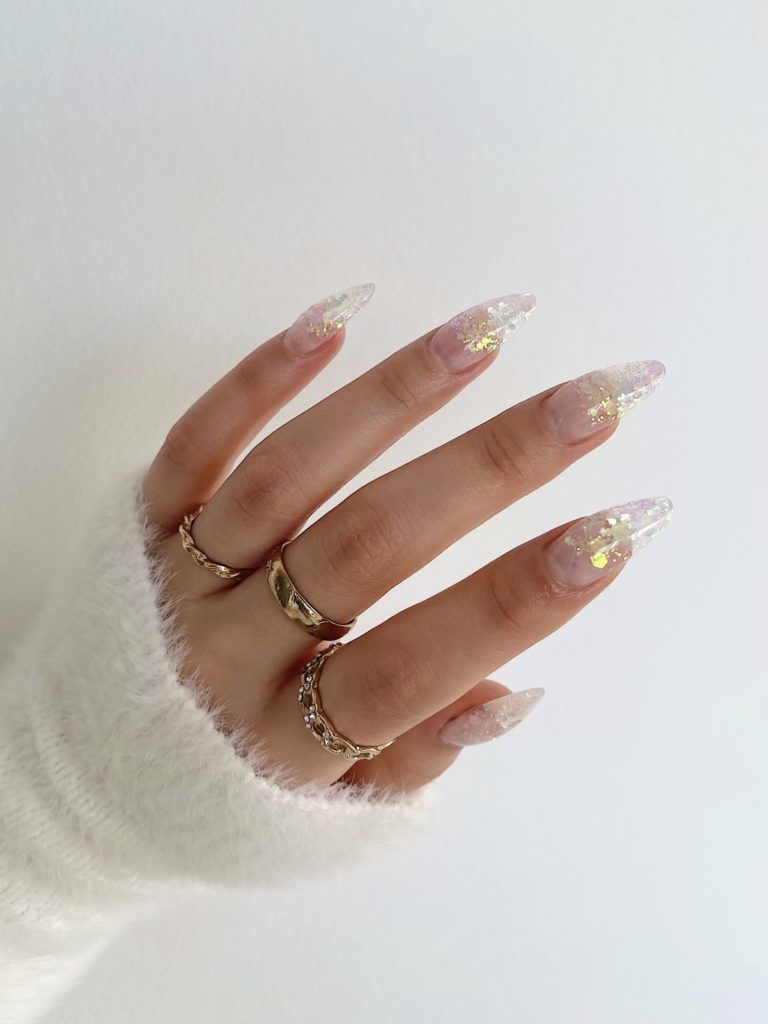 Holiday French Nails
This look is a combination of our infamous deep French manicure and the enchanting deep tortoise pattern. French manicures are huge around the holidays, this year hand panted nail art has been all the rage so we fused a deep dark tortoise with the elegance of a clean cut white line that makes the nails look long and extra-feminine. A patterned twist on French will have you staring at your hands like a work of art.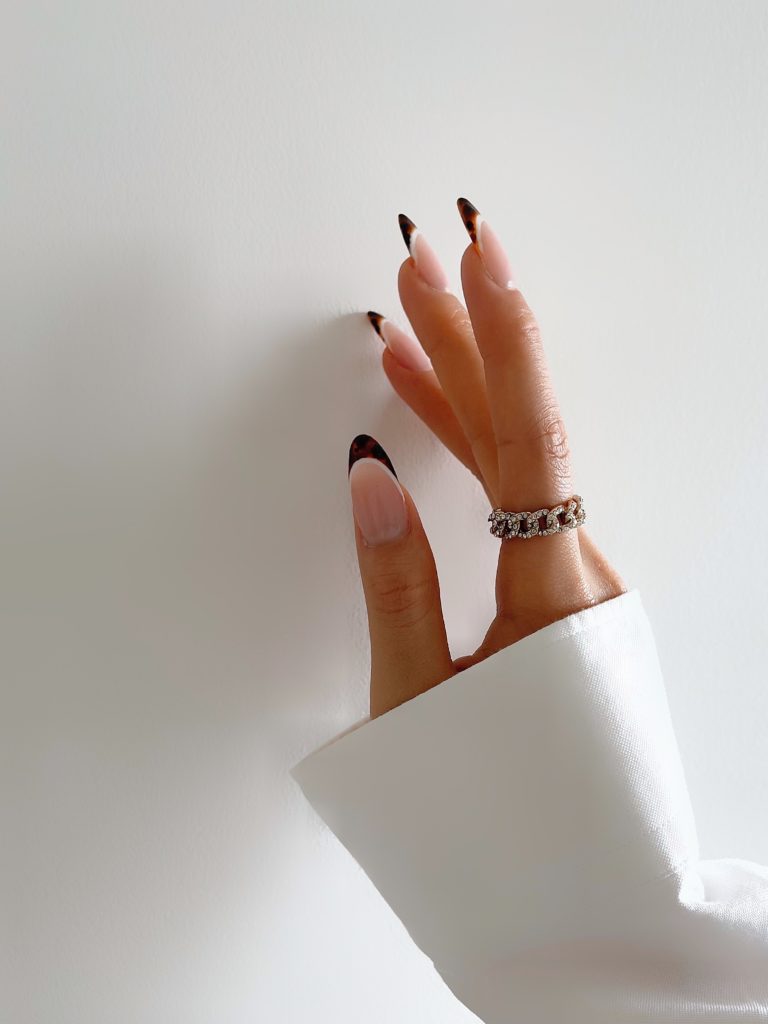 Subnivean Nails
Meaning "situated or occurring under the snow," this textured ombré nail pattern calls for snowflake decals that are applied overtop of the base coat and underneath the gel polish in order to look like a 3D snowflake. Decals under the polish have been trending all 2021, but will peak popularity for festive nail looks. This playful look is a conversation piece and a crowd pleaser, try it with a single solid colour or with a different colour on every nail.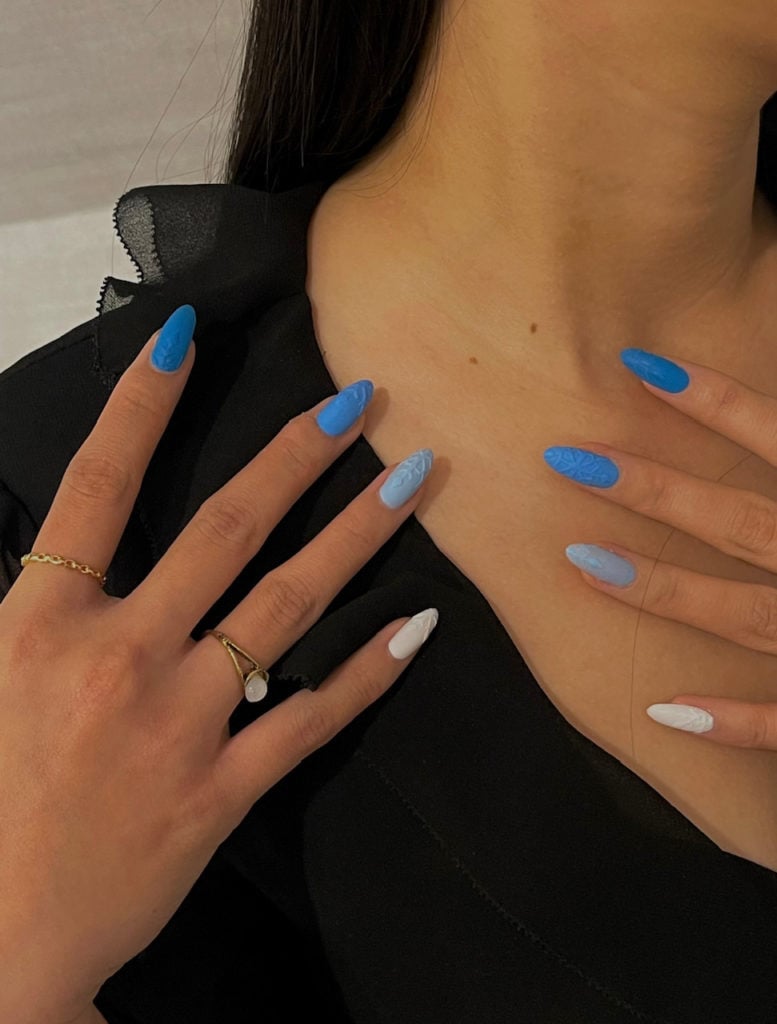 Abstract Palmistry Nails
Inspired by the name "palmistry," the mystery of the lines that cover the palms of our hands. Neutral tones are used to create swirls of warmth. Some say they look like the granularity of a tree using lighter squiggles to imitate snow. Abstract nails incorporate the deep colours of fall with a pop of art that easily transitions us into winter.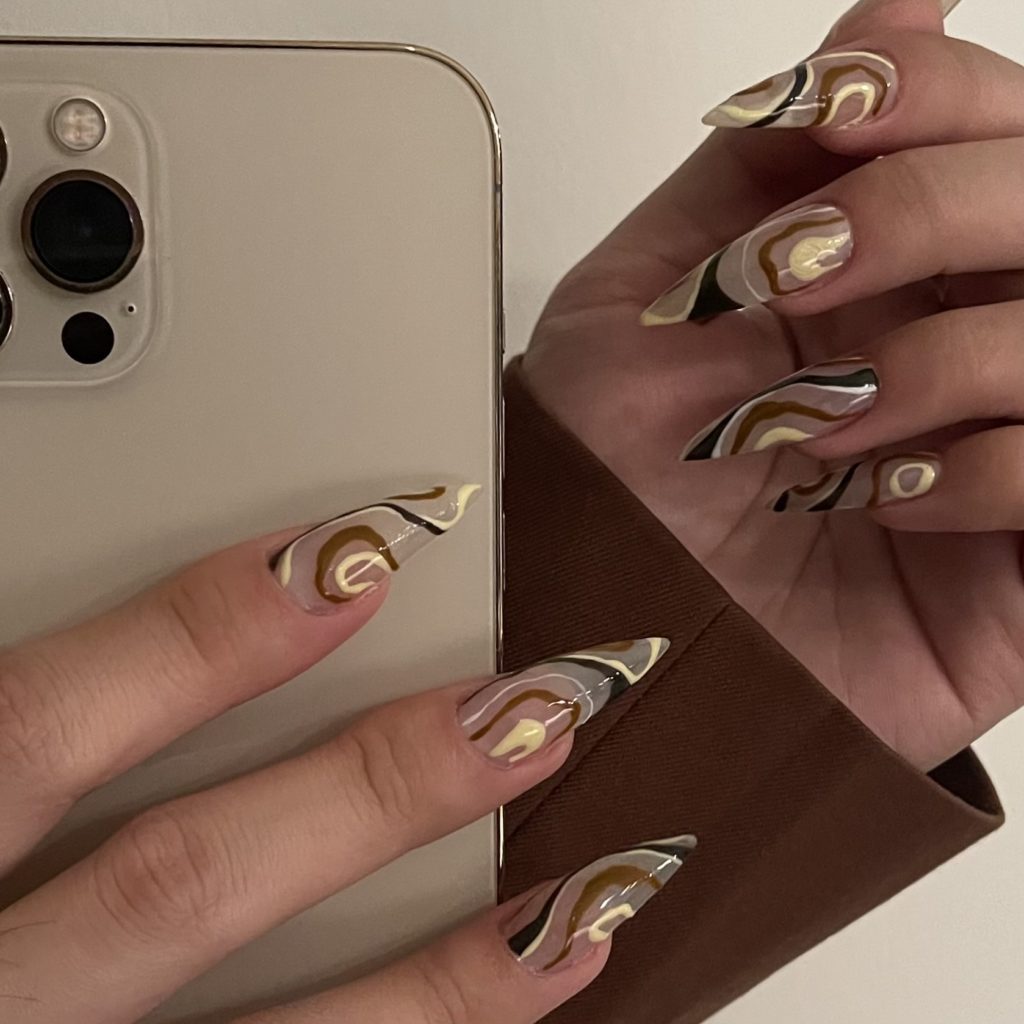 Apricity Nails
Meaning "the warmth of the sun in the winter." Bright orange with abstract neutral colours brighten up pale winter hands. This style is a subtle pop of sunshine amongst grey winter weather. Comparable to a French manicure, backed with a nude or pink base with a patterned mixture of two to three neutrals and one bright colour typically covering half of the nail or less. If you haven't tried abstract nails, the winter season is the perfect time.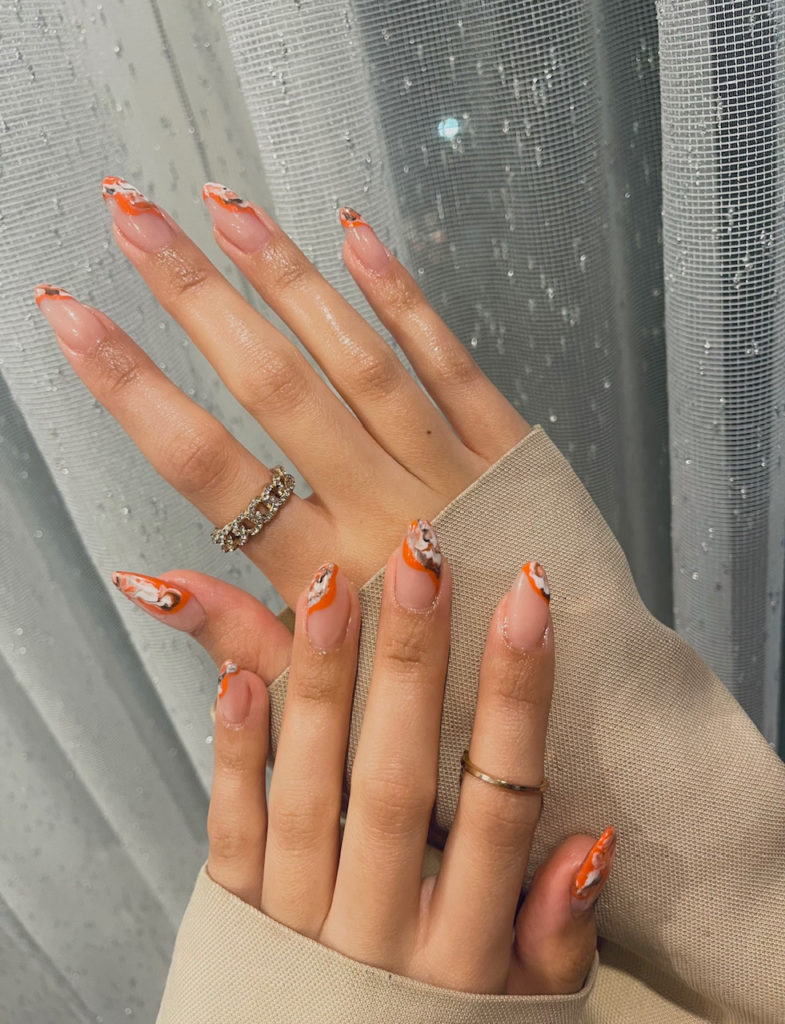 Snowbird Nails
RAWR. Winter got wild with our favourite snowbird style. This look had to be included in our winter nail trends for babes that flock to a warmer climate during the winter. A combination of abstract and a deep winter brown, the zebra printed lines offer as much coverage as a deep French manicure. 70 percent of the nail is coated in a clear pink natural tone while the tips are patterned with little squiggles imitating animalistic prints. This style draws attention to the hands and looks best on an oval or stiletto shaped nail.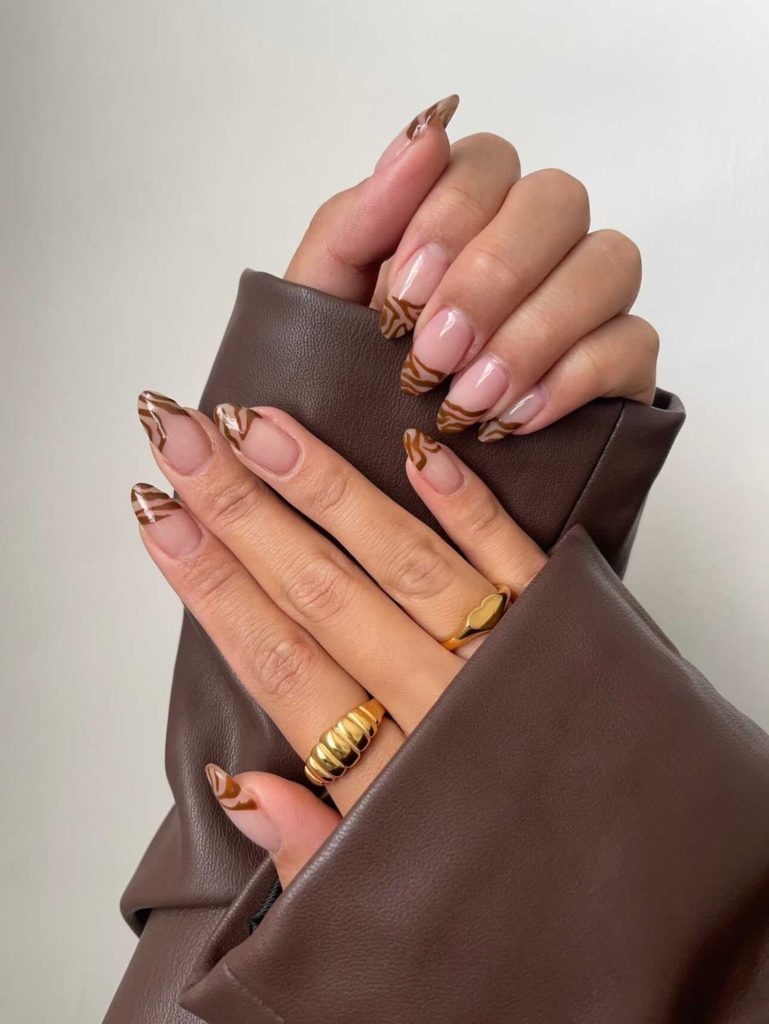 For more nail design ideas – check out @bambi.nailgod and @victor.nailgod on Instagram, and keep up with Raquel at: @raqpunzel and @nailgodtoronto.
Click here to view our reel on STYLE Canada's Instagram!
Last modified: October 25, 2021