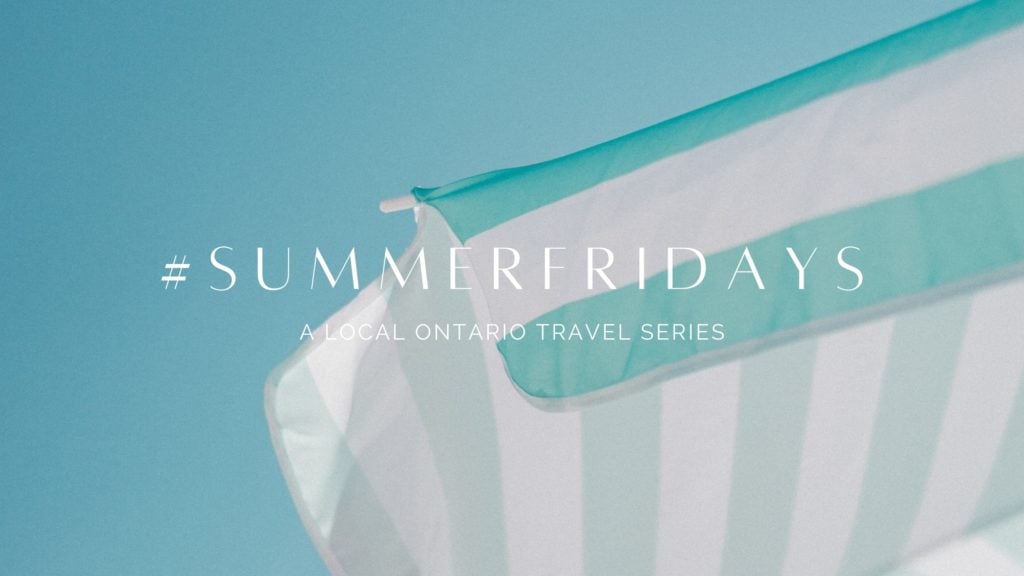 Welcome to the third review of #SummerFridays – a stay home travel series that will show you the best and the brightest that our province has to offer.
The Ritz-Carlton Toronto is the perfect place to reconnect with your girlfriends for a great girls getaway in the city! They have it all covered – from incredible room service to an in-house spa and even fun in-room experiences, the Ritz can tick every box! 

The Room
When I arrived, I could not believe the room I was walking into. A corner suite overlooking the lakeshore with a picture perfect view of the CN Tower to complete the skyline.  With a luxurious king bed accompanied by a blue velvet chaise, it was easy to kick our shoes off and put our feet up just minutes after arriving. 
The location would be perfect if you were attending a concert or sports game, though there wasn't much going on the weekend I was in town (pre-stage 3). 
The room we stayed in also had a sofa bed in the main area rounding the room out to be a perfect sleeping arrangement for 3-4 ladies in need of a GNO! 

The Food
Though not all of their dining facilities were open when I was there, their patio was perfect and the menu had a great selection. Perhaps my favourite was the Burrata Caprese Salad, which was smaller than anticipated but the flavour certainly made up for it. 
Earlier in the day, we ordered some snacks for in-room dining which came quickly, were a great value and completely delicious. Everything is delivered to the door by the most helpful staff and served quite literally on a silver platter. 
The Experiences
As I mentioned, the experience at The Ritz Carlton is nothing but luxury throughout the entirety of the stay. 
Because the forecast called for rain leading up to our stay, we opted for some in-room experiences to take advantage of our Saturday night out. They have a range of interactive experiences that can be delivered to the room including two that we tried: the Cocktail-making experience and the Movie Night. 
We decided to go with Make Your Own Martini which we were provided all of the ingredients, garnishes and instructions, as well as the most beautiful glassware to create our own Martinis! It was such a fun way to start off the night and of course, they served only the best, Grey Goose Vodka. 
Another experience we tried was the Movie Night which came with popcorn, pizza, chicken wings and two beers from Mill Street, which we had a lovely view of from the balcony. We were also able to enjoy a movie from their selection on screen which included new movies, some of which were set to be in theatres. This was a perfect way to end our night and unwind together. 
Because stage three wasn't in full swing yet, we were not able to take advantage of the beautiful spa in the hotel, but we had to save some things to do next time.

Pandemic Protocols
As per the norm, The Ritz-Carlton Toronto is taking every precaution to keep their guests safe while still maintaining their high reputation of luxury and class. This means all amenities offered are done so as safe as possible and as mentioned, they are allowing guests to make great memories right in the comfort of their own room. 
I felt perfectly safe throughout the duration of the stay – from check-in, to dining and even in the elevators where they have a 2 person maximum. 
To read more about their protocols, visit their dedicated COVID-19 site.
Final Thoughts
I was astonished by the overall room and hotel itself – what a beautiful place to spend the weekend in the city. The views and location cannot be beat and I will certainly be staying again once big events are back. 
A room I am dying to stay in next time is their terrace rooms which are unique to the Ritz as many downtown hotels do not have terraces. It is a beautiful extension of the room that would be lovely to enjoy – a true outdoor oasis in the middle of the city! 
Another note is that when booking, you receive a $200 credit to use at the hotel whether it is on the spa, dining, their experiences and more! While the rooms can be pricey, this definitely affords guests a great value throughout their stay. 
All in all, I had an amazing time with the girls and we have bookmarked it in our calendars for the next time we can get together!
Thanks for reading our third edition of #SummerFridays – see you in a few weeks for a review of another great Ontario destination! 
Last modified: April 27, 2023