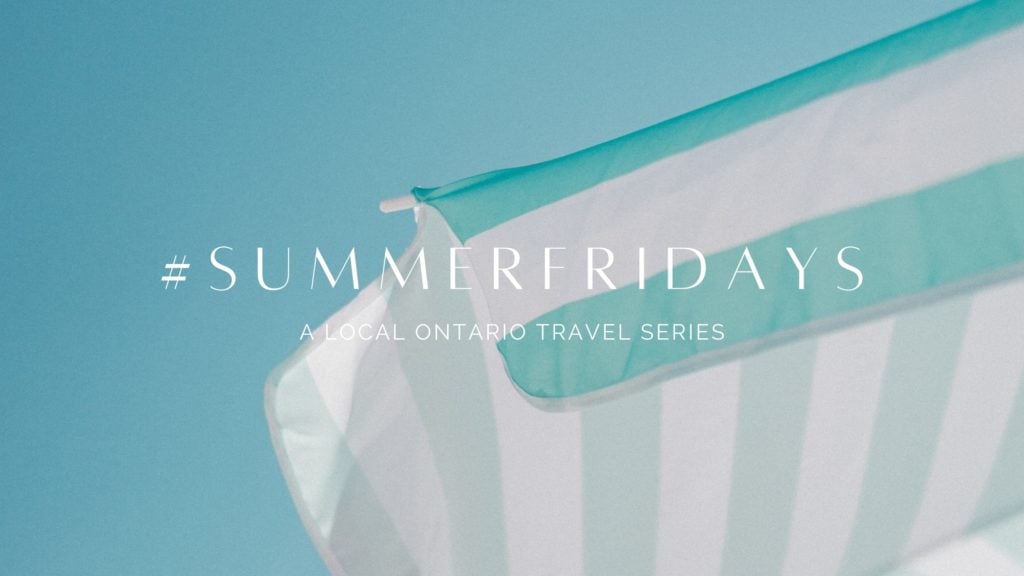 Welcome to the first review of #SummerFridays – a stay home travel series that will show you the best and the brightest that our province has to offer. 
I can't say for sure what made our stay at Deerhurst Resort in Huntsville, so incredible. Maybe because it was the first, or maybe because it was just that good. Either way, my family and I had the best time. 
Deerhurst is up north in the beautiful Muskoka region and has everything you might want in a weekend resort. The resort actually hosted the G8 Summit in 2010, welcoming the world's top leaders like Barack Obama, Angela Merkel and Stephen Harper. They are also celebrating their 125th year in operation, yet with all of the incredible upgrades and renovations, it feels brand new! 
If you're anything like me, you appreciate being in nature and all it has to offer, but also want to come back to a luxury room with a cozy bed that is not in a tent. Well, let me tell you, this is the place for you! 
The Room

 
With a full kitchen, two bedrooms, two bathrooms and a lovely balcony facing the lake, we couldn't have asked for a better spot. The Lakeside Lodge is perfect for families, girls' weekends, golf trips and more with two separate bedrooms for some privacy and a full living section equipped with a couch, a dining room table and brilliant blue Muskoka chairs to sit on as you step out onto the balcony. 
I can't forget to mention the beds – the beds. They were SO luxurious and waking up to a sunrise over the dock doesn't hurt either (if you're not down for early morning views, there are also blackout curtains to allow for a lovely Sunday sleep-in). 

The Food

 
The resort has so many food options, with in-room dining, to a casual patio, a patio at the golf course and an even more upscale balcony restaurant as well. Over the course of the weekend, I am proud to say we tried them all. Let me indulge you in my favourites…
Antipasto Board (Eclipse Restaurant) 
French Toast Poutine (Eclipse Restaurant) **topped with their very own maple syrup, made on the property
Cobb Salad (Maple Patio) 
Veggie Pizza (In-Room Dining) 
Espresso Martini (Eclipse Restaurant) 
Mussels (Eclipse Restaurant) 
Making reservations is key at the Eclipse, but you can slide onto the Maple Patio on a first-come, first served basis. All of the dining options have great menus and pricing. 

The Activities

 
When I say we did it all, we did it ALL. Two rounds of golf, treetop trekking, swimming, kayaking, hiking and more! 
For those up for hitting the links, there are two courses on the property – one easier 9-hole course and a longer 18-hole course. We played both and had equally incredible rounds and views. 
TIP: any tee time after 1:00pm at the Lakeside course is free for those staying at the resort. 
Another activity we loved was Treetop Trekking. It is completely safe as you are harnessed in and boy, is it a ride. We had excellent guides and were in a state of exhilaration the entire time (try the Dragonfly course to see what I mean!) 
If you aren't into thrill-seeking or living the sporty spice life, there is a lovely white-sand beach with comfy chairs to relax on and hiking trails ranging in length and difficulty to explore at your leisure! 

Pandemic Protocols

 
There are many measures put in place throughout the resort to keep guests safe including masks in all buildings, timed swims with capacity limits, contact tracing at each checkpoint and more. Everything ran so well that none of these measures seemed to impede on having a great time. 
To keep things extra safe, the room is not cleaned each night by staff, so you do have to be mindful to stay tidy along the way. They also don't have their normal shuttle service running, but there is lots of parking in each of the lots, if driving between buildings is essential. 
Final Thoughts

 
This shouldn't be in the final thoughts, but nonetheless – the staff at the resort were NEXT LEVEL. We had some of the best service we have ever encountered (shout out to Stephanie from Eclipse, especially!). Everyone was so welcoming, positive and accommodating. After being home for the past year, it was great to be welcomed back to the tourism industry with open arms. 
All in all, I found this resort to be exciting, yet safe; fun, yet relaxing; and distant, yet so easy to access, just two hours outside of Toronto. I will absolutely be returning, though it is worth noting that they are filling up quickly for the summer – and I can see why! The property is stunning, and we felt like we were AWAY away, even in our own province. 
Thanks for reading our first edition of #SummerFridays – see you next week for a review of the Shangri-La Toronto! 
Last modified: April 27, 2023