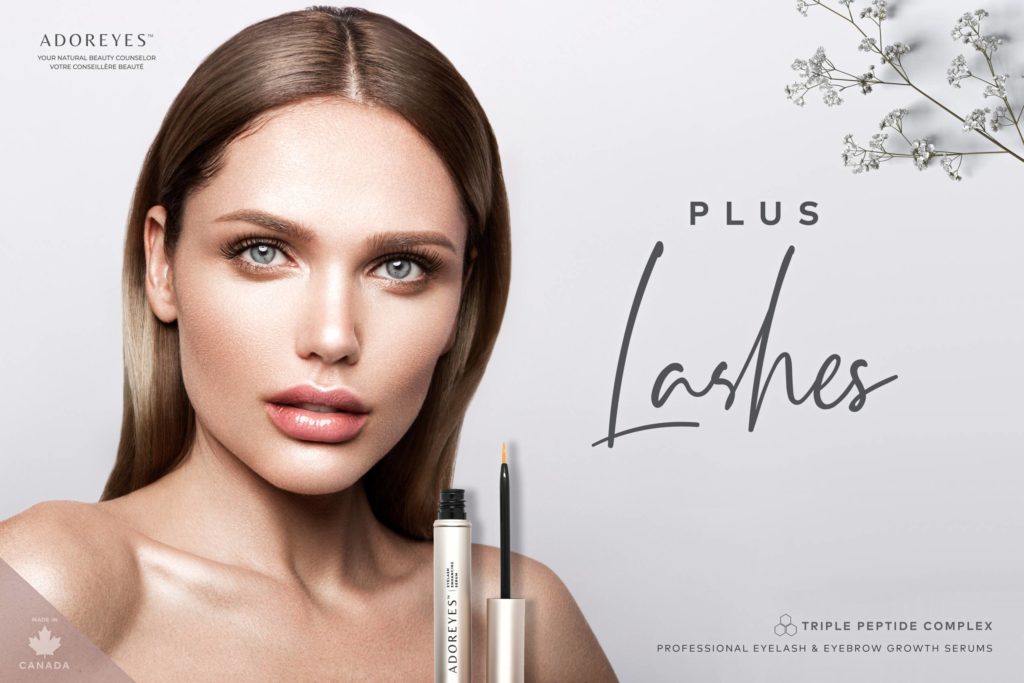 Let's face it: in between sweating in the sticky summer heat and swimming in the pool, makeup can be  hard to manage. So, if you had the opportunity to go mascara-free, would you take it? 
Forget about the makeup – ADOREYES Plus Lashes eyelash enhancing serum will help you boost your natural look with longer, fuller, and bolder eyelashes. The less "adjusting" you can do to your  lashes, the better, anyway.  
Made in Canada by a Toronto-based team of beauty experts, ADOREYES created the first triple peptide lash enhancer that acts on all three eyelash growth phases. Enriched with hydroactives, vitamins, DHT  blockers (which stop follicle shrinking), and a damage protection complex, their serum offers an effective, safe, and prescription-free alternative to prostaglandin-based serums.  
That means you can have healthier and longer-looking lashes without negative side effects, since the ADOREYES formula is paraben, sulfate and allergen-free. It only uses safe, tested and meaningful ingredients. 
Bonus: the ADOREYES Plus Lashes serum is vegan and cruelty-free. Even better, you can use their oil-free serum while having a lash lift or eyelash extensions and maintain your lash retention for longer treatment results. It's a win-win.
Here's How It Works: 
ADOREYES Plus Lashes serum features clinically proven ingredients driven by a Triple Peptide Complex to enhance and support all three phases of the eyelash growth cycle (anagen, catagen, and telogen).
The time-released peptides improve the anchoring of lashes to minimize a chance of fall out (anagen), stimulate and prolong the lash growth phase (catagen), and defer the ageing effect by improving follicle irrigation (telogen). 
Infused with arginine, vitamins including biotin, botanical extracts, and DHT Blockers, the ADOREYES Plus Lashes serum conditions and stimulates natural keratin and collagen production to keep lashes protected from breakage and dryness.
Simply apply it in the mornings and the evenings on your lash line, and watch your lashes become healthier, fuller and longer. 

The Benefits:
While there are multiple lash enhancing serums available on the market, not all are created equal. Here are few things to know about ADOREYES Plus Lashes serum and why it should be your choice of lash serum this summer:  
The Triple Peptide Complex stimulates growth and restores existing hair follicles for thicker, fuller, and longer lashes. Filled with a Hydro and Vitamin Booster with biotin, niacinamide and panthenol, it imparts sheen and luster while it moisturizing and stimulates lash keratin cells. 

A blend of amino acids and DHT Blockers such as pumpkin and grape seeds extracts create a sturdier foundation for the growth of new eyelashes while boosting natural collagen production.

A repair and damage protection complex with arginine and hydrolyzed soy protein protects lashes from brittleness and dryness. 

The ADOREYES Plus Lashes serum works from the inside-out. Unlike any other lash enhancing product on the market, it is safe to use with contacts, lash lifts, extensions, and false lashes.  
Most people can see noticeable results from the ADOREYES Plus Lashes serum within four to six weeks, with full improvement in three months.
Use the ADOREYES Plus Lashes serum at summer's end to prevent fall lash shedding and to further nourish and strengthen your lash line. 
So, what are you waiting for? There's a reason why the ADOREYES Plus Lashes serum won gold at the USA Global Makeup Awards, and your lashes are begging you to make the right choice before the summer. 
Last modified: May 21, 2021