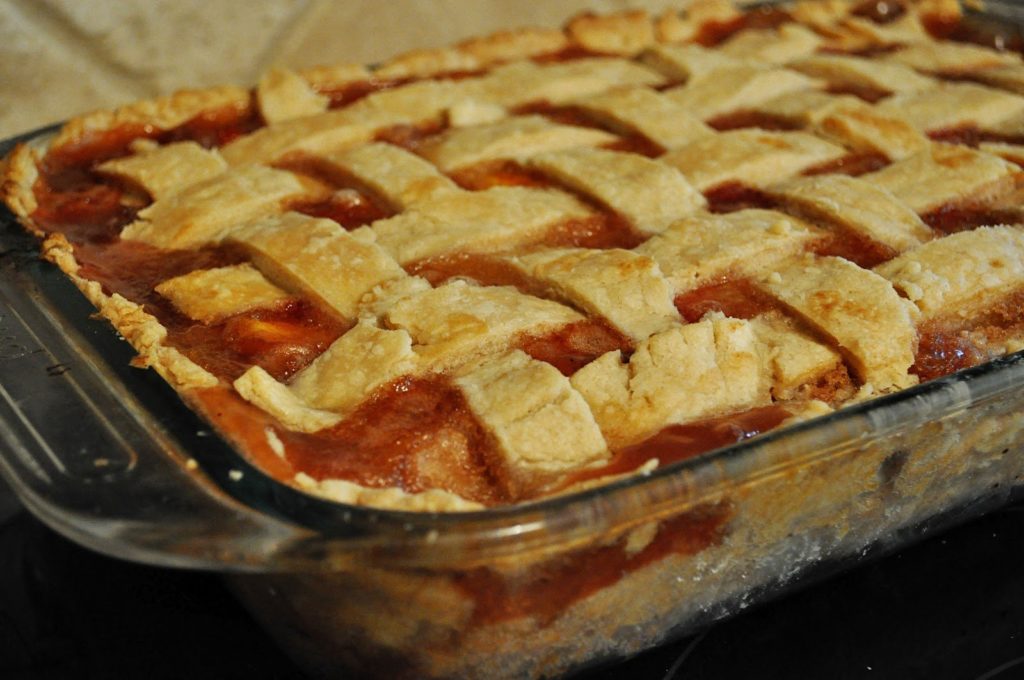 Healthy soul food Chef Rene Johnson's favourite recipe of her grandmother's is still her "Never Fail Peach Cobbler". To try your hand at this mouthwatering Southern classic, follow the instructions below!
Chef Rene Johnson's Never Fail Peach Cobbler
*Note: This cobbler is interchangeable with mostly all fresh fruit.
Ingredients:
7 to 8 fresh peaches
2 3⁄4 to 3 cups of sugar
1⁄4 cup of flour
1 tablespoon nutmeg
1 tablespoon vanilla
For the crust:
2 cups flour
3⁄4 cup Crisco or butter
7 tablespoons of ice water
1 teaspoon salt
Instructions (for the crust):
Preheat oven to 375 degrees.
Take 1 cup of water add 4 to 5 ice cubes, then set aside.
In a mixing bowl, add flour and salt. Mix well.
Cut Crisco in 7 slices.
Cut Crisco slices into flour until you have a pea-sized mixture.
Make a well in the middle of the flour mixture, then add 7 tablespoons of ice water.
Mix the flour mixture together til it forms a ball.
Once a ball is formed, wrap it in plastic and set as side.
For the pie filling: 
Cut and slice the peaches.
In a medium size mixing bowl add sugar, flour, and nutmeg. Mix well til there are no lumps.
Pour the dry mixture over the peaches. Set it aside.
To assemble the cobbler…
Prepare a clean surface. Dust it with 1 to 2 tablespoons of flour.
Remove the flour from the plastic wrap and place on a floured surface.
Cut the pie crust in half, set one half aside.
Form the other half into a ball and lightly flour the top.
Next, begin to roll out the pie crust.
Roll out the pie crust to the size of your baking dish.
Next, roll your pie crust around your rolling pin.
Lift it up and place it over your baking dish, then pat it into your baking dish until it is nice and sealed.
Stir your peach filling to make sure your juices are well blended, then pour it into the crust.
Add the vanilla and the sliced butter.
Roll out your second pie crust.
Slice the butter and lay the pucks over the filling. Add as much as you'd like.
Slice your pie crust in 1-inch slices and lay it over the top of the filling. Bake for 40 to 35 minutes til golden brown and bubbly.
To read an exclusive interview with Chef Rene Johnson, tap or click here!
Last modified: July 17, 2021