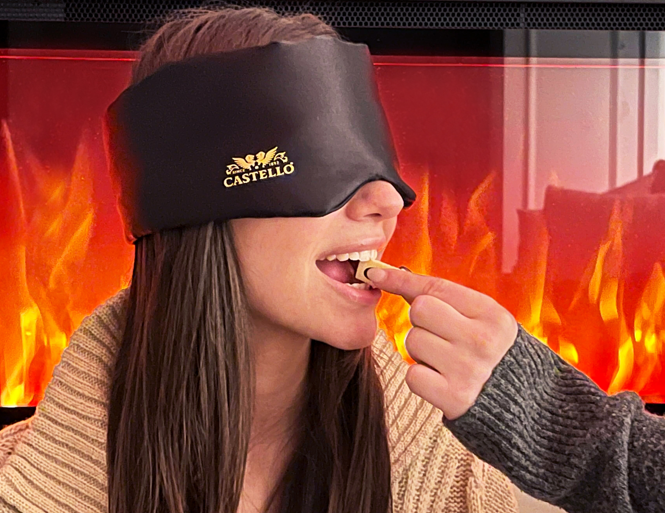 This month of love, international Relationship expert Laura Bilotta has created a playful and romantic blindfold activity for a Valentine's Day you won't forget. 
Move over wine and chocolate, Laura's date night journey is centred around everyone's favourite natural aphrodisiac, cheese.  Inspired by Castello's Tickler Cheddar, Laura calls this couple's activity "Tickler Your Senses."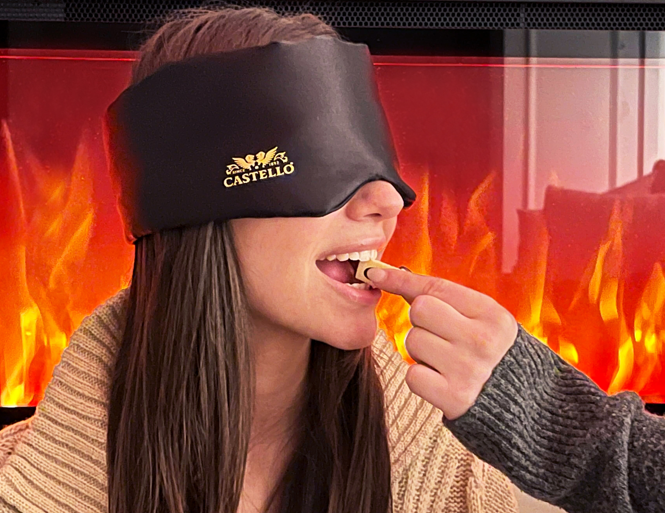 Designed to enhance your senses, Laura harmoniously pairs seven of Castello's premium cheeses with seven sensorial elements for a truly indulgent evening.  From ASMR, to mists, a kiss and a caress Laura ensures every whisper, nibble and tickle is in perfect alignment with each bite of Castello Cheese – bringing you and your partner closer than ever..
For a video tutorial by Laura, click here.
To participate, follow the instructions below: 
STEP ONE:
Feed your partner a slice of Castello Tickler and embrace the name of this extra mature cheddar by following it up with a soft tickle across your partner's arm and neck.
STEP TWO
:
Spread some of Castello's Taste Hawaii pineapple and almond cream cheese on a cracker to transport your partner to the sun-drenched beaches of Hawaii. Follow this up with a misting of salt-water spray on their neck and start dreaming of your next vacation together.
STEP THREE
:
Drizzle honey over some warmed Castello Brie, spread on a cracker and feed to your partner.  While they revel in the sweet and slightly spicy taste, add some additional honey to their bottom lip and surprise them by taking a taste yourself. 
STEP FOUR
:
Encourage your partner to nibble on some of Castello's Vintage Gouda while you playfully nibble on their ear, neck or shoulder.
STEP FIVE:
Add a slice of Castello's Velvet Blue cheese to an apple slice, then top with fig jam, and wrap in prosciutto. While your partner indulges in this milky and delicately sharp taste sensation, guide their hand across your velvety skin with a soft whisper in their ear. 
STEP SIX
:
Cube some crunchy and lightly sweet Castello Aged Havarti and complement it with a gentle head massage as they experience the sound, smell, creamy taste and your soft touch.
STEP SEVEN
:
Gently crack a walnut for your partner to hear, then add it to the top of a slice of Castello's Traditional Danish Blue cheese with a pear slice for a biting and intense finish.  
Happy Valentine's Day!
Last modified: February 15, 2023