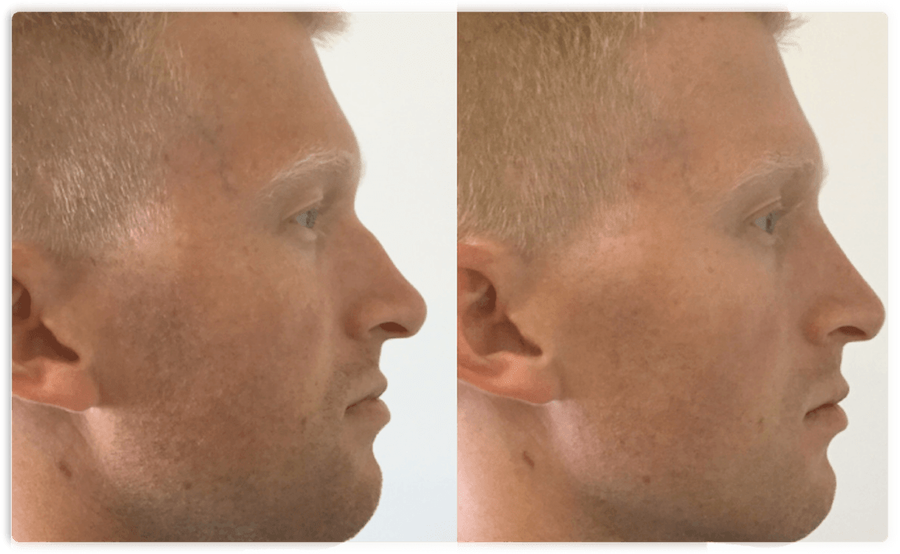 This guest post was contributed by Dr. Neel Bector (also known as the Lip Doctor) who's practiced within Ontario for over 20 years in the fields of family medicine, sports medicine and clinical weight loss. He began cosmetic training in 2001 and has become known as a true master in the field of non-invasive aesthetics throughout the GTA.
When conversations occur surrounding cosmetic procedures, men are typically not included in the dialogue. Unless the topic is hair loss, men are often not seen as the typical clientele undergoing a cosmetic procedure. Until recently, more than 80 percent of patients undergoing cosmetic treatments were women.
However, the perception that women still dominate the cosmetic space is no longer the case. We're seeing more and more men coming into our clinic asking for procedures we would typically see women undergoing. That comes down to a changing culture in our society that allows men to take more care of their appearance. In the era of Zoom calls, people are looking at their appearance more than ever before.
According to the American Society of Plastic Surgeons, over half a million men underwent Botox and filler procedures in 2019, and that number has only increased in 2021. There is often a misconception on how invasive these procedures can be, but all of the procedures we offer at the Lip Doctor clinic are minimally or non-invasive.
Many men have witnessed the women in their lives achieve amazing results from cosmetic procedures they've undergone and saw that it did not require going under the knife – they are now seeing the appeal. We've also noticed more men coming into the clinic because they genuinely care about their appearance, which speaks to the changing cultural dynamic of men actively taking ownership over their appearance and wellness.
While fighting off the signs of ageing is a concern for both men and women, it is evident that men have different goals for using non-surgical cosmetics. The current trend is for men to maintain their masculine features while retaining their dynamic facial expressions. Men seem to be more focused on subtle rejuvenation treatments and structural treatments compared to volumizing and plumping treatments.
At the Lip Doctor clinic, these tend to be the most popular among men:
Tear trough: A treatment that fills the hollows under the eyes and improves dark circles and spots, helping to achieve a well-rested, ready to go look.
Jawline/Chin Enhancement: Helps clients make their face appear more masculine by enhancing or adding volume to the jaw angle and chin, making their face appear more square or "chiselled".
Nose Filler: We have seen an increase in the number of men coming in for nose filler. In many cases, this is to correct a sports-related injury or a bump in the bridge of the nose. Men tend to love how this procedure changes their side profile.
Fine lines and wrinkles: Men often have a few wrinkles around the eyes and forehead. The goal is to soften the lines in these areas with Botox, but not get rid of dynamic movement or the lines completely. For many men around the age of 40, the fat pads in their mid and lower face regions start to lose volume, so by adding filler in these areas, we help create a youthful appearance while maintaining a masculine look.
Skin/Acne Treatments: We have seen an increase in the number of men who have been coming in for scar treatments and hyperpigmentation. We use a combination of Platelet Rich Plasma (PRP), Fractional Laser and Radio Frequency treatments to lighten scars and pigmented lesions.
Body Contouring: Lots of men have been coming in requesting treatments to help rid abdominal fat pockets and love handles. Using a combination of injections and machine treatments, we can permanently erase stubborn fat, giving a more lean and V-shaped appearance.
Overall, we didn't expect how much of an impact lockdown and Zoom usage would have on the growth of non-surgical cosmetic procedures, especially within the male demographic. Typically, men haven't been as focused on their appearance and look at themselves less in the mirror.
However, with the growth of virtual meetings, men are staring at themselves through a lens that creates an even greater awareness of their appearance. Many of our patients have shared that with most individuals working from home and being limited in their activity, income that was slotted for travel or other expenses is now being used to undergo a procedure they may have wanted to have for a long time.
The growth of men engaging in the cosmetic procedure space has been persistent and continuous over the last decade. Still, factors from the previous year have influenced significant growth, and from what we can tell, it's only going to continue.
Last modified: May 13, 2021