With social media and the constant urge to want to look like and be someone else, it's hard to remember that there is natural beauty inside all of us including our natural hair. From head to toe every person is different and in our differences we will find that our uniqueness is what makes us beautiful. 
Our hair plays a huge part in who we are and our individual identities, so we should learn to embrace that and learn to love it for ourselves and no one else. Here are some of our favourite tips on how to love your hair! 

@moon.azad via Instagram
Don't compare your hair to others
It's important to understand that your hair is like a fingerprint, it is completely and utterly unique to you. Each and every one of us has a different hair type, texture, colour and pattern that is specific to ourselves. We can share similar characteristics to others but we should never compare them to each other. We should learn to accept our hair for all that it is and will never be, that is what makes it so beautiful.  
Turn your hair care into an act of self-love 
We all dread that time of the week where it's time to wash and show our hair a little love, but it doesn't have to be that way. Find a playlist you really enjoy or put on your favourite show, and spend some quality time with yourself and your hair. Get to know how it behaves and learn to work with it, and you may find yourself looking forward to that intimate time with yourself.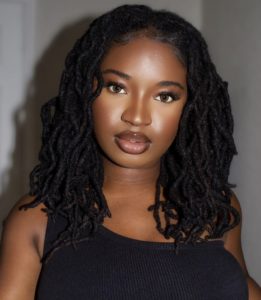 @chynax_25 via Instagram
Simplicity and consistency is key
Try and find a simple hair care routine that works for you and be consistent. With an easy to follow routine and a consistent schedule it'll get easier and easier to start your routine. Whether it's everyday or every month it's important to know what works for you and try your best to stick with it. And it's okay if there are times where you can't bring yourself to start, nobody's perfect but it's important that we all continue to try. 
Stop the negative self talk 
We know it's hard to manage your hair sometimes and it can become very frustrating, but it's imperative that we restructure the language we use surrounding our hair. If we constantly have negative things to say about it, how can we expect to love it or even like it? Reframing the language we use to describe our hair can make a world of a difference in the way we see it. Try using more positive language, like instead of saying that your hair is rough and unmanageable try and say that your hair just needs a little more love and attention to maintain.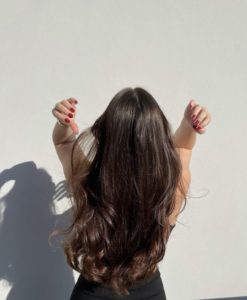 @margauxfls via Instagram
Find your Hairspiration 
Follow creators and influencers who have hair similar to your own. It's easy to get caught up seeing creators who have such beautiful hair that you love and would like to have, but just might not be an attainable goal for you. If you follow creators that you like and who look more closely to yourself, you will start to see the beauty that they have is also reflected in you. So try and fill your social feeds with people who you love and admire and maybe you'll start to see that you can also love and admire yourself.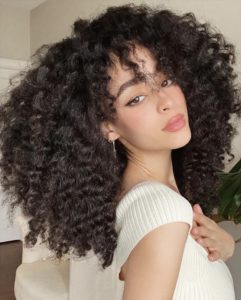 @shannbailee via Instagram
If you're looking for some new hairspiration, here are a few creators you should check out! 
@damnthatschev on Instagram
@moon.azad on Instagram and TikTok
@chynax_25 on Instagram
@margauxfls_ on TikTok 
@shannbailee on Instagram and TikTok
Last modified: November 8, 2022