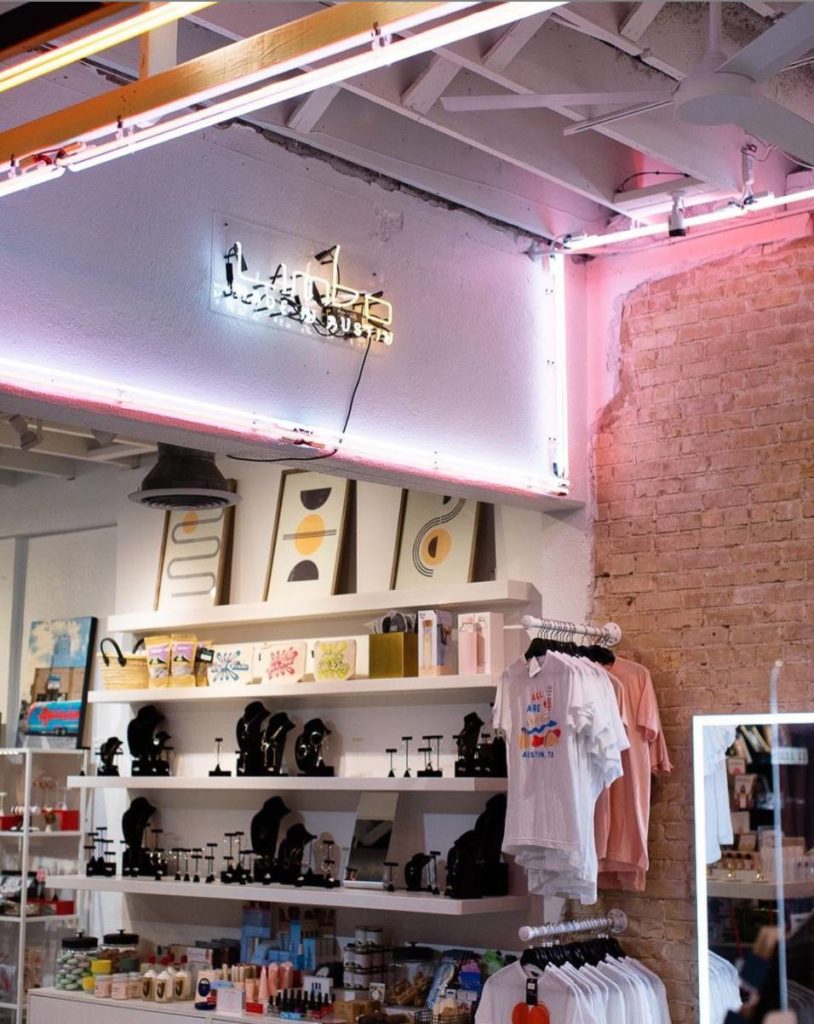 Limbo Jewelry is a husband-wife duo, featuring Edson and Anne Rutt Enriquez who combined both of their artistic abilities and have since grown their company into multiple store fronts in Austin, Texas' busy shopping districts.
Edson created the initial idea, logo and creative direction that Limbo would soon follow back in 2011, as a project for a college class. After meeting Anne, who is an entrepreneur with a keen eye for art, their creativity has been unstoppable and their success continues to grow each day.
Scroll below to read more about Edson and Anne's journey with Limbo, how they met, and more!
AB: How did you two meet?
Talk about full circle! We met on the 1600 block of South Congress. Anne was waiting tables at a popular Italian Restaurant (Vespaio) and Edson was selling his jewelry just outside at an art market. Our first store on South Congress was just steps away from where it all began!
AB: Edson – you originally came up with the concept for Limbo in 2011 – down to the logo – while you honed your silver-smithing and design skills at ITESO University. How did you come up with the idea/what inspired your vision for it?
It was all lined up by the universe. In school I had several classes demanding huge projects in all disciplines (logo design and typography, branding and marketing strategy, merchandising, design theory, color psychology) so I combined them all to create the template of a business, Limbo! I also needed to make money and decide on a product to launch and sell as I needed to fund/supplement my tuition besides my scholarship. Being me, I launched two: one for furniture and lighting (Luciernaga) and one for Jewelry (Limbo). My peers and teachers had quite an emphatic reaction to my jewelry designs in class so I knew there was potential there.
Part of the inspiration had to do with timing as the huge amount of knowledge I was exposed to had a great effect paired with that need to create and do it better every time weather you "fail" or "succeed"
The vision has always been the same, keep it honest, which means I have to really like it myself first. Staying true to the core Limbo design principles is also important: Original, Minimal, Modern.
AB: In collaboration with Anne's creative side, what is the process of designing your jewelry like?
Anne and I are extremely fortunate to have made the perfect match to collaborate, over a decade of history will tell you so.
Creatively she contributes way more than anyone, especially her, would think. As a literal Muse, she, to me, is not only a constant source of inspiration but her own creative ideas and feedback is always objective and from a different perspective than what I normally see for myself. She also helps me root my sometimes wild concepts into reality as tangible concepts. This helps a lot when developing designs and products that would actually work in our ever changing retail and fashion environment.
AB: Who or what is your muse?
That is a 3 part answer:
1: Happiness and emotional stability are key to my creative process. My wife and baby boy are a big reason why my life is a safe and happy place for my creativity to run wild.
2: I constantly try to consume and absorb as much visual input as I can. I believe this is a huge part of my inspiration as well. I constantly crave new imagery that I have not seen in art, architecture, design, nature, science, technology, etc.
3: Enjoying the whole creative process from constant inspiration to concept development, sketching, experimentation, prototyping, etc. to designing the display the product will be merchandised in.
AB: If you could describe Limbo's aesthetic in one sentence, what would it be?
A unique interpretation of minimal and modern aesthetics and its original application to form and function.
AB: On your website, you say that you had originally planned on not having children. What changed?
Honestly, it was the crisis in Texas regarding the foster care system that initiated it. Edson approached me (Anne) and said he wanted to grow our family through providing kiddos a home that needed it. We had built a pretty amazing lifestyle- we had a few fun shops on SoCo at that point, spent the summers a block from the beach in Chicago and lived the rest of the year enjoying life in Austin. How could we not share that?
AB: What were your childhoods like?
Anne: My childhood was pretty typical of a divorced family. I bounced back and forth from my mom's house outside of Houston and spent summers and holidays in the Midwest with my Dad & stepmom. Elementary school was a sweet time, Middle School was awkward and High School I was boy crazy.
Edson: I had what I considered a good childhood. Somewhat stable family dynamics and constant expressions of love and affirmation. Grew up bilingual and being told I was great at everything I tried which I believed for a while. That gave me the confidence I think to pursue my artistic paths without feeling self conscious about my then terrible art and designs. By the time I noticed I was not as talented as I was made out to believe it was too late to turn around so I kept creating. My parents always encouraged me to experiment and pursue my ideas no matter how terrible they were as long as they were somewhat safe.
AB: You've said that there are too many children needing safe homes in Texas – is there anything causing the number of children being put into the foster care system in particular?
Why do the people in power (and the people who voted for them) allow Texas, which is the 9th wealthiest state in the US, to be ranked 9th worst state in health care and 8th worst in education? In addition, in 2017 the Planned Parenthood ban caused the foster care system to flood. Yeah, Planned Parenthood offer abortions- but what they mostly do is prevent them by providing access to birth control and education. We have underfunded social services and a slew of social issues…addiction and a lack of mental health support.
AB: You launched a campaign in May to raise awareness and money for foster care nonprofits and your community. Can you tell us about it?
We are focused on raising awareness of the crisis, but in addition we are donating 100% of the proceeds of the purchase of bubble grow collection.
AB: Through your social media, you shared the stories of six other foster families. What was it like to learn about their experiences?
Beautiful. Each family has opened their hearts and homes to these children and each family is unique. While we all have different stories, we all share the same goal.
AB: What is your life like with a child, today?
Anne: Being our child's foster mom is the best thing I have ever done. Even if we have the honor of having him for only one year, we gave him the best 1st year. We have been his advocates for his health and happiness since coming home from the NICU.
AB: What is the biggest lesson you've learned about parenthood?
To slow down and be in the moment. The dishes don't have to be done and the laundry can wait…just being with your child is the most important thing.
AB: What is the biggest lesson you've learned from your child?
I can survive on no sleep!
AB: What are your goals for Limbo?
To survive the pandemic and focus on just one store and parenthood. We had 5 stores pre-pandemic and lost 4. It's been a year!
AB: If there is one message you hope to send through your brand/platform, what would it be?
You can be a profitable business and be ethical in the resources you use and the way you treat your employees.
For more information, please visit their website, here.
Last modified: August 25, 2021