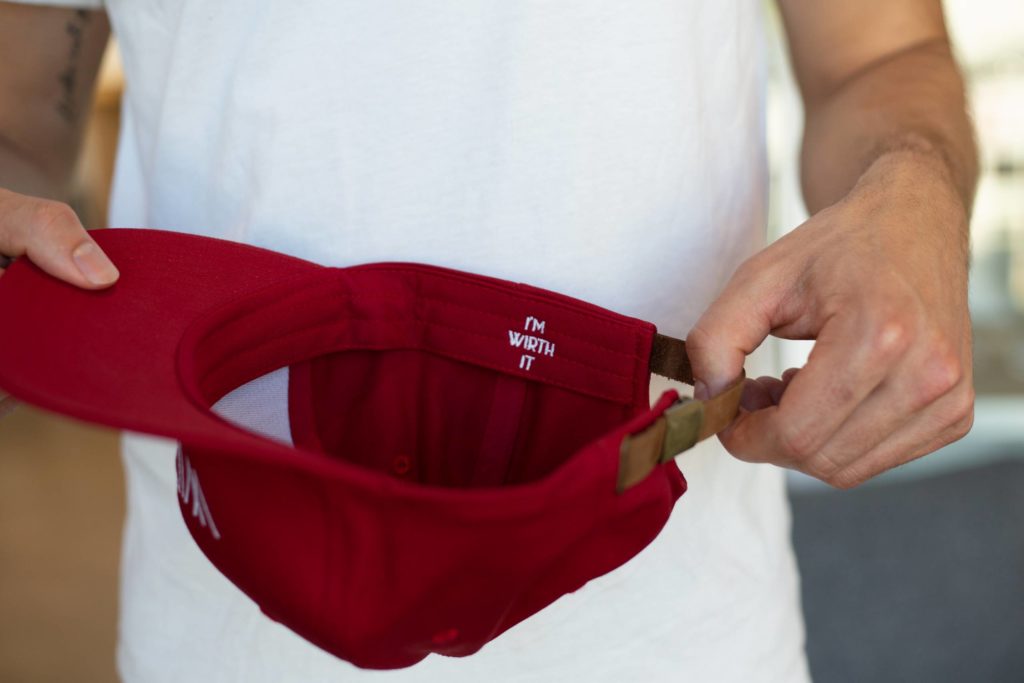 WIRTH Hats was created by Ben Miller after losing his friend Jakob, to suicide. WIRTH Hats is more than a hat company, it was created to honour a friend and hold their memory close. WIRTH Hats continuously advocates for mental health and began selling hats as a reminder that "we are never as alone as we sometimes think" we are.
WIRTH Hats focuses on spreading the message of mental health awareness and works towards removing the social taboo that it holds. One of the ways that they are doing so is through their free counselling program.
The WIRTHS Hats Counselling Program was created to support those who can not afford counselling due to financial reasons. Each individual who is sponsored by WIRTH Hats receives four sessions of free counselling. This is all made possible through the sales of WIRTH Hats, hosting events, and donations.
To learn more about WIRTH Hats, scroll below.
AB: First off, congratulations on such an incredible venture. Could you ever have imagined it would be as successful as it has been?
BM: Thank you! When I started WIRTH Hats I didn't think too much about where it could go or what it could become, I just wanted as many people as possible to have a WIRTH Hat and more importantly to have what it represents and know the story behind it.
AB: Now that WIRTH has become the platform that it is, how does it feel to know that you were one of the first people Jakob talked to about his dream of creating a hat company? 
BM: It's really interesting to think back and see how it all came to be. To this day I still don't even know what made him share it with me that day. He was a pretty reserved individual and wasn't one to share too much but we had built a level of trust with each other. It was amazing to just hear him talk about hats and the passion he had for them. He loved hats, and felt they were much more than an accessory.
AB: Over the past year, WIRTH has seen a 1,000 per cent increase in the demand for counselling support — what has the response been to your brand as a result of the pandemic?
BM: The last year has been tremendously tough on our mental health. I think people are just really grateful that we're a brand that exists in the world. That we are able to support and help people as well as provide hope and inspiration. We can feel pretty alone sometimes, WIRTH Hats helps people know they're not alone and support is out there.
AB: You've talked about the larger epidemic of suicide on your website, and the cultural and societal stigmas that surround it. Have you seen this change or shift in any way during COVID? 
BM: I have. I believe one of the silver linings around COVID is that the mental health conversation will be forever changed as a result. The cultural and societal stigma has lessened as people had a way and were given the space to talk about their mental health. It will be interesting to see though how it continues after COVID, there is still a lot a lot of work to be done. But we have taken a large step over the last year which is great to see. People who never talked about their mental health previously are now talking about it.
AB: How does WIRTH hope to bring light to the larger epidemic of suicide, especially during COVID? 
BM: Just keep doing the work we're doing and finding new ways to put the numbers and issue to the forefront. It's pretty startling when you stop and ask people if they know of someone who has taken their lives, you'll be surprised how many people do. For us to get a handle on this epidemic we need to start being much more proactive when it comes to our mental health. We can't wait till it's an emergency before we decide to get help.
AB: With the increase in demand for counselling support, WIRTH has sponsored over 4,000 counselling sessions. You've done an amazing job at removing the cost barrier for a lot of people, but what else needs to change for counselling and therapy to become more accessible? 
BM: The largest barrier is still stigma, more than cost. Our goal is to get to a point where we talk about going to a counsellor the same way we would share going to a physio or going for a run. Furthermore, people need to understand the counselling process better, understanding that you need to find the right fit. Sometimes it can take seeing a couple counsellors before you find someone that you connect with. However, we need better platforms for people to be able to go online and find good counsellors.
AB: Can you take us through the process of designing and manufacturing WIRTH hats? 
BM: Our process is really a community and team effort. We ask people within our community what kind of hats and styles they would like to see. Our goal is to have styles and colours that get us excited and so that is our goal with every release. Every potential hat release we do I also ask myself if Jakob would approve of this hat and if the answer is no, I usually don't do. I call it the Jakob test, definitely not an exact science haha.
All of our hats are handmade in Vancouver which we couldn't be more proud of. We are a part of every step of the production from picking fabrics to packing the hats in the final box.
AB: What influences the style of WIRTH hats? 
BM: WIRTH Hats began in Scandinavia. It began on the grounds of Copenhagen Business School so we try and bring that forward in our style.
AB: We love the fact that all of WIRTH's hats are gender-neutral – was this a feature you've been designing with in mind from the beginning? 
BM: We have always tried to be as inclusive as possible and its important to us as a brand and for all of our styles.
AB: We saw you collaborate with a couple of Canadian designers in May – are these types of collaborations what you hope to continue doing with artists across the nation? 
BM: We have had so much fun working alongside amazing and talented artists in our ongoing WIRTH Artist Series. It is something we plan to continue to grow across the nation and collaborate with artists from all different backgrounds and influences.
AB: What are your goals for WIRTH? 
BM: Our next big goal for WIRTH goal is to hit 10,000 counselling sessions sponsored. It's also a goal of ours to have a WIRTH Hat in every country in the world, to date WIRTH Hats has shipped to 24 countries, we have 171 more to go!
AB: If there is one message you'd like to send through your platform, what would it be? 
BM: Be proactive with your mental health. Find a counsellor that you connect with, don't wait until it's an emergency. Investing in your mental health will be an investment you'll never regret.
AB: One of WIRTH's slogans is that WIRTH hats are "like a hug for your head". If you could picture Jakob wearing a WIRTH cap, what would it look like? (Better yet, if there's a style influenced by him, let us know!)
BM: When I think of all the hats we have made, I believe Jakob's favourite would have been the All Days Cap, its simple and clean and everyone who gets loves. It is sold out at the moment for good reason. I think his other favourite would be the All The Sage Cap. He would have loved the washed cotton and it's a hat that can be worn in a lot of situations, it's a subtlety stylish cap.
For more information, visit https://wirthhats.com
Last modified: August 6, 2021