Tailgating season is officially here! For some, the pregame party is better than the actual event itself, but the star of the show, the place where everyone gathers – is always the grill.  
The author of Canada's #1 tailgating cookbook, Paula Stachyra, AKA Queen of the Grill, has shared with us her favourite tailgating recipes featuring Castello, Canada's #1 speciality cheese, along with some tips on how to successfully grill in the chill.  
Blue Cheese Buffalo Wings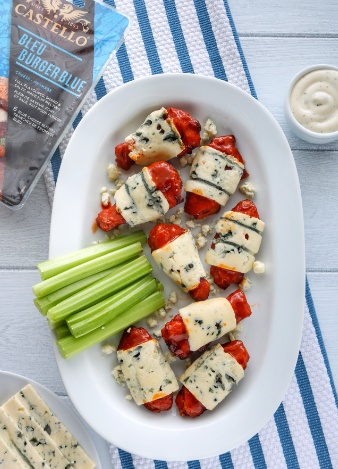 Wings and tailgating go hand-in-hand!  But to elevate these to the next level, the Queen of the Grill wrapped them in Blue cheese slices by Castello for a premium and indulgent flavour that brings you back for more.   
Click here for a video demonstation
Servings: 4
Ingredients
2 lbs. chicken wings, tip removed, drums and flat separated                                                 
1 tsp garlic powder
1 tsp onion powder
1 tsp paprika
1/2 tsp cayenne pepper
Salt and pepper, to taste
1 tsp cornstarch
Castello Blue Cheese Slices, cut into quarters
Celery sticks, for serving
Buffalo Sauce
1/2 cup hot sauce
1 tbsp honey
1 tbsp white vinegar
4 tbsp unsalted butter
With a paper towel, pat the wings dry. In a small bowl, combine garlic powder, onion powder, paprika, cayenne, salt, pepper, and cornstarch. Sprinkle the prepared rub over the wings coating evenly.
Preheat your grill or smoker to 350ºF (177ºC), indirect heat.
Grill your wings for 40 minutes on indirect heat until a minimum internal temperature of 165ºF (74ºC) or 190ºF (88ºC), is reached.  If you prefer them well done, flip them halfway through the cooking time. To crisp the skin, move the wings to the direct heat side of your grill turning occasionally until the skin is dark golden or to your liking.
To prepare the sauce: in a small saucepan on medium-low heat, whisk together hot sauce, honey, and vinegar. Bring to a simmer then stir in the butter. Cook until butter is melted and slightly reduced, about 2 minutes.
Transfer the wings to a bowl and toss with Buffalo sauce until completely coated.
Turn your grill up to 400ºF (204ºF). Place the wings on a lined baking tray or cast-iron skillet. Wrap each wing with the Castello Blue cheese slices. Place back on the grill for about 5-10 minutes or until the cheese has melted to your liking.
Plate wings and serve with celery sticks and blue cheese dip.
Smashed Sausage Boats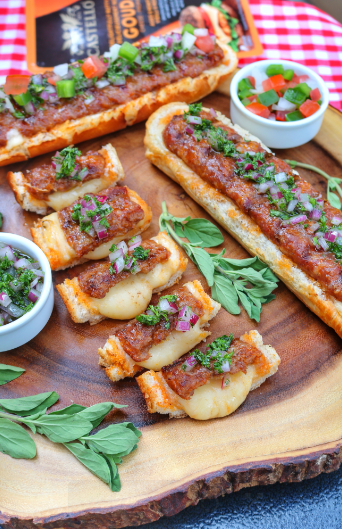 Sure you can tailgate with hot dogs, but Paula's viral smashed sausages will make you question that decision after one bite. She flattens the inside of a sausage bun, adds slices of Castello Gouda, then slices the sausage and adds more of that premium Gouda inside before grilling it all face down in the bun. The result is a spicy cheesy sensation that will have everyone asking for seconds.  
Click here for a video demonstation
Servings: 4-6
Ingredients
4 chorizo or Italian sausages, casings removed           
2 large sausage buns, cut in half
4 Castello Gouda Cheese Slices, cut in half lengthwise
Chimichurri
1/2 cup extra-virgin olive oil
1/2 cup finely chopped flat-leaf parsley
1/4 cup red wine vinegar
3/4 tsp dried oregano
3 cloves minced garlic
1 finely chopped shallot or 2 tsp finely chopped red onion
1-2 tsp freshly squeezed lemon juice
Salt and pepper, to taste
Salsa Criolla
½ red bell pepper, diced
½ green bell pepper, diced
½ small white onion, diced
1 small tomato, chopped
1 clove garlic, minced
¼ cup olive oil
3 tbsp red wine vinegar
Salt and pepper, to taste
1 tsp oregano (optional)
Prepare the Chimichurri: In a medium bowl, combine olive oil, parsley, red wine vinegar, oregano, garlic, shallot, lemon juice, salt, and pepper. Mix to combine. Set aside.
Prepare Salsa Criolla: In a medium bowl, combine red bell pepper, green bell pepper, white onion, tomato, garlic, olive oil, red wine vinegar, salt, pepper, and oregano. Mix to combine. Set aside.
Preheat your grill or smoker to 350ºF (177ºC), indirect heat.
Slice each sausage bun in half and press down on the bread until a bread boat is formed.
Slice each piece of Castello Gouda cheese in half, lengthwise.
Remove the sausage from its casings using a sharp knife tip. Run it along the sausage lengthwise and remove the casing.
Place two pieces of cheese into each bun and one into the sausage itself.  Press down on the sausage and flatten it evenly. Place the buns on the grill with the sausage facing down and grill until a minimum internal temperature of 160ºF (71ºC).
Slice each sausage boat into bite-size pieces or leave them whole and top with Chimichurri and Salsa Criolla.
Grilled Game Day Dip
Did you know your cast iron skillet is ideal for dips and will keep on the grill for extended periods? This is why it's the perfect tailgating snack! Paula created this spinach and artichoke dip with her secret ingredient, Castello's Velvet Blue Cheese, which is a more mild flavour and the ideal entry level cheese for people intimidated by blue cheese.  It gives this grilled dip the most creamy and velvety texture – a must try!   Serve with tortillas, crackers and bread, or dunk pickles and vegetables for a low carb version. 
Servings: 8
Ingredients
1 (125 g) Castello Velvet Blue Cheese, shredded or crumbled
1 (250 g) package Tre Stelle Cream Cheese                                                    
1 ½ cups fresh chopped spinach or 10 oz. frozen spinach, thawed and drained
1 (398 ml) can artichoke hearts, drained and chopped
2 garlic cloves, minced
1 small onion, finely diced
½ cup sour cream
½ cup mayonnaise
6-8 slices of bacon, fried crispy and crumbled
Salt and pepper, to taste
¼ tsp red pepper flakes, optional
Tortilla chips, pita chips, crackers, or celery sticks for serving.
Place the bacon in a skillet and cook over medium heat until crispy. Remove bacon and drain on paper towels. When cool enough to handle, crumble into pieces. Set aside.
In the same skillet, add onion and garlic. Cook on medium heat until the onions are translucent. Add the spinach, artichoke hearts, bacon, salt, pepper, and red pepper flakes. Cook, stirring occasionally until artichokes are warmed through and the spinach has wilted, about 5 min.
Preheat your grill or smoker to 350ºF (177ºC) or 275ºF (135ºC) for a smoky flavour.
In a mixing bowl, stir together velvet blue cheese, cream cheese, sour cream, and mayonnaise. Stir in the spinach and artichoke mixture. Spread mixture evenly into a cast iron skillet or baking dish.
Grill for about 25 minutes or until warm and bubbly. Smoke for about 45 minutes at 275ºF (135ºC). Serve hot.
5 Outside Grilling Tips
Now that you have the recipes that will make your tailgating party a smash success, here are five outside grilling tips to ensure everything runs smoothly:
Charcoal vs propane

– While charcoal is less expensive, many stadiums prohibit its use, so consider propane which lights faster, has better heat control, quicker cooling times, and is easier to clean.

Stock up on fuel

– As the weather gets colder, more heat is lost when grilling so you can easily use double the fuel. Make sure you have a sufficient supply on hand.

Adapting for cool weather

– When it's cold outside, factor in extra time for the grill to heat up and remember that each time you open the lid you add 10 minutes to your cook time!




Consider a wireless meat thermometer which allows you to check the temperature without opening the grill. 
Enhance quick cooking foods

– Choose game-day eats that cook quickly so there's less monitoring, then melt any of Castello's premium cheeses on top to elevate the dish and act as a delicious warming blanket for the food.




 
Convert your Cooler

– Coolers aren't just for ice! Insulated coolers will help keep your food warm longer so you can enjoy hot dips, wings, sausages and hot cheesy sliders. 
Last modified: February 9, 2023