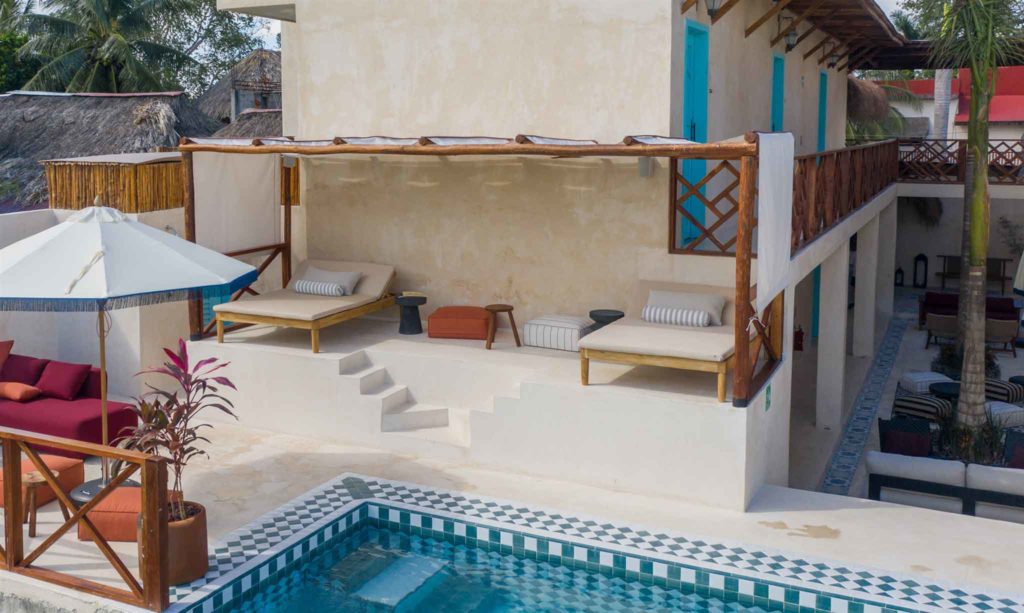 Welcome to #CheckedIn, a travel series where we take you along to some of the trendiest and most unique hotel experiences around. Join us as we give you the 411 on all the ins and outs of these locations, what to expect and where you should 'check-in' next!
We needed a change of scenery and had always wanted to check out the beautiful Bacalar area of Mexico. After stumbling across The Bacalari while looking for a dinner spot, we knew it was the perfect place to check-in for some much needed rest and relaxation.
The Vibe
The Bacalari is a place where you will be taken a back by it's beauty. Adorned with unique archways, beautifully crafted stone walkways, and a perfect view of the lagoon, The Bacalari is the perfect place to stay for anyone looking for a relaxing tropical getaway. Designed to live in harmony with the natural rhythm of the area, you're welcomed with open arms with a suite of amenities and traditional Mexican hospitality. From the heavenly pool and lounge space to the lovely dining room, the architecture and decor makes you feel as your living in luxury.
The Neighbourhood
Bacalar is filled with places and spaces to visit any moment of your day. If you keen on adventures, visit the lagoon or Los Rapidos and float or kayak down the lovely lagoon. Take to strolling through the streets of Bacalar to experience local gastronic flavours, hike to the fort of San Felipe for some epic views, go on a private sailing tour, or head on down to the municiapl sawmill to take in the sights. Dance the night away while sipping on delicious drinks at Las Miches de la 1 street parties, where they host local DJ's to jam out to for the night.The neighbourhood is filled with a variety of activities to partake in, that we know you'll fall in love with.
The Room
We appreciated the finer things in life, while staying at The Bacalari. Each room is adorned with beautiful rattan decor, 420 thread count cotton sheets, and is home to a private balcony or rooftop terrace with your personal dip pool. Each spacious room is thoughtfully designed and includes organic Mexican luxury amenities including skin care products have the most beautiful scent of basil and citrus and dreamy towels by Vivenda textile house.
The Extras
The Bacalari is home to a delectable restaurant crafted by Ricardo Méndez and Miguel Lima, who bring an ever-evolving style of exotic flavors to your plate at the Raw Bar Grill and Picantería. Spend an afternoon lounging poolside with a mixed drink in hand crafted by the talented mixologist, Diego Valencia or spend your weekend night at their superclub with a live DJ and shisha lounge. The hotel is also home to bike rentals, and lagoon tours, which were our personal favourites.
The Verdict
Whenever we head back to Mexico, The Bacalari will be our go-to spot, and we highly recommend it's yours too!
Last modified: May 9, 2023