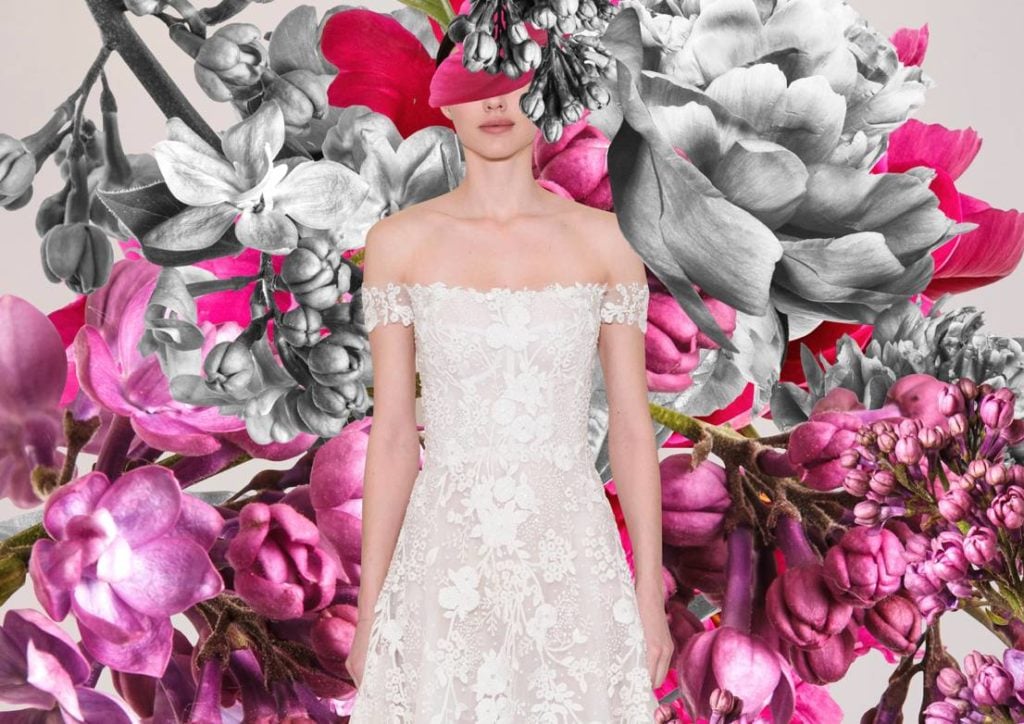 In 2020, we saw production come to a screeching halt for designers as a result of COVID-19. Nearly two years have passed and the effects of the pandemic showed up on the runways at Bridal Fashion Week.
Few household names showcased new collections, even virtually. And though weddings will be changed forever by the coronavirus, traditional bridal fashion seems to be on the same track.
Across the globe, the all-white gown is still emblematic of a bride's special day, but for Spring 2022, flowers will be in the spotlight. The laser cut doily patterns and larger than life 3D appliqués we saw on the runways promise three things: escape, romance, and optimism.
Marchesa Notte Bridal turned to the flower fields of Carlsbad for inspiration. As a result, overgrown vine trellises, flourishing daisy fields, silk peony petals, and baby's breath showed up on the brand's hand-beaded corsets, veils, and billowy tulle ball gowns.
Alexandra Grecco embraced femininity with her 60s-inspired "Poppy" collection. Intricate embroidery and heavy clusters of lace decorated Grecco's size-inclusive designs, which are available with several shades of illusion mesh to match all skin tones.
Influenced by the White Garden at Sissinghurst Castle in Kent, England, Marchesa's new collection is amorous and ethereal; adjectives that fully encompass next spring's trends. If the season could be defined by a place, it would be Italy: the country's illustrious orchards, villa gardens and seaside cobblestone boardwalks.
Between the natural landscape, enchanting architecture and Tuscan rusticism, the Boot has become the epicentre of celebrating love. Not to mention, honouring the beauty of the bride in classic Italian style.
Excitingly, this year's Bridal Fashion Week gave us an idea of how that's being reimagined for 2022.
Check out some of our favourite looks from Bridal Fashion Week below!
Last modified: April 13, 2021