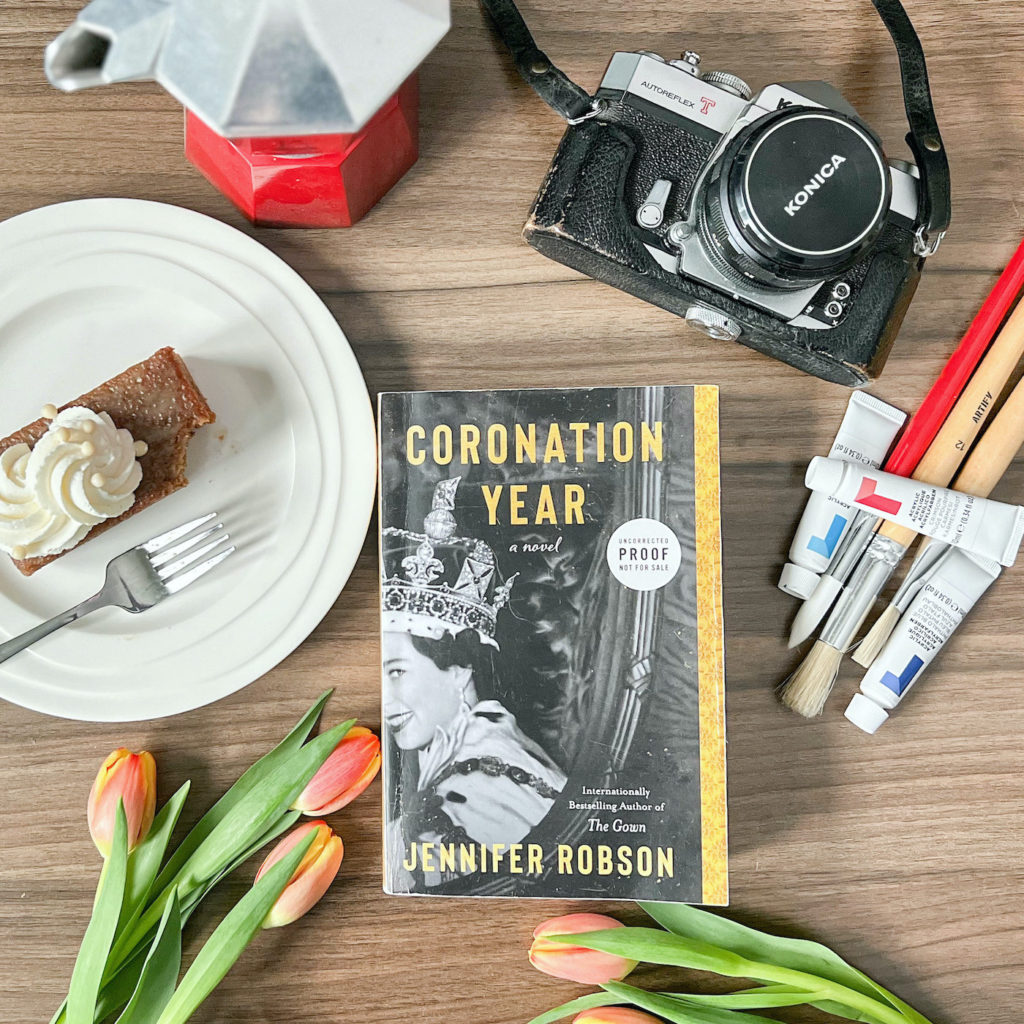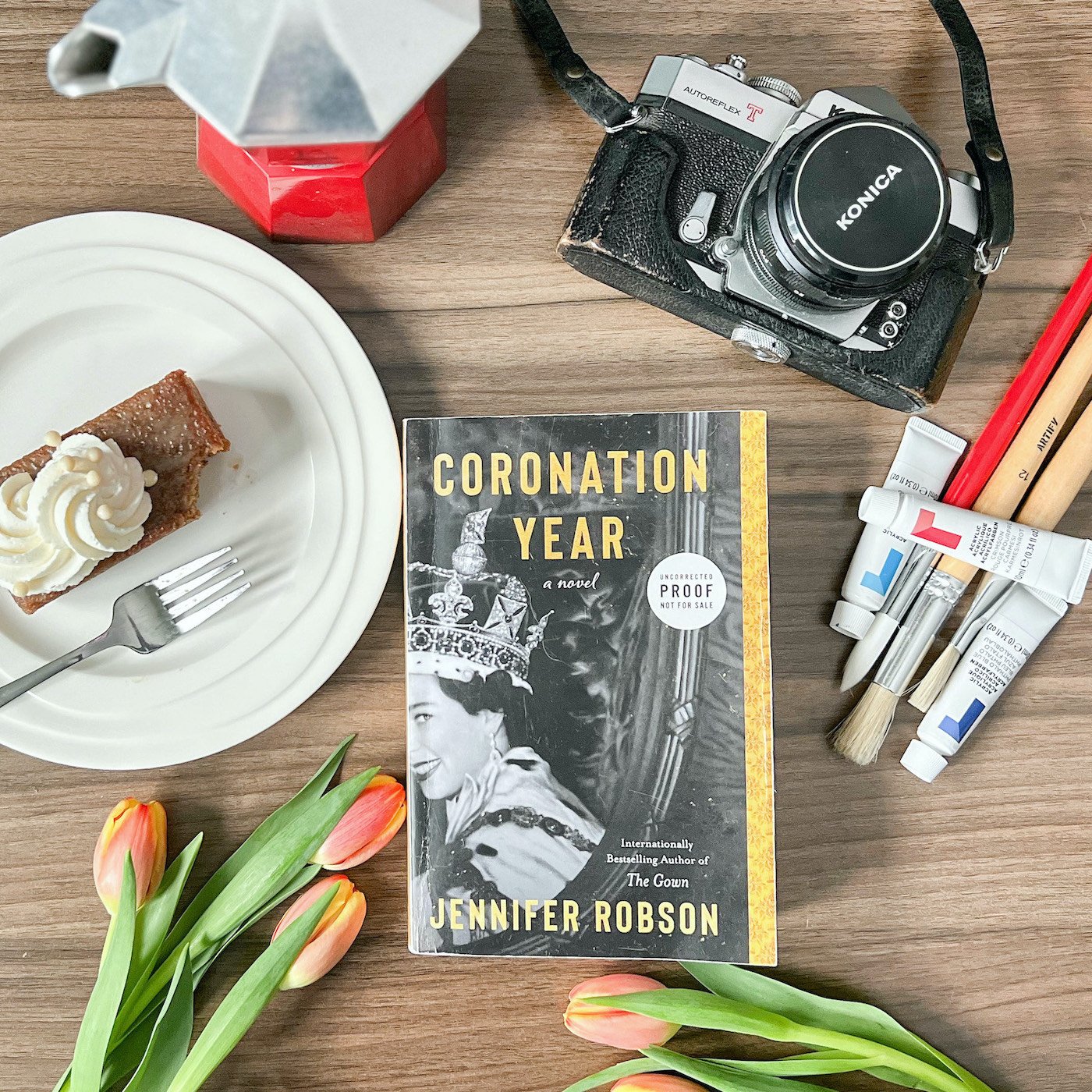 April 16, 2023• byGirl Well Read
Welcome to STYLE Canada's Boreal Book Club: a monthly meeting narrated by Erin Catto, (reviewer at Girl Well Read), for bookworms who're looking to scour new pages. Since we aim to shine a spotlight on all things Canadian in life and style, beauty, and health and wellness, it goes without saying that every instalment of the Boreal Book Club will feature a Canadian author and their latest title. Be sure to use the hashtag #BorealBookClub to share with us on social!
It is Coronation Year, 1953, and a new queen is about to be crowned. The people of London are in a mood to celebrate, none more so than the residents of the Blue Lion hotel.
Edie Howard, owner and operator of the floundering Blue Lion, has found the miracle she needs: on Coronation Day, Queen Elizabeth in her gold coach will pass by the hotel's front door, allowing Edie to charge a fortune for rooms and, barring disaster, save her beloved home from financial ruin. Edie's luck might just be turning, all thanks to a young queen about her own age.
Stella Donati, a young Italian photographer and Holocaust survivor, has come to live at the Blue Lion while she takes up a coveted position at Picture Weekly magazine. London in celebration mode feels like a different world to her. As she learns the ins and outs of her new profession, Stella discovers a purpose and direction that honour her past and bring hope for her future.
James Geddes, a war hero and gifted artist, has struggled to make his mark in a world that disdains his Indian ancestry. At the Blue Lion, though, he is made to feel welcome and worthy. Yet even as his friendship with Edie deepens, he begins to suspect that something is badly amiss at his new home.
When anonymous threats focused on Coronation Day, the Blue Lion, and even the queen herself disrupt their mood of happy optimism, Edie and her friends must race to uncover the truth, save their home, and expose those who seek to erase the joy and promise of Coronation Year.
For fans of The Crown, Jennifer Robson's latest royal-adjacent historical novel counts down to Queen Elizabeth's Coronation. Set at London's historic Blue Lion hotel, Coronation Year is told from the perspectives of  Edie, the hotel owner; Stella, a budding photographer; and Jamie, an artist.
Through her meticulous research, Robson's deftly balances the intricacies of historical fiction with romance (between Edie and Jamie) and mystery (a bomb threat on the day of the procession). The story is framed around the Coronation which also impacts the lives of the characters by bringing them into each other's orbit.
The strong character development is not only reserved for the main characters, but also for the supporting cast which includes the hotel's staff and its eccentric boarders. And readers will be delighted with cameos of some former characters, as well as the Queen herself!
Robson is a historical fiction force. Her attention to detail, beautiful prose, and memorable characters are what makes Coronation Year a standout.
JENNIFER ROBSON is the internationally bestselling author of Somewhere in France, After the War Is Over, Moonlight Over Paris, Goodnight from London, The Gown, and Our Darkest Night. She studied French literature and Modern History as an undergraduate at King's University College at Western University, then attended Saint Antony's College at the University of Oxford, where she obtained her doctorate in British economic and social history. While at Oxford, she was a Commonwealth Scholar and SSHRC Doctoral Fellow.
Robson lives in Toronto with her husband and children.
Scroll to read Girl Well Read's exclusive interview with Jennifer Robson. 
GWR: Is there a particular author/work that inspired you to become a writer or the way you write? 

JR: Such a hard question to answer! I carry with me traces of every book I've read and loved, and I think this is true of most writers. In terms of singling out any one writer whose work inspired me to start writing, I know I've mentioned it many times in interviews but Anne Lamott's Bird by Bird has had an incalculable effect on me. Whenever I begin to worry that my well of inspiration has run dry, or that I don't really know what I'm doing, I return to it and let her wise and oh-so-sensible advice sink in.
GWR: What was the genesis of the novel?

JR: With both The Gown and Coronation Year I began with a simple question: what was life like for ordinary people in 1947/1953? A straightforward character study of one or several characters' struggles in those years would have been satisfying to write, but it would have been difficult to persuade readers new to my work to pick up what would have probably seemed like a pretty dry read! That's when I settled on the idea of using the Royal Wedding and the Coronation as backdrops—they'd add a touch of royal glamour to the proceedings, and also make the narrative more interesting. There's a reason that writers love anything that offers us a chance to compare/contrast the lives of characters in wildly different social strata.

GWR: What comes first for you—the overall idea or the characters?  

JR: First it's the general idea—with Coronation Year, it was the notion that the Coronation procession passing by a certain place in London would have an outsize effect on the people living there. Then the characters came to me, beginning with Edie. As soon as I decided on her name I could picture everything else about her.

GWR: What character did you enjoy writing the most? 

JR: I loved all three of them—Edie, Jamie and Stella all felt like old friends by the time I wrote "The End." Jamie was certainly the most challenging character to create, since his life was so radically different from my own. He's a man, a person of colour, a veteran, and an artist. I can't honestly say I truly know what it's like to stand in his shoes, but I asked a lot of questions of people who do, and I incorporated their suggestions into the narrative, and I hope readers will find in him a character who is both believable and familiar.
GWR: 
I'm always amazed at the level of detail in your books—can you tell us about the research you did for Coronation Year? Do you have family ties to England?

JR: I do have family ties to the UK: my paternal grandparents were from Newcastle (pure Geordies) and my maternal grandmother was born near Stirling in Scotland. From them, and my parents in turn, I think I absorbed a sense of the British temperament and way of life that I might otherwise not have fully understood as a Canadian.
In terms of research, I once again relied on my old standbys that were so useful when I was a graduate student: primary sources such as newspapers, magazines, and newsreels, memoirs and diaries, historic maps, and (boring but often useful) government documents.

GWR: Why do you think there is such a fascination with the royal family and the history/traditions of the monarchy?

JR: Where do I even begin? I think the very longevity of the institution is one of the main reasons it interests so many of us: in our ever-changing, ever-renewing modern world there are simply very few things that stay the same. To a certain extent that feeling of permanence and solidity, over the course of almost a century, was embodied by the figure of Queen Elizabeth; but it's also the case that the ancient ceremonies and objects that surround the British monarchy hold their own allure. Just think of the Coronation ceremony, elements of which date back nearly a thousand years, or the regalia itself, most of which is hundreds of years old. What else in our throwaway world can compare to that?
Separate from all of that, of course, is our interest in the royal family as celebrities; and while they may resist being thought of in such a way—no royal wishes to be remembered for what they wear, or scandals in which they're embroiled—I think there's no way to avoid it. The question, then, is how they ought to balance their celebrity status, and the enormous power that comes with it, against the gravitas that the institution itself demands.
GWR: There is an element of mystery in Coronation Year—have you ever considered writing a different genre? 

JR: Absolutely not! I love reading mysteries but I find it such a challenge to successfully incorporate elements of mystery or suspense in my books. If I were ever to write in another genre it would most likely be a work of narrative non-fiction that focuses on a historic event or person.
GWR: 
If your book was a beverage, what would it be? 

JR: That's easy—a cup of strong English breakfast tea with milk and just a little bit of sugar.
GWR: 
You're always reading something good! What books are on your nightstand?

JR: I recently finished Starring Adele Astaire by Eliza Knight and I loved it—pure catnip from start to finish. I'm just about to dig into After Anne by Logan Steiner, which looks at the life of Lucy Maud Montgomery. And I also have a pile of books I bought on my January trip to England that are research material for my work-in-progress. (At least that's how I justified lugging them back across the pond.)
GWR: 
What are you working on now?

JR: It's early days yet so I'm a little shy about sharing too many details. I can say that it's set in England in the 20th century and has a heroine I find absolutely fascinating. I'll have more to say very soon—I promise!