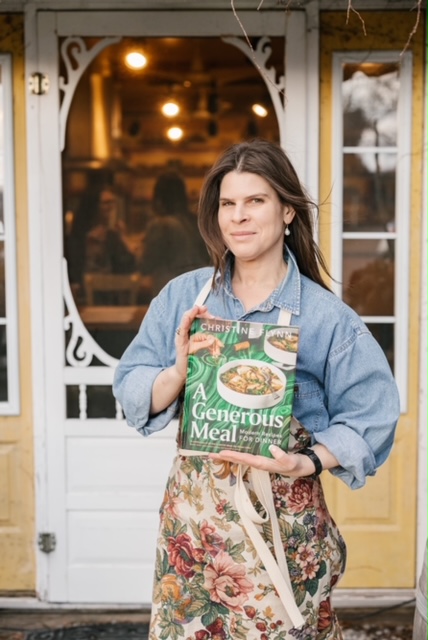 When I received the press release for the new cookbook A Generous Meal by Christine Flynn, I immediately responded with a request for an interview. Christine was also local to Niagara and I had seen her in my explore tab a couple times .. frankly she looked cool and I wanted to be her friend (or at minimum hear her story!). Fast forward a week and we were sharing coffee and chatting all about food, fashion and all her other creative endeavors. You can read the full exclusive chat with Christine below.
As my conversation with Christine came to a close, it struck us both how empowering and energizing conversations with our fellow creatives can be. With International Women's Day approaching it seemed like the perfect time to partner. Join us, Wednesday, March 8th as we host A Generous Dinner: An evening to celebrate International Women's Day with Christine Flynn at the Good Earth Communal Table.  We will enjoy good food, good wine and good company. In a nod to her new cookbook, Christine Flynn will be taking us through a menu of her vegetable friendly favourites as we chat amongst fellow women creatives in Niagara. We hope you can join us. Tickets include food, wine and gratuity, as well as a copy of A Generous Meal. Seating is limited and tickets can be purchased here.
Elise Gasbarrino (EG): What a pleasure it is to sit down with you! Congratulations on the new cookbook A Generous Meal, tell us about it.
Christine Flynn (CF): Agreed! With the book I really wanted to connote this idea that you don't have to be technically skilled or spend a lot of money to make a beautiful meal and have a beautiful life.
EG: When I started to dig a little deeper into your Instagram world, it seems like you take the time to make a good meal.
CF: I'm always sort of recipe testing or I'm inspired by what's on sale at No Frills. My husband and I were talking about it last night. I said, "Every meal we eat is just delicious." And he responded, "Yeah! Are you kidding me? I've never eaten so well in my life!" I want to say I make an effort but typically my oven is cranked to 500 degrees and I try not to spend any more than sort of 20 minutes of active time on dinner. Cause I've got other stuff to do, you know?
EG: But you make it look so romantic when you're cooking.
CF: Thank you.
EG: I've more recently started to follow food content creators and I'm amazed at how soothing it is.
CF: Absolutely! I'm here for puppies, sewing, grandmas and people cooking in a way that feels relatable. Cooking can be almost meditative? That might be a stretch … but it is a thing that people are doing that makes them feel good. And for me, especially over the last few years, it's a little problem I can solve every day. There are so many big problems I can't solve and those can be overwhelming. But not when I am in front of the stove. When I wrote A Generous Meal, I really wanted to create this little world that people could step into. We eat dinner every day and it's something beautiful you can do for yourself.
EG: I love that. I've always thought of food as comfort and the process of creating that meal can be a comfort too. A Sunday at the market picking all my favourite ingredients. That is therapeutic. I know for myself, and I'm sure for some others we have gotten away from that small joy. This book can kind of bring that back in.
CF: Absolutely, I always want to hit that sweet spot between aspirational and attainable. There are also the little details in the book, that maybe aren't related to food. Pretty much every piece of clothing you see in that book I either made myself or thrifted.
EG: Wow, that's impressive! You do so much, this book is just one part of your empire. You went to culinary school in Manhattan, there is IQ foods, there is Good Earth. Can you take us through the trajectory of your story?
CF: I was working in Massachusetts, I ran a restaurant on Nantucket. I was there for seven years. And I was also the culinary director for the Nantucket Wine Festival. I spent a winter living in Germany, culinary school in Manhattan. I really just wanted to see the world.
EG: Do you feel like you've had a million lives?
CF: Yes!
EG: Where did you grow up?
CF: All over, but I was born in Nova Scotia. When I was four, my family moved to the UK. Followed by Edmonton, New Brunswick then Waterloo. We were there until I was about 17. My dad bought a house in Fort Erie, which was my first connection to Niagara. Then it was Windsor and then back out east to Dalhousie for a history degree. When I was there I ended up working in a German bakery, The Gingerbread Haus that still exists today.
EG: That was your first job in the food industry?
CF: Yes. I knew I liked history & food. I finished at Dalhousie and started working at the Five Fish, which is a restaurant there. That was a very different time in restaurants. There was no Food Network no social media. No one was getting into the restaurant scene because they thought that they'd be famous it was just like a whole bunch of misfits. Then it was Nantucket.
After that I was ready to come home to Canada. So I started working in Toronto with iQ Food Co. as a Development Chef, which is now more a consulting role.
Then I had my girls. I wasn't really planning on having one baby, let alone twins! When they were about five months old I came out to Niagara. I'd had lunch at The Good Earth years before and I remember thinking, I can't believe this place exists. Having been to Napa, France .. The Good Earth, just has this feeling.
At that time, I thought of making a move to Niagara but I had two kids and was on maternity leave. Eventually I found this little house and I spent my leave fixing it up. It was a lean time with the kids. Then Nico sold The Good Earth and the guy that she sold it to, Brad, she introduced me to as I was a doing a bit of social media for her. We had a couple conversations and they were ultimately looking for someone to be the face of the winery and run it. And here we are now, one of the top 100 restaurants in Canada.
EG: Amazing! That isn't surprising, it is delicious. Congratulations!
CF: Thank you. For me, it's about building an eco systems. I view my work as like a spaceship that is both spinning and moving forward at the same time. There is always something at the front of the space ship, right now it's the book but then it shifts. It all fits together.
Last modified: March 3, 2023