Welcome to STYLE Canada's Boreal Book Club: a monthly meeting narrated by Erin Catto, (reviewer at Girl Well Read), for bookworms who're looking to scour new pages. Since we aim to shine a spotlight on all things Canadian in life and style, beauty, and health and wellness, it goes without saying that every instalment of the Boreal Book Club will feature a Canadian author and their latest title. Be sure to use the hashtag #BorealBookClub to share with us on social!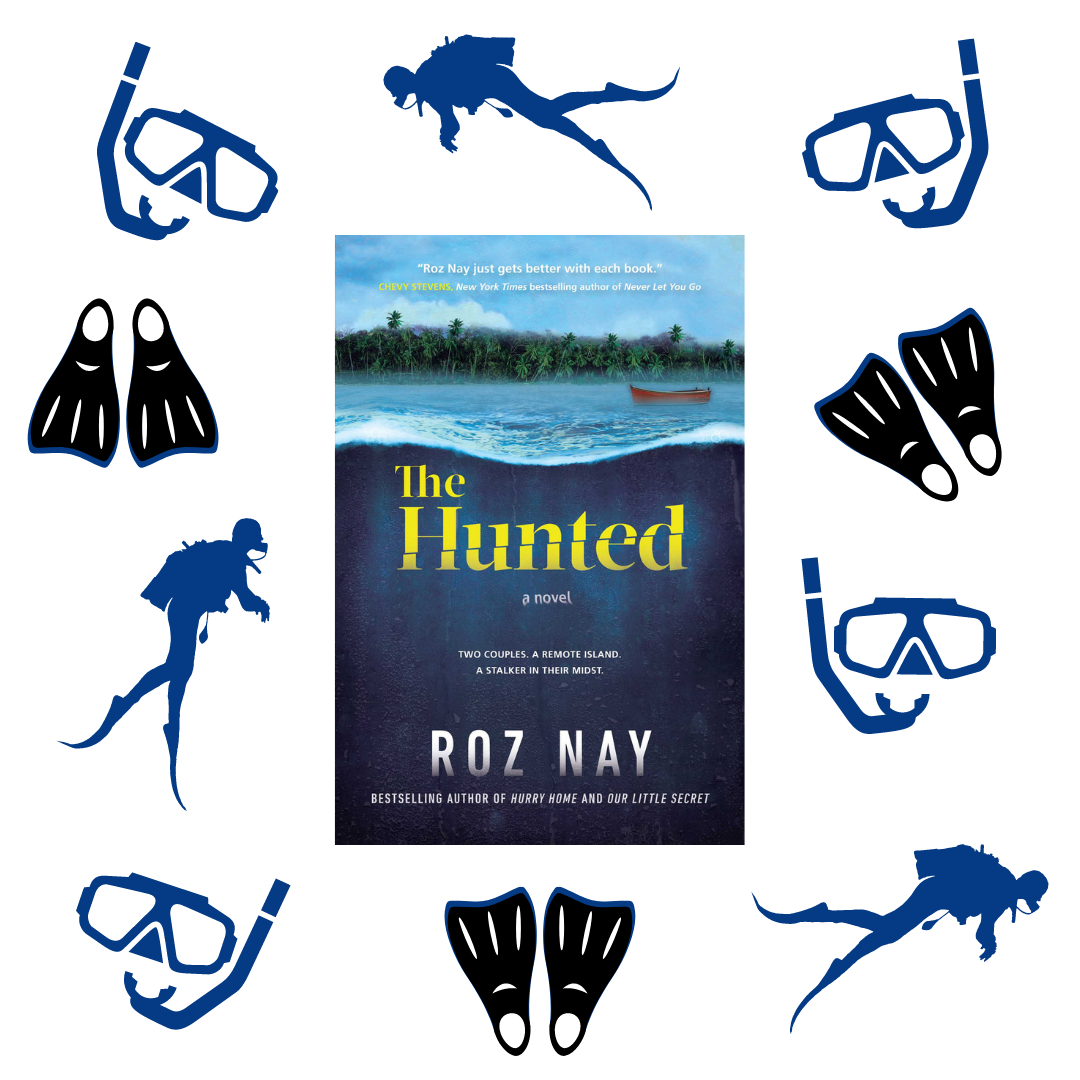 In Roz Nay's The Hunted, two couples meet backpacking through Africa—but what begins as friendship quickly turns to obsession, with deadly consequences.
Stevie Erickson is looking for a fresh start after the sudden loss of her grandmother sends her life into a tailspin. It has surfaced old losses and put a strain on her relationship with her boyfriend, Jacob. So when Jacob is offered a job as a diver for GoEco on Rafiki, a beautiful, secluded island off the coast of Tanzania, he convinces Stevie to go with him. A fresh start is just what they need.
Their trip gets off to a rough start with a nighttime scare at their first hostel. Already fragile, Stevie can't seem to shake the feeling that she's being watched. Things improve when they meet seasoned backpackers Leo and Tamsin, an attractive couple who instantly take a shine to Stevie and Jacob.
But on Rafiki Island, their new friendship is put to the test, as is Stevie and Jacob's relationship. When the innocent flirting goes too far, past truths surface which expose a killer in their midst—a killer whose sights are set on Stevie.
With the premise of a friendship that quickly turns to obsession with deadly consequences, Roz Nay's latest work delivers on so many levels. The Hunted is slick and propulsive, a chilling page-turner that can easily be devoured in one sitting.
The vivid, yet surprisingly claustrophobic setting has the characters seeing some of the most remote beaches in Africa. Drawing on her own time spent there working at dive camps, Nay is an expert guide to her reader. Always impressive is how polished her writing is.
Perfectly paced, expertly plotted, The Hunted is gripping from the first page. Written from Stevie and Leo's perspective, this high-octane thriller is full of shocking twists. It kicks off with an absolutely explosive Prologue and builds to its stunning conclusion.
Nay expertly spins an insidious web that captures her reader in a tale of suspense, obsession, and deception. This escapist novel is as menacing as it is beautiful—a must-read!
Scroll to read Erin Catto's exclusive interview with Roz Nay about The Hunted.
GWR: Describe your ideal writing/reading experience (when, where, what, how).
RN: For me, the ideal writing experience is at home, in an empty house, with my dog at my feet. That doesn't seem to be asking a lot, but it's actually a surprisingly rare occurrence! I write best between 9am and 12pm, but find that I have to get up early a lot and write from 5am – 7am because I still have a day job.
GWR: How did you come up with the concept for The Hunted?
RN: I knew I wanted to write a more 'exotic' thriller set in a travel destination, and that I wanted it to be about two couples who meet on vacation. I actually pitched the very beginning of the idea to my good friend, Chevy Stevens, while we were sitting on beach loungers in Arizona. It was the most fun pitch ever. We lay in the sunshine and hashed out the early sketches of who these people might be and what they wanted.
GWR: What comes first for you—the overall idea or the characters?
RN: I'd say setting always comes first, along with the major characters. Then I have to figure out what's wrong with these people! And usually that leads me to the dark twists and turns of the plot. Once I know who I'm dealing with, I can start to see what they'd do and why.
GWR: What's "the story behind the story," the inspiration for The Hunted?
RN: When I was 21, I travelled to a tiny dive camp off the coast of Tanzania—the very one that's the main setting for the book. Everything in The Hunted is based on things I remember from that adventure. It's so close to autobiographical, except that obviously I inserted a thriller plotline. I'm finding, in general, that the questionable decisions I made travelling in my twenties are now perfect material for travel thrillers. I'm trying to make a career out of them!
GWR: Do you build your story around a twist/reveal, or does that happen as you write?
RN: I might know early plot points—the big moments in the arc, like the midpoint turn etc. But in general, the twists occur to me as I go and I might have to go back in the draft and amend the start so that I can accommodate them.
GWR: What is the most surprising thing about being an author?
RN: Apart from actually BEING one, you mean? I never thought I had a book in me, and now I'm working on my fourth. For me, it's been a journey of realizing I can do it. That's still the biggest surprise.
GWR: Is there a particular author/work that inspired you to become a writer or the way you write?
RN: Early inspiration was John Fowles' creepy book The Collector, which I read when I was 16 and never truly got over. Now I read Lisa Jewell for how to tell a psych thriller brilliantly, and I'm discovering new writers I admire all the time. This year's find so far is Who Is Maud Dixon? by Alexandra Andrews.
GWR: What draws you to darker themes?
RN: I've thought about this a bit, and I think it's the fact that my real life is secure and lucky enough that I can go looking under rocks for creepier things without it swamping me. I'm interested in the darker versions of ourselves that we never/rarely bring to light. If we were all put in a certain pressure cooker, with a very specific set of circumstances, how many of us would unravel? I find that continuously interesting.
GWR: If your book was a beverage, what would it be?
RN: Funny question! Something that's sweetly delicious at the start, and then seems to turn on you … a sharp aftertaste? Let's go with a Gin Sour.
GWR: Can you share what you are working on now?
RN: I'm currently working on another travel thriller, this one set in Australia aboard a private (slightly run-down) sailboat. It's about two backpacking girls who take a crew job on a boat heading north into the tropics, only to find out that the other three people onboard might have their own reasons for being there… Just like with The Hunted, this book is pretty closely autobiographical. I'm waiting to see if it gets signed, and then I'll tell you more 🙂
Last modified: October 15, 2022